(Last Updated On: March 30, 2022)
When our friends at BenQ contacted us and said, 'Hey, do you want to try one of our new BenQ e-reading desk lamps?', the timing couldn't have been better. We had just moved into a new apartment overlooking Malta's Grand Harbour, and although the lounge was light and airy, the office is a bit dark and was in desperate need of a decent and modern desk lamp.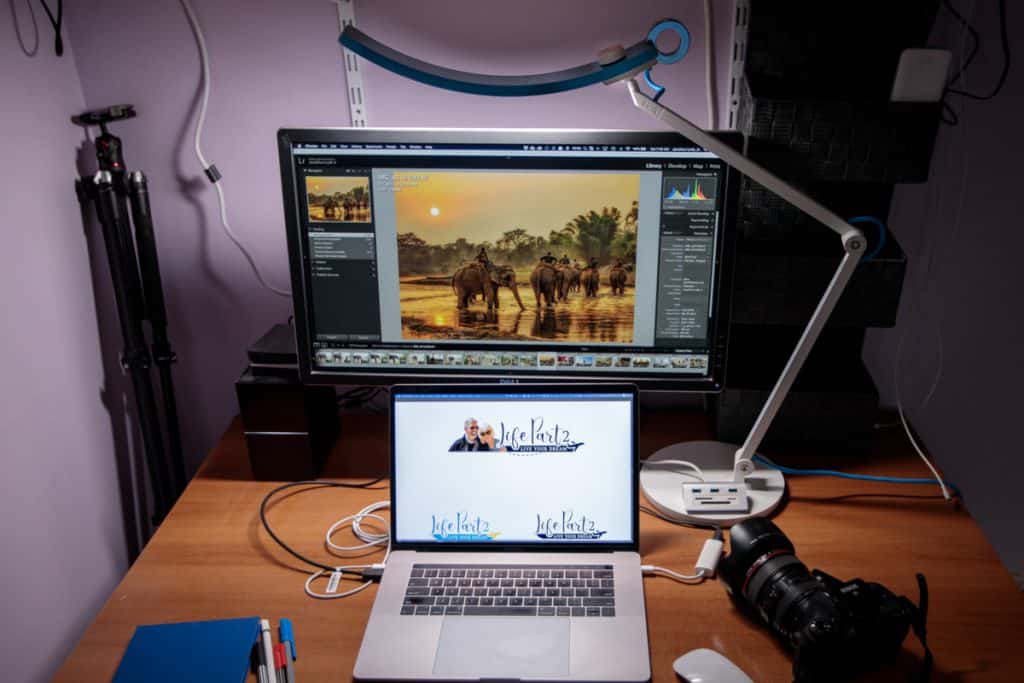 'Yes, please!' we replied eagerly.
After a couple of weeks, our new, smart desk lamp arrived. The timing was even more fortuitous, now we were in the middle of the C-word crisis, and we were spending a lot more time reading, and working in the office at home.
So, What's So Special About The BenQ e-Reading Lamp?
The BenQ e-Reading LED Lamp is the first lamp in the world that has been specifically designed for digital screen time. The light can easily be adjusted to cool white tones or warm white tones. The cool tones are perfect for when we are focusing on working on our blog and the warm tones when we need a break but want to read.
Great for eye fatigue – If like me, you are always having to move your book around to the light when you read (guess my bedside lamp isn't that great!), this top reading lamp offers 150% wider lighting coverage. Impressive, huh?
Using The BenQ e-Reading Lamp
To turn on and off the light, it's just a gentle touch of the metal ring, and to adjust the light, turn the knob to increase or decrease the brightness.
But yesterday, we discovered a new trick. Amazing what you learn when you read the user guide.
When you tap the metal ring that turns on the lamp and hold for two seconds, it starts the automatic Eye-Care Mode. The Eye-Care Mode helps protect the eyes by automatically adjusting the lamp's brightness to the current light condition and optimising the colour temperature settings for screen reading. Clever stuff!
Hassle-Free Assembly
Now I'll be the first to admit, I'm always nervous when items arrive in boxes and need to be assembled because I'm absolutely useless at putting things together. And, although he won't like me saying this, so is Jonathan, but not this time, just a quick turn with a screwdriver and voila! Woohoo!
Choice Of Colours
The BenQ e-Reading Desk Lamp comes in five colours: Silver, Blue, Gold, Green, and Red. We opted for blue to stay with our home's Mediterranean theme.
Where To Buy The BenQ e-Reading Desk Lamp
The BenQ e-Reading Desk Lamp can be purchased on Amazon by clicking on the ad below.
Would We Recommend The BenQ e-Reading Desk Lamp
Yes, for me, who often suffers from eye fatigue because of insufficient brightness, I love it. And also for the cute design that resembles a smile.
For Jonathan, he loves finally having a smart desk lamp in his office.
Disclaimer: BenQ offered us this lamp to try out for free, and we are pleased they did. We never realised how sophisticated a reading lamp could be. And you know we would never recommend anything that we didn't think was worthy of being recommended.