(Last Updated On: August 12, 2019)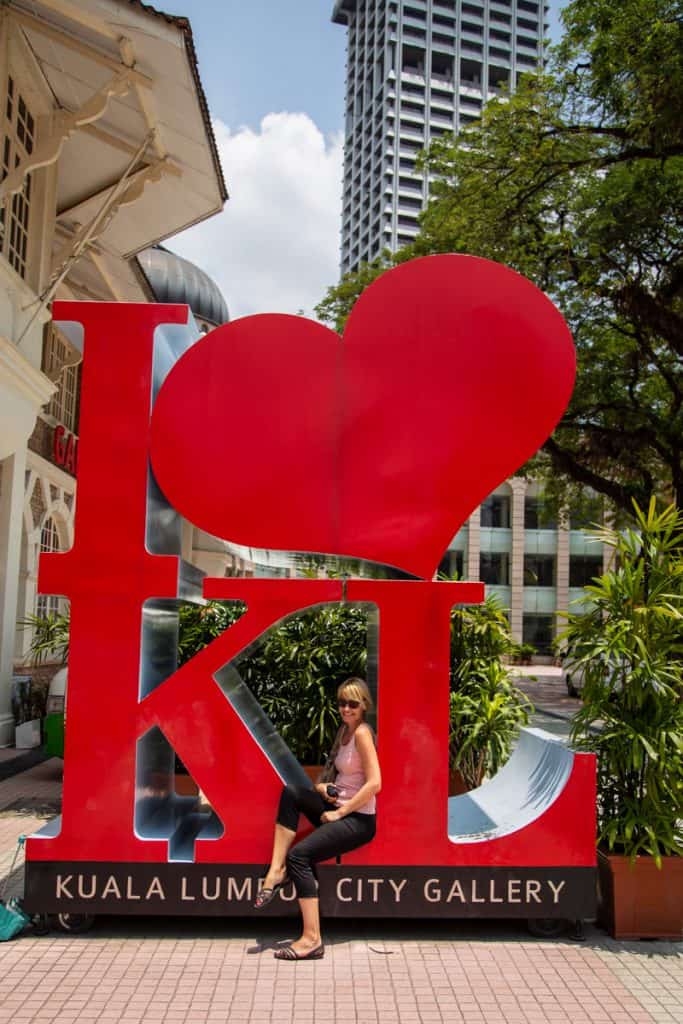 Why Live in Kuala Lumpur, Malaysia?
Malaysia is often listed as one of the top locations for expats to land at. It is not just the tropical weather, but the relatively affordable living cost, great travel opportunities and the welcoming vibe most expats will experience. As any large capital city, Kuala Lumpur it has its issues, but despite snatch thefts becoming more common, it can still be considered a safe city to live with all the services one could hope for.
The cost of living in Kuala Lumpur has increased over the last years, but it is still affordable compared to cities like Singapore and Hong Kong, and in many aspects, Bangkok.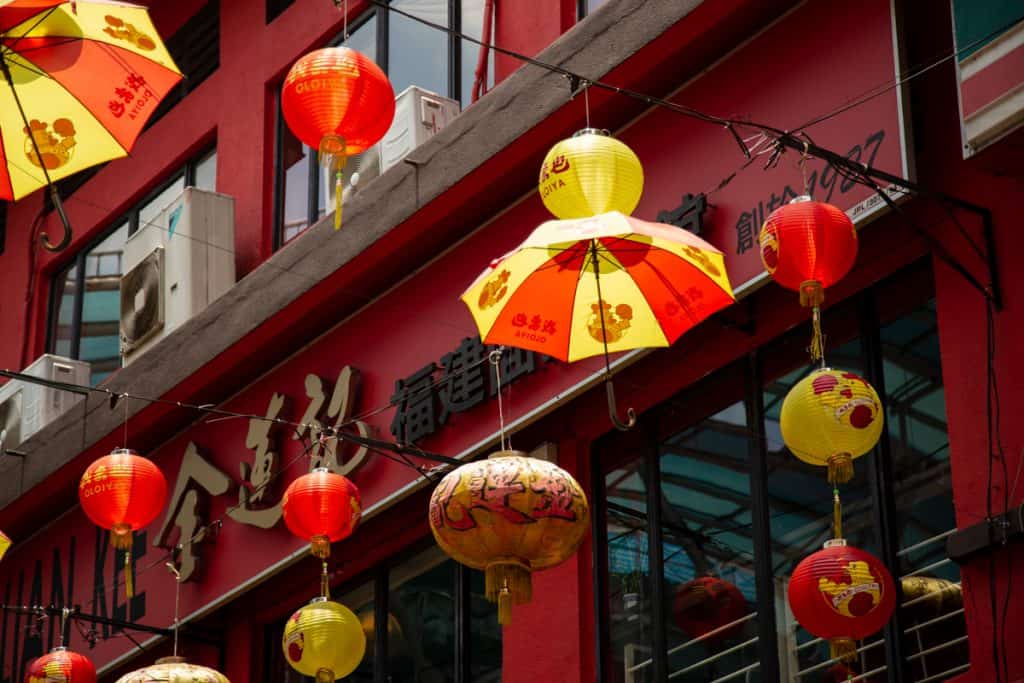 Cost of accommodation in Kuala Lumpur
KL has accommodation options from swanky condos to leafy suburban gated compounds and anything in between.
Cost of accommodation varies greatly depending on your requirements. A flash apartment in the financial centre of KLCC will easily set you back over RM10.000, or you can opt for a landed house at the upmarket Bukit Damansara for up to RM20.000. Single expats can find a room in a shared apartment for RM1000-2000, even less if you don't require top facilities. Families will have to budget a minimum of RM5000 for an apartment or a small townhouse, and depending on the neighbourhood, to be ready to double their budget.
A good starting point to deciding where to live is to do some research using Google maps to work out the connections between home, work and school.
There is no shortage of housing so shop around! Expats are sometimes offered apartments in the higher price bracket only so insist on seeing options within your budget and remember that everything is negotiable.
If you have the option to ship your furniture, do consider it – anything but Ikea is bound to be expensive, or of inferior quality.
Transportation Costs In Kuala Lumpur, Malaysia
Public transport is not expensive as such, with MRT tickets starting at just over RM1, but the rail system is a bit complicated if your destinations are not on the same line. The different lines require different tickets, pushing the cost up. Monthly discount passes are available.

Most people outside the KLCC area, that is quite walkable, drive their own cars, or rely on ride sharing apps like Grab. For example, a trip from Mont Kiara to KLCC can cost RM15-40 depending on the traffic and how busy it is.
Drivers will also have to take into account car insurance, annual road tax, tolls (also in the city) and parking. Parking at shopping malls is usually RM2-5/hour. Most offices have parking spots available for rent, that cost roughly RM100-200/month, more in premium locations. Petrol on the other hand is cheap, thanks to government subsidies, and you can fill up most cars for less than RM100.
Travel within and from Malaysia is very affordable. There are regular and quite reliable buses across the country and to Singapore, and most corners of the region can be reached with the low-cost carrier Air Asia.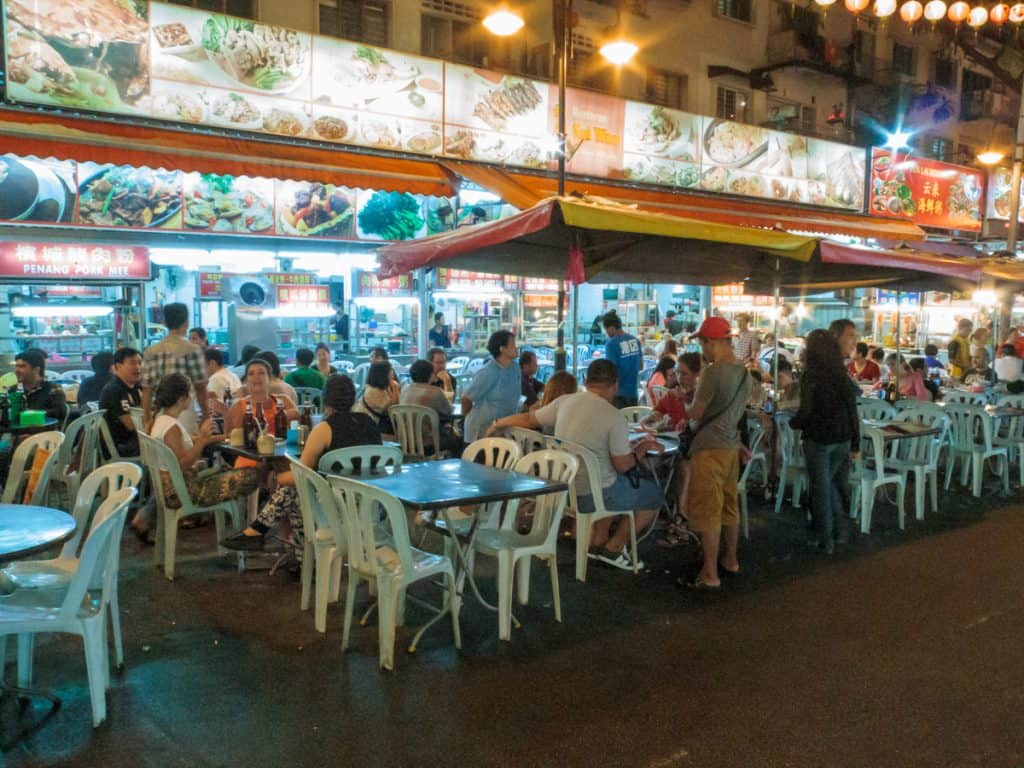 Food Cost And Cost of Eating Out in Kuala Lumpur, Malaysia
Kuala Lumpur has thousands of restaurants, and the prices range from affordable street food to top-notch fine dining. A local bowl of noodles or a simple rice dish would set you back no more than RM10 at a food stall, whereas the swanky restaurants will charge in the hundreds. KL has no Michelin star restaurants, but a meal at one of the top restaurants, though pricey, will still be less than in a similar setting in Europe or the US.
Set lunches are often RM15-20, and you can expect a typical no fuss, weekend family lunch for four in a mainstream restaurant to be in the range of RM150. At dinner time, expect mains to start from RM50, more in fine dining restaurants.
Alcoholic drinks will often cost more than the food. KL has a fantastic café culture, and a cup of flat white or a cappuccino will cost about RM12.
You can download the Grab app and have a look at food delivery options they offer to get a good idea of restaurant prices!
The amount you'll spend on groceries depends entirely on where you shop. Posh supermarkets have a great selection, while your neighbourhood wet market will have local vegetables at the fraction of the price. Imported ingredients and products are typically a bit more than in their country of origin. Dairy products, gluten-free items and wine are more expensive than for example in Europe, US or Australia. Wine and spirits are heavily taxed – you'd be hard-pressed to find a bottle of wine for much less than RM50.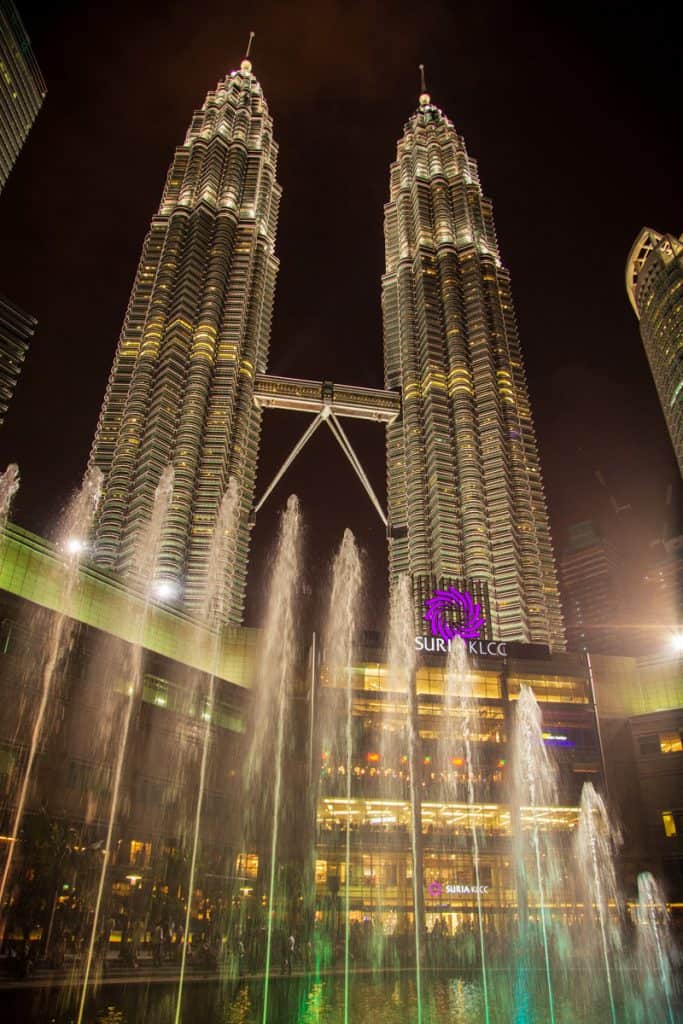 How Much Are Utilities (water, electric, internet, mobile phone, cable, etc.) in Kuala Lumpur?
An internet connection at your house will set you back about RM200, more if you want the top of the range speed or any TV channels to go with it. For your mobile phone, you can choose to get a prepaid sim card and top up as you go or get a contract – the price varies depending on your package but is typically under RM100.
Electricity is not very expensive in Malaysia but the need for air conditioning will show in your bill quickly. Depending on the size of your house and how much you run your ac, a family of four would need to budget about RM500-1300 to electricity monthly. You will also need to pay water and sewage, typically some tens of ringgit a month. Air conditioning units need to be serviced every six months – the cost varies a lot from one contractor to another.
The tap water is not suitable for drinking. You can opt for a filter system, that typically comes with a 2 or 3-year contract and monthly payments, or water dispenser and monthly delivery. Expect to pay roughly RM100-200 for a family of four for either.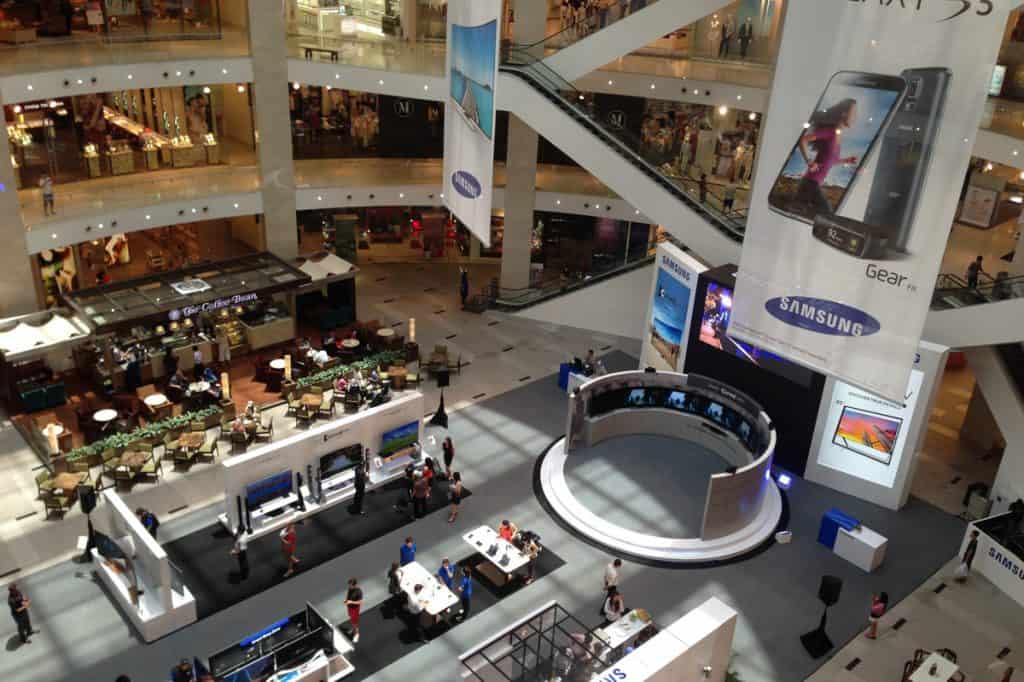 Entertainment, Shopping, and Service Prices in KL
Services are still quite affordable in Kuala Lumpur. Cinema tickets cost about RM10 each, and you can splash out for gold class experience (with blankets, plush seats, ample space and snacks served to you) for about RM60. Children's indoor playgrounds charge about RM50 per entry, and typical family attractions like ziplining, Kidzania or theme parks from RM100 up.
KL is not a hub of culture, but occasionally world-class stars include the city on their tours – the ticket prices are in line with other cities. Local theatre and concerts are fairly affordable. For example, the tickets to see the Malaysian Philharmonic Orchestra start from around RM50.
You can enjoy a massage or a pedicure from RM50 up or get a haircut from RM80 up – as with everything in KL, the prices vary massively with the location and swankiness of the establishment in question.
See also:
Malaysians love shopping, and the city must have one of the highest concentrations of shopping malls. The prices in them are in line with other major cities, but you can find cheaper goods at the markets – though these are often imported from China.
Many expat families choose to have a helper. Typically, the helpers are from the Philippines, and live in with the employers. The salary for a helper varies slightly depending on the neighbourhood and the helper's experience, but currently the salaries seem to start from around RM2,000. You can look for advice on hiring a helper from one of the expat forums on Facebook – finding a helper can seem daunting with government regulations and agencies in the mix. If going through and agency, the fees can be hefty.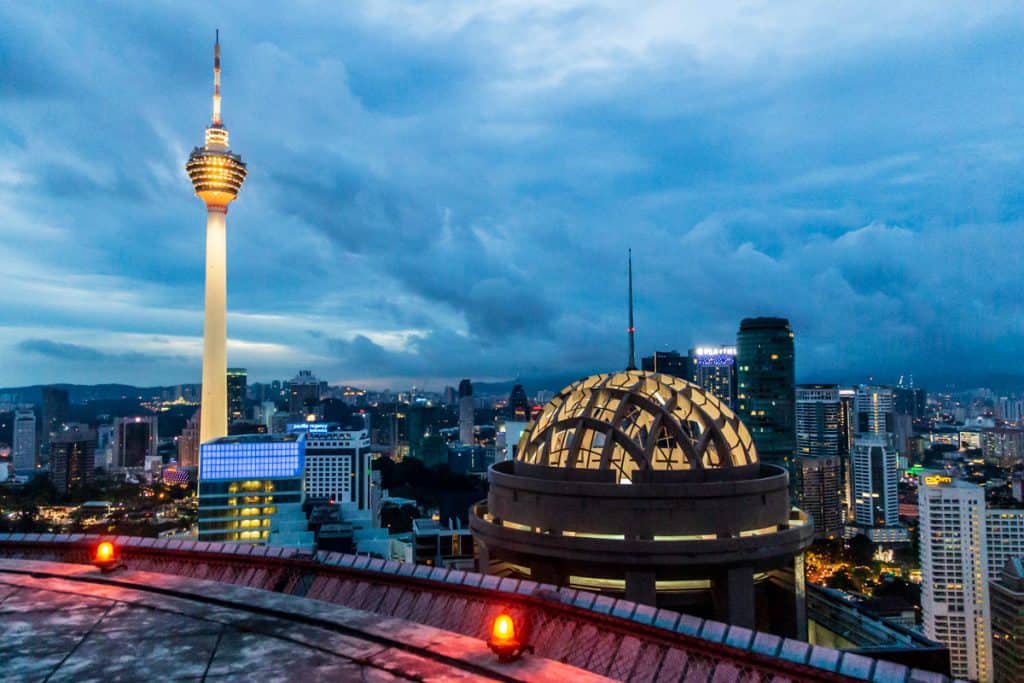 What is it Like to Live in KL?
KL is hot and sweaty, congested and has its fair share of pickpockets – just like most of the capitals in Southeast Asia. Look past that, and it is a great place to live. Particularly families tend to extend their stay, while young professionals may find the city not as vibrant as some of the neighbouring capitals. KL has a large expat population and there are various expat societies that are great places to meet new people.
If you will rely on public transport, make sure you move somewhere with good connections – not many places in KL are. Traffic jams are a daily occurrence and can really limit your life so try to figure out your social circle and live close to it.
Getting used to driving in KL takes a bit of getting used to. Malaysian driving can be described as somewhat haphazard with many drivers seemingly oblivious to the rules. Road accidents are common so do steel yourself when you drive, especially on high-speed roads.
Air quality seems to be getting worse in Kuala Lumpur and is often the thing local expats mention when asked to mention negatives about their adopted home. Air purifiers are now widely available for indoor use and come useful in times of poor air quality. The society and economy are also going through some challenging times and there seems to be more and more polarisation within the country.
However, with the three cultures of Malaysia, there is always a local festival or holiday in the horizon – a day off for those working and a great celebration to be had for all.
Happy Go KL is the go-to site about life in Kuala Lumpur and travel in the region, particularly for families. Written by a bunch of parents, the site reviews kids' activities, family-friendly restaurants and travel destinations. You can also follow them on Facebook, Pinterest, and Instagram.