(Last Updated On: November 13, 2019)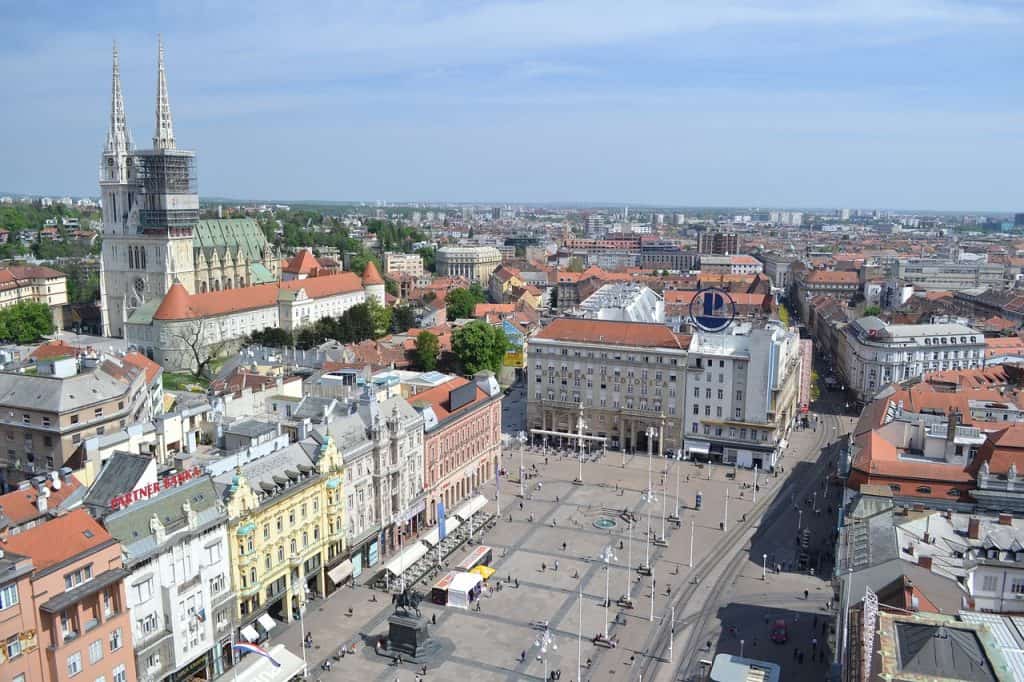 Croatia is a gorgeous country and one of the best destinations to visit in Europe. Its capital city is the perfect example of Croatia's beauty and one of the many reasons people come here. It's particularly appealing to digital nomads who can work from anywhere in the world because it is much cheaper than other EU countries. But someone who's lived there for years will tell you that it's no longer exactly cheap to live in Croatia.
Zagreb has been my home, on and off, for nearly a decade, and I've both loved and hated living there. But that's true for any place in the world; no city on our Earth is perfect, and that's exactly how things should be.
Because, if you lived in a perfect city, would you ever want to explore the rest of the world?
The Cost Of Rent In Zagreb
The cost of rent in Zagreb has skyrocketed in the last few years. Five years ago, you could find a decent apartment in the city centre for some 200 Euros. Today, that much cash will barely get you a room in an apartment with two other people. Or it can get you a run-down studio with furniture that's 30 years old and broken pipes.
A one-bedroom apartment in the city center will set you back at least 500 Euros. And that is for apartments in old buildings, with not-that-great furnishings. A decent two-bedroom apartment will cost some 700 Euros, while a three-bedroom apartment is hard to find under 1000 Euros.
That's just for the city center. If you look at neighbourhoods that are outside the tram zone, or at the surrounding hills, the prices are much lower. It is possible to find a decent two-bedroom apartment for 400-500 Euros, which is actually very reasonable. A one-bedroom apartment outside the city center costs 300-350 Euros on average, and you can get a three-bedroom apartment in the same zone for about 550 Euros a month.
The Cost Of Utilities In Zagreb
The basic cost of utilities is fairly high in Zagreb. On average, a person who lives alone in an apartment up to 30 square meters will spend about 100 Euros a month on utilities. But only on the basics – electricity, water, garbage disposal, and heating. You also need to pay for Internet, prepaid mobile tariff and cable, which is easily another 50-80 Euros a month.
And if you live in a two or three-bedroom apartment, you will be paying more than 150-200 Euros on utilities a month. And that's without taking into account the Internet, cable, etc.
Once in a blue moon, you'll find a decent and affordable apartment with utility costs included in the price of rent. Should that happen, I urge you to lightly slap yourself, just to make sure you aren't dreaming. Such apartments don't come around often, and you have to be really lucky to stumble upon such a gem.
The Cost Of Transportation In Zagreb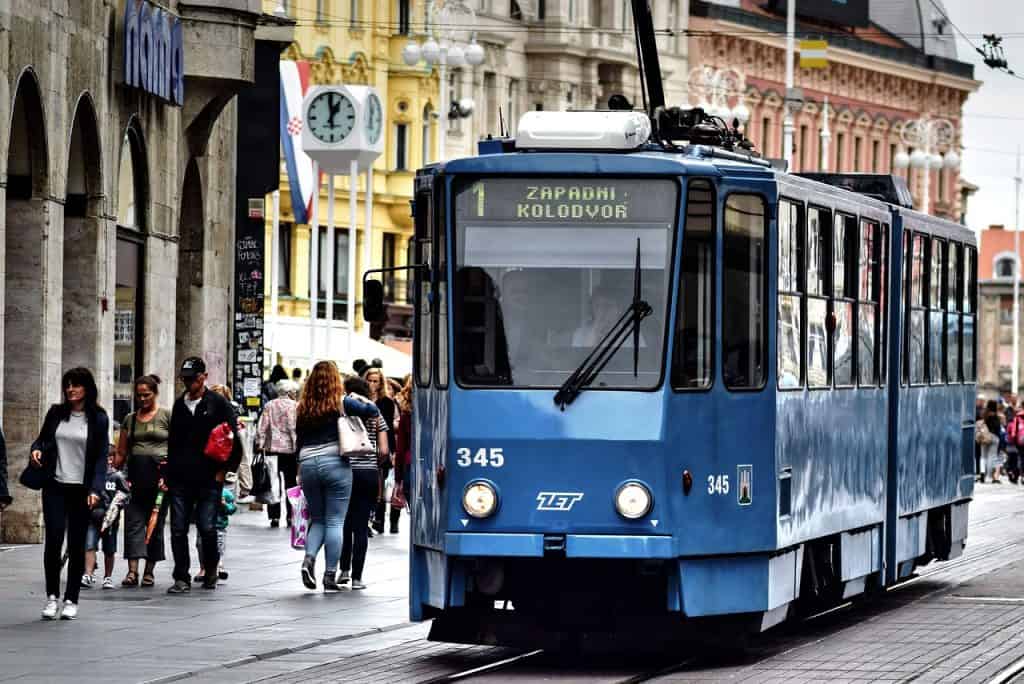 Trams are the easiest and cheapest way of getting around the city. A large part of the tram rails is nowhere near the car traffic, so this is also the fastest way of getting around Zagreb. That is actually why the rent is sky-high in the tram zones – everyone wants to live close to the tram stations since they make it so easy to get around. A one-way ticket that's valid for 30 minutes costs 0.5 Euros, which is ridiculously cheap.
A daily ticket costs 4 Euros, while a monthly ticket costs a little under 50 Euros. Which is still less than you would spend on gas and parking if you drove to work every day. Not to mention the things you can't put a price on, like crying behind the wheel because rush 'hour' lasts all freaking day and all you want to do is go home and eat. But you can't.
It is also possible to get around in busses, and the tickets cost exactly the same as the tram ones.
Taxis in Zagreb are fairly inexpensive. The starting price is 1.30 Euros, and every additional kilometer is another 0.80 Euros. But, if you take a taxi to and from work every day, those numbers add up pretty quickly. I would not recommend relying solely on taxis, since that gets expensive pretty fast.
Uber is available in Zagreb, and it is widely used. But it is not much cheaper than taxis.
The Cost Of Groceries In Zagreb
The cost of groceries is something that varies a lot from person to person. It depends on how much food you normally eat, do you go for the store brand or name brand items, etc. But it's not going to be a lot of money; Zagreb is actually one of the cheapest cities in the EU, when it comes to the cost of groceries.
On average, the monthly cost of groceries is going to be at least 200 Euros. And that is if you shop the sales at the more affordable supermarkets, like Lidl or Plodine, and if you plan and budget your shopping trips.
If you're used to buying name-brand foods, sweets and drinks, add at least another 100 Euros to that price.
Farmer's markets are very popular in Zagreb, and they are the best for buying produce. Fruits and vegetables sold on farmer's markets are organic, and a lot cheaper than the produce you find in grocery store chains. Not to mention that the quality and taste are incomparable.
When it comes to other goods, domestic brands are a lot cheaper than imported brands, and they are just as good. Swap out Nutella for Linolada, and give up Heineken in favor of Karlovačko – saving money while shopping for groceries is as simple as that!
That is unless you are a smoker. A pack of Marlboro lights will set you back 4 Euros, which is still a lot cheaper than other European cities. But one pack a day for 30 days comes out to 120 Euros a month, just for cigarettes.
The Cost Of Dining (And Going) Out In Zagreb
This is one of the reasons why Zagreb is such a popular city to live in. Compared to larger European cities like Vienna or Paris, Zagreb is insanely cheap. A sandwich in an inexpensive restaurant costs about 5 Euros, although you can find many cheaper fast-food locales throughout the cities. In general, anything near a school or college will have extremely affordable food.
A large pint of local draught beer costs only about 2 Euros, and a cappuccino costs only 1.5 Euros on average. Bottled beer is much more expensive though, and a single bottle costs 4-5 Euros in most pubs.
But, bear in mind that these prices heavily depend on the neighbourhood of the pub/cafe. An Espresso in a cafe near Zagreb's Ban Jelačić Square costs 2.5 Euros, but it only costs 1 Euro in the cafe that's two minutes away from my apartment.
What about restaurants? Obviously, the prices vary a lot, depending on the type of restaurant and the neighbourhood they're located in. On average, a three-course meal at a mid-range restaurant in the city center for one person costs 15-20 Euros. If you want to take out your partner on a nice date at a really fancy restaurant, you can get two decadent meals and a nice bottle of wine for about 50 Euros.
The Cost Of Entertainment In Zagreb
How much does it cost to have fun in Zagreb? Well, it kind of depends on what you mean by fun. If you want to go see a movie, you will need at least 10 Euros to have a good time. That is including about 4.5 Euros for the ticket, and the rest for drinks and snacks.
Concert tickets are much more expensive than movie tickets though, and seeing a world-famous singer perform in Zagreb will easily set you back 100 Euros per ticket. If you learn to love the local performers, you will be able to have fun for some 20 Euros.
See also:
If your idea of fun is going to the gym, expect to spend about 35 Euros a month on membership. Lots of gyms offer discounts if you sign up for a year's membership immediately, so that's often going to cost even less.
Another popular form of entertainment is shopping. And with the many giant malls, you find in Zagreb, there are plenty of places where you can shop 'till you drop. Or until you max out your credit card – whichever comes first. The good news is that shopping is one of the less expensive hobbies in the city.
With lots of chain stores like Zara and H&M, you can shop for clothes that are available throughout Europe at the same prices. Brands like Levi's, Tommy Hilfiger and Ralph Lauren are much more expensive in Croatia than in other EU cities though, so bear that in mind. And the sales are never as good as in larger cities, which is really a shame.
Why It's Awesome To Live In Zagreb
There are certainly lots of pros and cons to living in Zagreb, but I think the pros outweigh the cons by a mile. Rent is expensive, the traffic is a nightmare and the trams get ridiculously crowded. A lot of people still smoke, and it's not so easy to find non-smoking establishments. But those are pretty much all the downsides.
What are the upsides? Well, you're only about 2 hours away from the closest beach, eating and drinking in restaurants is super cheap compared to other European cities, and groceries are even cheaper. It is a gorgeous city, with a charm that you won't find anywhere else in the world. And if you see the city during December, when the Christmas market is open, you will fall for it irrevocably.
The average salary in Croatia is still a lot lower than in the rest of the EU, so people who make more than 2,000 Euros a month can lead a very comfortable life in the capital of this country. Which is exactly why Croatia is a favorite of digital nomads.
About the Author:
This guest post is by Mike Jensen. Mike is addicted to both adventure and travel, so he decided to combine the two to form TheAdventourist. There he shares his journey from one adrenaline rush to another, always exploring new places as he goes. You can find him sharing his travels on Facebook.