(Last Updated On: February 1, 2023)
Why We Wanted To Leave Buenos Aires To See Colonia del Sacramento
After a few days pounding the busy streets of Buenos Aires, we decided to head across the Rio de la Plata to explore the sleepy, historic town of Colonia del Sacramento in Uruguay. From what we had read about Colonia, the reviews varied vastly from 'its so charming, you must spend a while' to 'it's so boring, you can see everything in just a few hours.' So we decided to see for ourselves because we have a fondness for charming, boring towns! And hey, if anything, it's another stamp in the passport!
As it turns out, you can see pretty much everything in a few hours, but it's lovely and worth more than a quick day trip from Buenos Aires. We decided to spend a night, actually, I'd wish we had spent a couple of nights but our month in South America was rapidly coming to an end.
It only takes an hour from Buenos Aires by ferry to reach Colonia, and then it's just a fifteen-minute stroll into the historic quarter. The historic quarter, now a UNESCO World Heritage Site is a lovely place to lose yourself amongst the cobbled streets, the charming old buildings, and colourful shops. Yes, it's a little bit touristy, but even in the middle of the high season, it wasn't overrun with tourists.
Why Visit Colonia del Sacramento
One of the reasons we wanted to visit Colonia was for its Portuguese influence. Living in Portugal as we do at the moment, it was interesting to see the typical blue tiles and architecture in a new environment.
The city of Colonia was founded by the Portuguese during the 1600s (aha, that explains the Portuguese influence) and passed hands between the Portuguese and Spanish for many years until finally becoming a part of Uruguay in 1828.
See also:
See Also:
In the centre of the town are the ruins of the Convent of San Francisco which was destroyed by a fire in the 1700s. Out of the ruins stands the Colonial del Sacramento lighthouse. It's possible for a small fee to climb the 111 steps up the narrow winding staircase to the top, but we didn't. There weren't many tourists in town that day, but those that were were all at the top of the lighthouse.
Just a short walk from the lighthouse, along Calle de Portugal, is the oldest church in Uruguay, the Basilica of the Holy Sacrament. Quite pretty from the outside but looked quite modern indoors. I guess coming from Portugal, we were expecting to see a more ancient interior.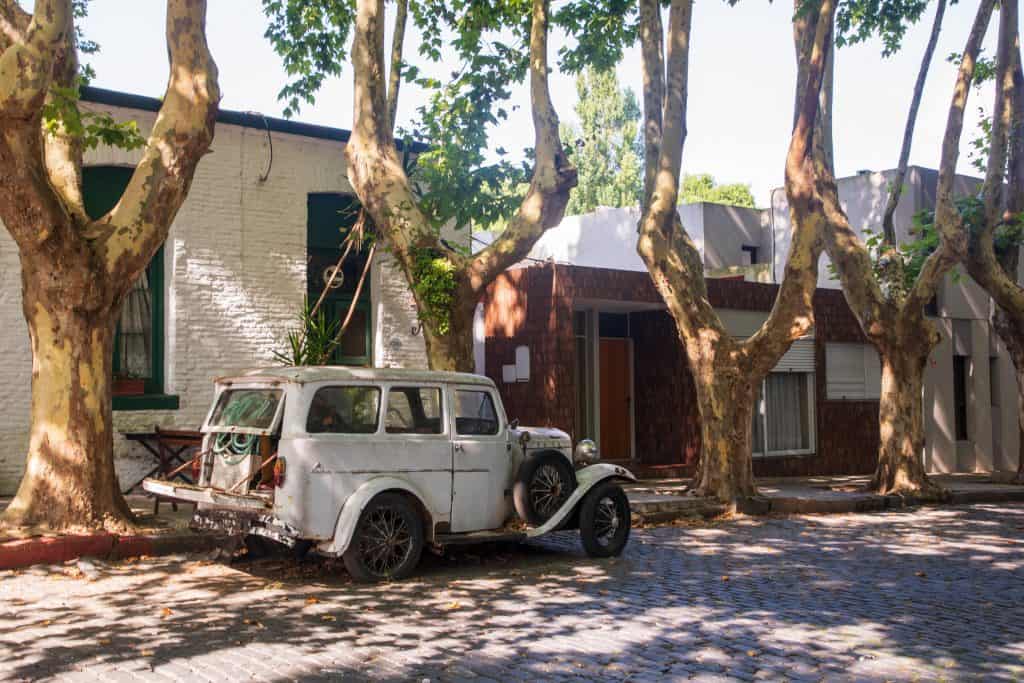 One of the things we liked about strolling around the colonia del sacramento was the number of vintage cars we saw. We felt like we were in Havana, Cuba which is weird as neither of us have been to Cuba, but it's on the list!
The Best Thing To Do In Colonia
However, our favourite thing to do in Colonia was cafe hop and bar hop, enjoy people watching and sampling the local wine. Uruguay wine was amazing. Apparently, Uruguay is the fourth largest wine producer in South America. The red wine which is made from Tannat grapes, which we haven't had before, was just some of the best wine we have had. Now you know, why we wish we had spent a couple of extra days there.
Top Tips – Many bars and restaurants in Colonia and other parts of Uruguay will give you a 20% discount if you use a foreign credit card. One bar we were enjoying a pre-dinner cocktail in said, 'Oh dear, credit card machine not working, so no discount.' We smiled in that way that made her quickly say, 'I'll just change the battery in the credit card machine, shall I?'
Another Top Tip – It's also possible to withdraw US$ from the ATMs in Colonia. The ATM fees are high in Argentina, so it's a good idea to stock up on dollars.
How To Get To Colonia del Sacramento From Buenos Aires.
We travelled to Colonia on Buque Bus as they seem to have the most ferries across to Uruguay. The fast ships take just one hour. The boats are very comfortable, with a duty-free shop and a snack bar on board.
It's possible to book online, but we bought our tickets on the day at the port. I guess it was because it was high season, but tickets were about $50 each one way, and that was travelling midweek. The price was even higher at weekends, so it's not a cheap day trip, but we would still recommend heading over to Colonia.
You can book your tickets in advance here.
You clear immigration in Buenos Aires, so do check in at least 30 minutes in advance. Check-in opens two hours before.
Another ferry company is Colonia Express, but the timings weren't as good as BuqueBus and prices are similar to BuqueBus.
In front of the Colonia del Sacramento Ferry Terminal is the bus station which has buses departing to Montevideo and other cities in Uruguay.
Have you been to Colonia? What did you think of the city? Tell us in the comments below.
Disclaimer:Some of the links on this website are "affiliate links", meaning that if you click on the link and make a purchase, I will receive a small commission at no extra cost. This helps me to keep my website running and continue to share my travelling knowledge with you. I thank you for using the links on my website.