(Last Updated On: December 26, 2022)
Brief History of Valletta, Malta

The Knights of St John built the beautiful UNESCO World Heritage City of Valletta after the Great Siege of Malta in 1565. A 'city built by gentlemen for gentlemen.' It is named after its founder, Grand Master of the Order of St. John, Jean Parisot de la Valette.
The city of Valletta is the southernmost European capital city. It's built on what was once Mount Sceberras, a peninsula that's located between two natural harbours – Marsamxett Harbour to the west and the Grand Harbour to the east.
The city is designed on a grid system and being one of the world's smallest cities at less than one square kilometre; it's very easy to wander around on foot.
But don't let its small size fool you, Valletta is jam-packed with places of historical interest; great cafes, bars, and restaurants; shows and events.
Here's a list of some of our favourite things to see and do in Valletta.
Things To See and Do In Valletta


1) Roam The Street and Soak in the History of Valletta
Our favourite way to explore any city we visit, and especially Malta, is to walk. And that's the best way to explore Valletta too. Just walk and lose yourself in the back streets and narrow alleys. Well, you won't get too lost, as Valletta like many cities in the US, is built on a grid system. But do move away from the busy main streets for a more authentic Valletta experience.

Be sure to look upwards, and admire the architecture and the gorgeous Maltese balconies a.k.a. Gossip balconies.

In our opinion, the best time to walk the streets of Valletta is in the early evening, when the crowds have left, and the shops are closed. The buildings are all lit up, and it's just stunning.
2) Get a better understanding of Malta's Past with the Malta Experience


Ok, it's a bit touristy, but we do recommend visiting the Malta Experience at the start of your trip to Malta. It's a 45-minute audio visual and is a great way to get a better understanding of Malta's fascinating history. Plus in the summer, it's an ideal venue to escape the heat for a while.


3) Take a Free City Walking Tour of Valletta

Take a free walking tour of Valletta, Malta. Colour My Travel offers free walking tours twice a week in Valletta. They depart from Valletta City Gate on Wednesdays at 5 pm and Saturdays at 10 am. Tours last around 90 minutes. We did one when we first arrived in Malta. Our guide was excellent, and the tour was really interesting.


4) Enjoy a coffee and cake at Caffe Cordina on Republic Street.


The Caffe Cordina has been around since 1837. It's a pleasant spot to enjoy a coffee and cake, sit outside in the square, and people watch but do go inside the cafe to admire the beautiful interior. Oh, and I highly recommend the banoffee pie.


5) Take In a Performance At The Manoel Theatre


For a bit of culture, check what's showing at the Manoel theatre.


Built in 1731, it's one of the oldest theatres in Europe. It was originally built to keep the younger Knights of St John out of mischief!


It's a lovely venue, so far we have seen Shakespeare's play Macbeth, and enjoyed concerts by the Malta Philharmonic Orchestra and a young French quartet.


6) You Have to See The View of Grand Harbor From The Upper Barrakka Gardens
With incredible views over the Grand Harbour and the Three Cities, you have to visit the Upper Barrakka Gardens. If you have arrived by ship, it's easily accessible with the Barrakka lift, just €1 to take the elevator up and free to come back down.


The Gardens overlook the Saluting Battery where a cannon is fired every day at noon and 4 pm with great pomp and ceremony.


There's also quite a cute kiosk coffee shop located in the park too.


7) Take the Three Cities Ferry and explore Senglea, Birgu, and Bormla.


From Upper Barrakka Gardens, take the lift down to the waterfront and take the Three Cities Ferry across the Grand Harbour. It's just a short ferry ride but really picturesque, and at only €1,50 per person, it's excellent value. Or take one of the colourful local water taxis known as dghajsa (pronounced: "dicer"). To cross the harbour, it costs just €2 per person. They also offer tours of the harbour from only €8 per person.


Take a stroll through the Three Cities. You could visit Fort St Angelo, The Maritime Museum, or even the Inquisitors Palace in Birgu.


Or take a stroll through sleepy Senglea; enjoy a drink at one of the many waterfront cafes and be sure to visit Gardjola Gardens for magnificent views of Valletta.


8) See A Show At Valletta's Pjazza Teatru Rjal


Catch a performance at the Pjazza Teatru Rjal, the former Opera House and one of the most beautiful and iconic buildings of Valletta. The Opera House was built in 1866. It was almost destroyed by fire in 1866 but beautifully restored by 1877.


However, it took a direct hit from bombing during World War II. There had been several plans over the years to rebuild the Opera House to its former glory, but in the end, the ruins of the theatre were redesigned by Renzo Piano, an Italian architect and in 2013 the open-air theatre in the ruins was opened to the public.


Admittedly, it doesn't look so good from the outside, but it's a great outdoor venue. Many concerts and films take place here, especially during the summer months.

9) Catch An Art House Movie At The Spazju Kreattiv


The Spazju Kreattiv is housed within the magnificent St James Cavalier, which was built during the time of the Knights of St John. All sorts of weird and wonderful arty events and films are shown here. Have a look at their website for a list of current and upcoming events.


10) If You Are Going to Valletta, You Really Must Visit St John's Co-Cathedral

Located in the heart of Valletta, is the gorgeous St. John's Co-Cathedral. If you enjoy visiting churches, you must see this one, and if you're not particularly into religious buildings, you should still visit this one.
From the outside, it's quite a plain-looking building, but inside, it's stunning and very Baroque. Every corner of the Cathedral is decorated with 16th and 17th-century art, and it's not just the ceilings and walls.

The floor is covered in a patchwork of marble memorials for the knights.
There's also a balcony so you can admire the church nave from above. It's only 45 steps!
And definitely, don't miss the oratory to see the paintings by Caravaggio. His most famous work, once described as 'the painting of the 17th century' the Beheading of St. John the Baptist is on display here.
Cost To Enter St John's Co-Cathedral


It costs €15 to enter and included in the price is an excellent self-guided audio tour. Price includes entrance to the Cathedral and the oratory.


Note that the Cathedral is a popular spot for cruise visitors to visit, so queues to enter can be long. Check how many cruise ships are in from your vantage point at the Upper Barrakka Gardens to decide if it's a good day to visit or not.


For details on opening hours, visit their website.


11) Go Way Back In Time to Ancient Malta At The National Museum of Archaeology
To escape the heat and the summer crowds, why not visit The National Museum of Archaeology on Republic Street. Here you will find exhibits and artefacts that date back to Malta's Neolithic period (5000 BC) and up to the Phoenician Period (400 BC).


Highlights from the museum include the 'Sleeping Lady' (from the Ħal Saflieni Hypogeum near Paola, which is just a short bus ride away) and the 'Venus of Malta' (from the Ħaġar Qim Temple.)


12) Bar Hopping Along Valletta's Old Red Light District – Strait Street
Strait Street also affectionately known as 'The Gut' was once the seedy red light district of Valletta. During the late 19th until the mid-20th century, Strait Street was one of the liveliest parts of the capital. Prostitution and debauchery was rife.
In recent years, it's been somewhat gentrified and now hosts a number of wine bars, gin bars, music bars and restaurants.
13) Visit Valletta's Lower Barrakka Gardens
The Lower Barrakka Gardens is twinned with the Upper Barrakka Gardens – now, there's a surprise. Much quieter than its twin, it too offers a fantastic view of the Grand Harbour and the breakwater. In its centre, there's a rather prominent neoclassical temple that's dedicated to Sir Alexander Ball.
Sir Alexander Ball was a British naval officer who was sent to Malta in 1798 to help the Maltese blockade against the French and who was widely loved and respected by the local Maltese.
Just outside the Gardens are a couple of eateries that are rather pleasant spots for a coffee and a sandwich.
14) Hastings Gardens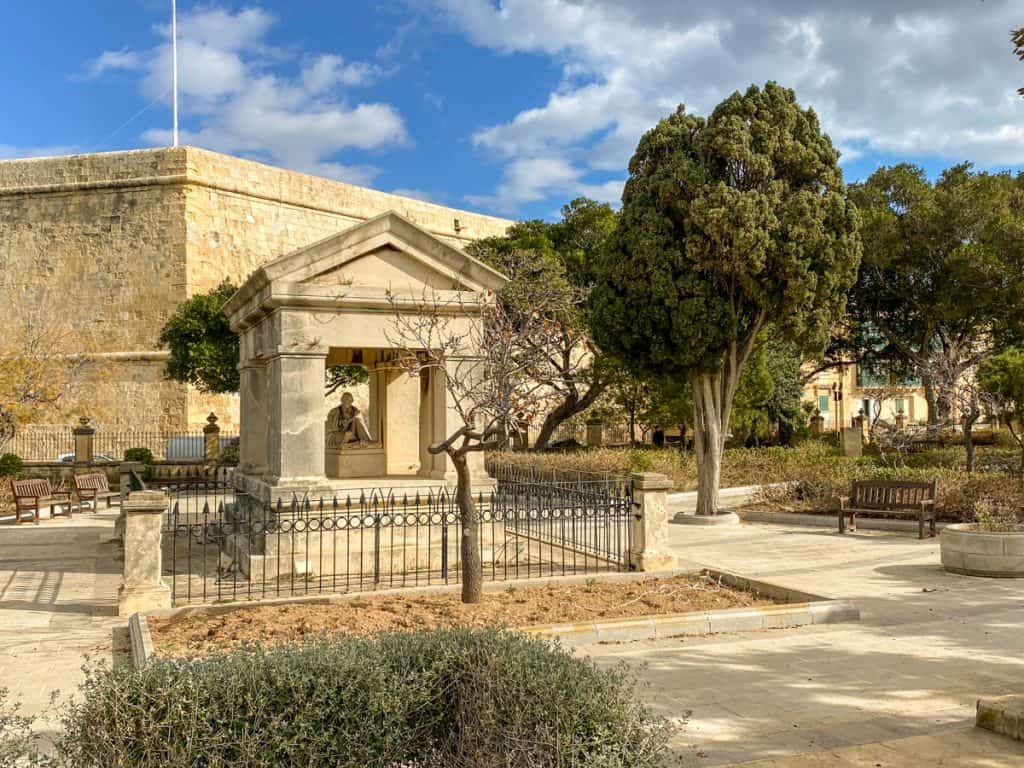 On top of St. John's Bastion and St. Michael's Bastion, to the west of the City Gate is the Hastings Gardens. The Gardens is named after the Marquis of Hastings, who was a governor of Malta and whose monument stands in the centre. The garden has views of Floriana, Manoel Island, Msida, and Sliema.
15) Walk The Valletta Fortifications
One of our favourite walks in Valletta, is to walk the Valletta fortifications. Much of the city's protective walls and bastions are still standing today, and with the sea on three sides, it's an enjoyable walk around the city walls.
There's a part that's a little rocky, so wear proper shoes, but it's not too difficult. It takes you close to the two lighthouses by the entrance to the Grand Harbour. Beautiful walk to watch the boats and ships entering and leaving the harbour.
Do the Valletta fortification walk at the weekend. We went again during the week and there were loads of cars parked which rather spoilt the walk but at weekends, it's lovely!
16) Take A Stroll Along The Valletta Waterfront
We can see the Valletta Waterfront from across the Grand Harbour in the Gardjola Gardens on our daily walks with our dog. Nineteen historical warehouses built during the Baroque period have now been converted to bars and restaurants and souvenirs shops. There's even a Starbucks and a Hard Rock Cafe, not sure if that's a good thing or not!
These former warehouses were where the Knights of St John and merchants from Europe used to unload their wares. The doors of each building were painted in different colours to represent what was once stored inside them.
Red represents wine; blue represents fish; green for fruit and vegetables and yellow for wheat.
During the summer months, there is entertainment in the form of street entertainers, traditional dancers, marching bands, and street theatre. It's also now part of the Cruise Terminal.
To be honest, it was a little bit too touristy for us, the drinks and food were underwhelming and a bit overpriced. When the cruise ships are in town, the Valletta Waterfront with its chain restaurants and trinket shops could be almost anywhere in the world. If you're staying in Valletta and want to eat by the water, it might be worth a visit. We may be biased, but we far prefer the waterfront cafes and restaurants over in the Three Cities.
17) Take A Food Tour


The Valletta Food Tour with Offbeat Food Trails is a fun way to learn a bit about the history of Valletta and Malta and to try some traditional Maltese food – pastizzi, timpana, to name just a few. This three-hour food tour takes place every Saturday morning at 10:30, departing from St John's Co-Cathedral.

You can buy your tickets in advance for the Valletta food tour here.
18) Follow a Secret City Trail


I had seen an advert on Facebook for Secret City Trails and thought it would be a fun Christmas present for Jonathan from our dog Angel.
It's a self-guided walk with a series of riddles. You have to follow the directions and answer location-based questions.
They have trails all over Europe. We did the one in Valletta so it wasn't too difficult for us to answer the questions but we plan to try them in other countries.
19) Chocolate District

This is one is for the chocoholics. On Melita Street, not too far from the Upper Barrakka Gardens, is the Chocolate District. Spoiler alert – the Food Tour stops here for a break, but if you just want a chocolate fix and not an entire food tour, then this is for you.
20) Fancy A Trip To Gozo?
It's now possible to take a fast ferry from Valletta to Gozo. Journey time is around 45 minutes. The new fast ferry terminal is located very close to where the ferry from the Three Cities docks in Valletta, or coming from Valletta, just head to the Upper Barrakka Gardens, take the lift down and it's just across the road. You have a choice of two ferry companies – for up-to-date prices and schedules, check out the ferry websites here –Gozo Fast Ferry and Virtu Ferries .

21) Treat Yourself To A Spa

Need some pampering? I highly recommend the Amis Day Spa in Valletta. Great for relaxing massages, facials and manicure/pedicures.
Favourite Bars In Valletta, Malta
Have a drink at "The Pub" in Valletta
Located on Archbishop Street, it's only a small bar, but it is infamous for being the place where the famous actor Oliver Reed died in 1999 after a very heavy drinking session during the making of his last movie, Gladiator.
It is said that Oliver Reed had drunk more than eight pints of lager, half a bottle of whiskey and twelve large rums and half a bottle of whiskey. Sadly and probably not that surprisingly, he collapsed in the bar and unfortunately passed away before the ambulance arrived. The Pub" as well as being a nice place for a beer is also an unofficial shrine for Reed.
The Bridge Bar
Every Friday night from May till the end of October, you can listen to jazz outdoors at the Bridge Bar on Saint Ursula Street. Book in advance if you want a table or come early and find a place to sit on the steps. Cushions are provided. It's a different jazz band every week, so you never know who's going to turn up. Bar snacks are available.
Yard 32
Also on Strait Street. Serving great gin and tapas. If you love gin, you'll love this place. It's the first gin bar in Malta with a huge selection of gin. Apparently, gin is not just Gordon's, who would have thought? There's a great choice of tapas, they look pretty good but haven't tried them yet as were full from the Maltese platter, see above.
Favourite Lunchtime Spots in Valletta
The Museum Cafe
Located in the heart of Valletta and part of the iconic Auberge d'Italie, the Museum Café is a family-run cafe serving all sorts of snacks and local dishes. The Museum Cafe first opened in 1921 and is famous for its ftira, a ring-shaped, leavened, Maltese bread. The ftira sandwiches are enormous and perfect for sharing.
Reno's Caffe
A very simple family run local diner. Similar menu to the Museum cafe. Sandwiches, pasta dishes. Huge portions so we usually share a dish.
Il-Gifen Bar
Another family run restaurant located on St Paul's Street. Umm, there seems to be a theme here. Generous portions, reasonable prices. Good for pasta dishes and salads.
The Submarine
For take away sandwiches, our favourite spot is The Submarine on Merchant Street. They have a choice of pre-made or create your own sandwiches. Always fresh, always delicious, and often a queue. There are many sandwich shops in Valletta, but this is the only one where you see people lining up, and it's well worth it!
Favourite Dinner Spots in Valletta, Malta
Dmitri Restaurant
We don't dine out much in Valletta. We usually eat in our local neighbourhood in the Three Cities. However, we did have an amazingly delicious meal at Dmitri Restaurant on St Paul's Street. The restaurant is tiny, so we recommend making reservations for dinner. The decor is simple, but the food is fabulous. Lots of fish dishes, good selections of wine. Prices from around €40 per head with wine.
Beati Paoli Restaurant
This charming, small restaurant on St Paul's Street, just behind the Is-Suq Tal-Belt (The Valletta Food Market), serves delicious Mediterranean dishes. Great food and service.
Aaron's Kitchen
Enjoy a delicious meal of calamari and tagliatelle with lobster at an incredibly reasonable price for the quality of food offered. Tagliatelle with lobster was just €18. Aaron's Kitchen is located in the heart of Valletta, just a few minutes from St George's Square. Turn left at the HSBC bank. The restaurant run by Celebrity Chef patron, Aaron Degabriele, who I personally have never heard of but the food and service was great. Reservations recommended.
Souvenir Shopping
If you're looking for fridge magnets, snow globes and other tacky must-have gifts in Valletta, there's an abundance of souvenir shops scattered around the city. A new shop opened very recently just by St John's Co-Cathedral called Souvenirs That Don't Suck – it's got quite a fun collection of T-shirts, tote bags and coasters.
For something a little classier than t-shirts, we recommend you visit the Stephen Cordina Aroma and Therapy Flagship Store at 1 Archbishop Street. If you're staying in Sliema, they also have a shop at Tigne Point. Here you will find a great selection of smellies for the body and home.
Think candles, room diffusers, essential oils, and gorgeous smelling body lotions and potions. We picked up some candles for Christmas made with frankincense and probably not on your list if you're souvenir shopping, but I'd also highly recommend the night serum.
Follow them on Facebook because they are planning to do a few workshops in the future, and as Stephen Cordina is one of just a handful of recognized perfumers in the world, they could be quite interesting.
Best Time To Visit Valletta, Malta
With over 300 days of sunshine and more than 3000 hours of sunshine a year, Valletta is an ideal all year round destination. Having said that July and August are hot, seriously hot and very busy.
Spring and Autumn are great times to visit, beautiful clear blue skies, cooler evening and fewer crowds.
Haven't experienced winter here yet but winters are usually mild with a little rain.
How To Get To and Around Valletta
First, you need to get to Malta. Being a tiny island in the Mediterranean, the only way here is by air or by sea.
If you're coming by air and staying on the island for a while, do allow a day or two to explore the sights of Valletta. It really is a beautiful city and being so compact, and in a grid system, it's effortless to get around on foot.
Malta's Busses and The Explore Card
From all major resort areas, there are buses which will drop you off by Valletta Gate. A bus costs you €1,50 each way (€2 during the summer months). If you're planning to use public transport a lot during your trip, consider buying an Explore card for €21 or €15 for children, which will give you unlimited travel for seven days. Cards are available for purchase in most hotels, supermarkets and convenience stores.
Ferries in Valletta
Coming from Sliema or the Three Cities, you can take a ferry which I have to say is a much prettier journey than the bus. Costs €1,50 per ferry ride, and the journey takes less than 10 minutes. Boats leave every half hour.
Renting a Car in Malta
Renting a car gives you complete freedom, but particularly in the summer months, the traffic is terrible, and parking is a bit of a nightmare.
Taxi Cabs and Uber in Malta
Taxis are plentiful but not particularly cheap. We recommend downloading the Ecabs app. They operate like Uber, but out of all the taxi companies we have used, they are the most reliable and don't (usually) drive like idiots.

Uber and Bolt also operate in Malta now, but I still prefer Ecabs.
Arriving By Cruise Ship Into Valletta, Malta

For those arriving by sea on one of the cruise ships, don't just follow the crowds, getting around the city is easy. Most of the vessels moor up by the Valletta Waterfront, from there it's a short walk to the Barrakka Lift which will take you up to Upper Barrakka Gardens.


Finally…


We hope you have enjoyed our guide. We will keep updating this guide as and when we discover more places in Valletta. If there's any place you feel that should be on this list, drop a line in the comments below.
For More Posts On Malta, Check These Out

Fort St Angelo in The Three Cities of Malta


Mdina – Malta's Ancient Capital


The Red Tower of Malta


Driving in Malta


Malta Cart Ruts – Clapham Junction


Popeye Village


Malta Food Tour


Malta Carnival


St John's Co Cathedral in Valletta


Valletta Guide


The Malta Experience in Valletta


The Inquisitor's Palace in Birgu


Senglea in the Three Cities
Feast of Vows in Senglea


Visit Comino Island


Hagar Qim Ancient Temples


Malta's Hypogeum – a must see


Maltese Maritime Sayings


Disclaimer: Some of the links on this website are "affiliate links", meaning that if you click on the link and make a purchase, I will receive a small commission at no extra cost. This helps me to keep my website running and continue to share my travelling knowledge with you. I thank you for using the links on my website.