(Last Updated On: June 1, 2022)
To be honest: I only live in Alaska during the summer months. Even I am sure Alaska has its beauty during the winter and the Northern Lights are one of the most magical things I have seen, I move to warmer areas in the winter.


I absolutely enjoy the almost 24 hours of daylight during the summer months in Alaska– I am not so much in favor of living somewhere where it's almost 24 hours dark and the sun barely scratches the horizon.



So Alaska is my summer destination – and it's gorgeous!



I don't live in a house or an apartment; I live in a converted school bus. It really doesn't matter if it's a blue converted school bus or an RV – the important thing about a "moving house": campsites are affordable and Alaska is all about the great outdoors – so why not live as close to nature as possible!


Campsites with full hookups and hot showers/wifi will cost a little more than basic municipality or state camp grounds. Rates range from as little as $10 to $40 per day. Many of the campsites offer a discount, if you stay longer.


I recommend mixing it up: Enjoy the wilderness of a state campsite only to truly value laundry, wifi and a nice and clean bathroom for the next few nights. On average you will spend $800 a month for campsite fees (with an RV, just camping is much cheaper!). You might get it cheaper, if you get a long-term deal.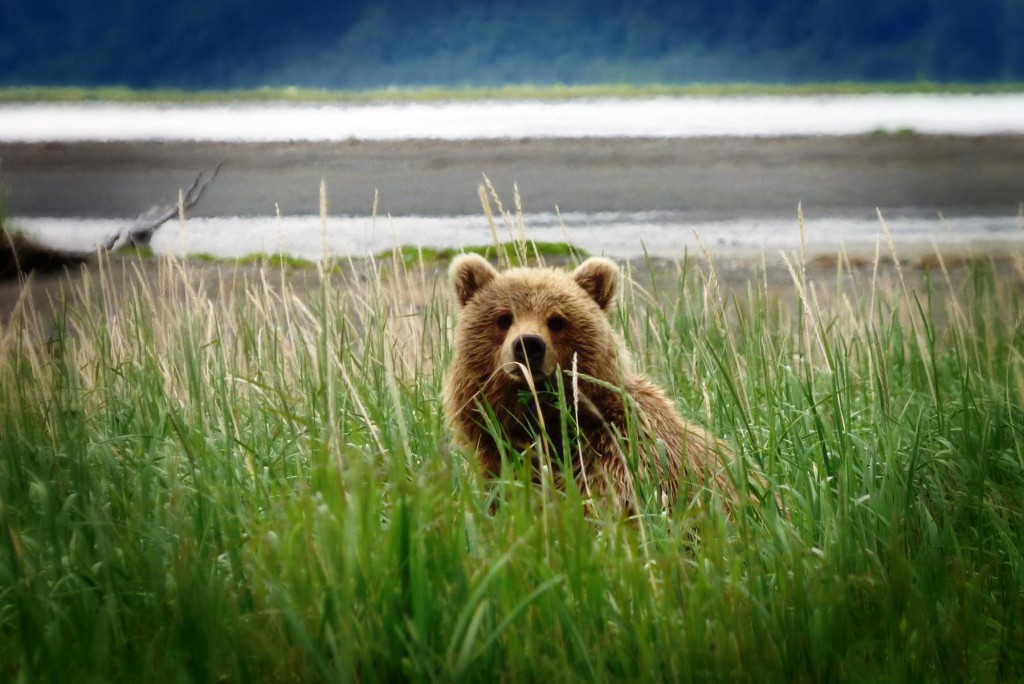 Anchorage, the largest city, has public transport and between a few larger cities there are buses several times a week.


But if you want to see the beautiful mountains, glaciers and truly experience the space and wilderness out there, you will have to drive. Gas is more expensive in Alaska than in the rest of the States – Anchorage's gas station sell fuel for around $5.80/gallon, but if you get to Denali or Valdez you will probably pay more. Add another $0.50/gallon for diesel.
See also:
The same goes for groceries: food prices are a little higher in Alaska than in the rest of the United States – simply for the same fact as for the fuel: everything has to be shipped by boat or large trucks through Canada and along the Alaska Highway.



I recommend stocking up with as much as possible in Anchorage. You will easily pay $0.50 more for many items out in Glenallen, Valdez or Seward. But if you like fresh fish you are in the right spot: you can get freshly caught Salmon or Halibut for a lot less than in the lower 48!
Yes, Alaska is more expensive with regards to living costs, but: there are hardly any other places where you have so much wildlife and nature just outside your door (or your motorhome).


Many of the National Parks don't charge any entrance fees and you can enjoy some of the highest peaks of North America in Wrangell/St. Elias for free! It is by the way also the largest National Park in North America. Also the Kenai National Park at the coastline of Alaska doesn't charge any entrance fees: And a visit to Seward (the gateway town to the Kenai Fjords National Park) would not be complete without hiking alongside the picturesque Exit Glacier with a high probability seeing a few of the local black bear feeding on some berries.



The 8.2-mile round trip up to the Harding Icefield is a spectacular day hike. Starting on the valley floor, the trail winds through cottonwood and alder forests, passes though heather filled meadows and ultimately climbs well above tree line to a breath-taking view of the Harding Icefield. The top of the trail is a window to past ice ages – a horizon of ice and snow that stretches as far as the eye can see!



I already mentioned the abundance of wildlife in Alaska: Most of this comes for free, too: Just driving along Denali Highway or the Seward Highway offers you good chances to see moose or caribou. Black and Brown Bears are regularly seen in Valdez or in Wrangell St Elias National Park.



If you want to have your once-in-a-lifetime experience and go on a bear viewing flight to Katmai National Park you will have to pay for it: prices start around $750 USD.



Interested in catching your own food and try it the real Alaskan-style? An annual fishing license for non-residents costs $145, a 14-day fishing license $80.


Talking about how much it costs to live for a month in Alaska wouldn't be complete without talking about Anchorage nightlife. For example, the Summer Solstice in Anchorage: On the longest day of the year – Summer Solstice – Anchorage, Alaska, gets 22 hours of functional daylight, and the city makes the most of all that sun.


Alaskans gather for big celebrations, classic events and a huge dose of outdoor fun on the days surrounding solstice. From hiking and biking to concerts and festivals timed to take full advantage of all the rays, summer is in full swing under the midnight sun.


The costs for a night out in Anchorage are pretty average: in a normal bar or pub you pay $6 USD for a beer (don't forget to try the Alaskan Summer Ale!), pub grub averages around $20-25USD. If you are heading to one of the fancier restaurants with fresh seafood you will spend together with some drinks $60USD per person.

Interested in what it would cost to live in other cities in North America, then check these out.

What does It Cost To Live In Vancouver?
What does it cost to live in New York?
What does it cot to live in Philadelphia?
What does it cost to live in Merida, Mexico?
What does it cost to live in Omaha?



This is a guest post by Natalie who left Germany end of 2010 to backpack West Africa. After feeling the freedom of the road applied for a tour leading job and since then has been driving overland trucks from Cairo to Cape Town and Rio de Janeiro to Quito. After converting an old school bus into an ultimate overland vehicle and starting her on adventure company together with Dave (who she met traveling and working in Africa) Natalie is on the road again: This time to enjoy the beauty and wilderness of Alaska with like-minded people.
Follow Natalie on her blog Infinite Adventures, on Facebook or on Twitter.