(Last Updated On: November 16, 2019)
I'm not sure if Jonathan and I just have really big feet or we just keep moving to countries where people have tiny feet. Whatever the reason, buying shoes is always a nightmare.
When our new friends from Pandere Shoes contacted us and said, 'Hey, we have a new range of shoes perfect for travelling. Want to try them?'
We didn't need to be asked twice. Um, but we did wonder if they cater for size enormous feet.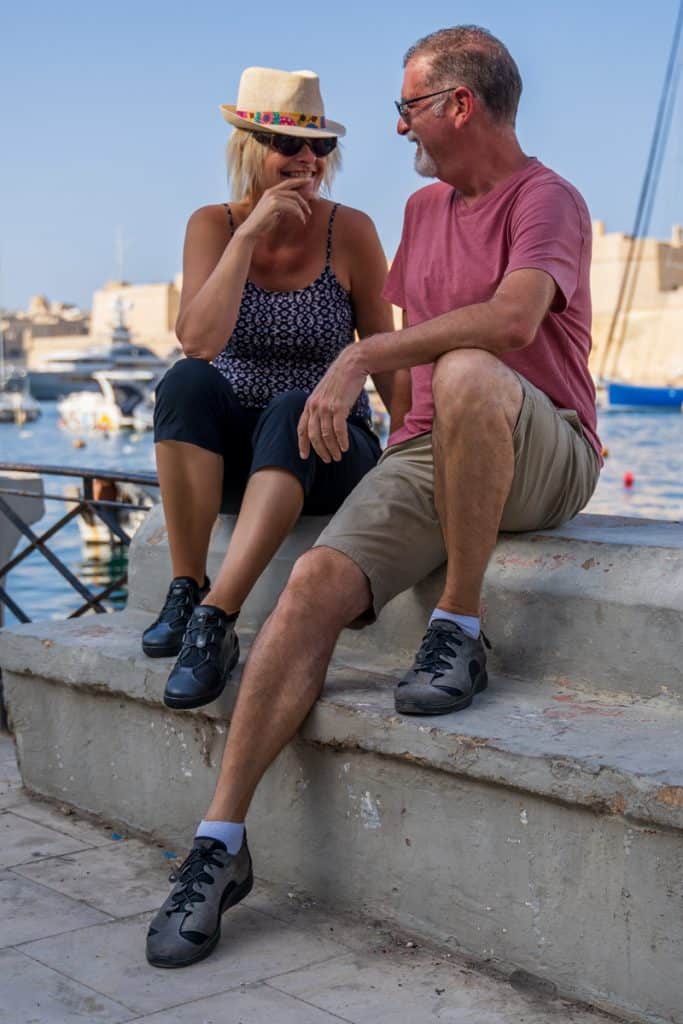 Unfamiliar with the brand – well, we do currently live on a tiny rock in the Mediterranean, so not always up to date on the latest trends – we looked them up online. Ooh yes, very nice indeed.
We replied, eagerly, "Yes, please. But you do know that we are distant relatives of BigFoot?"
'No problem,' they replied. 'Our shoes for women go up a US size 15/ Euro 46 and for guys US size 14/EU 47.'
Woohoo, suddenly our feet didn't seem quite so enormous.
But Why Are Pandere Shoes Recommended For Travelling?
If like me, your feet swell on long haul flights or when those pesky sandflies attack your ankles. Cue drum roll! These shoes can expand three width sizes!
Pandere Shoes sounded too good to be true. It was time to put them to the test. We thought a weekend in Skopje, North Macedonia would be a great place to try. Whenever we travel, we walk, and we walk. Our Fitbits scream for mercy. It would be the perfect opportunity to try out our new shoes. I threw some bandaids in my hand luggage, just in case.
What Pandere Shoes Did We Try?
I got to try out the Barista and the Rodeo.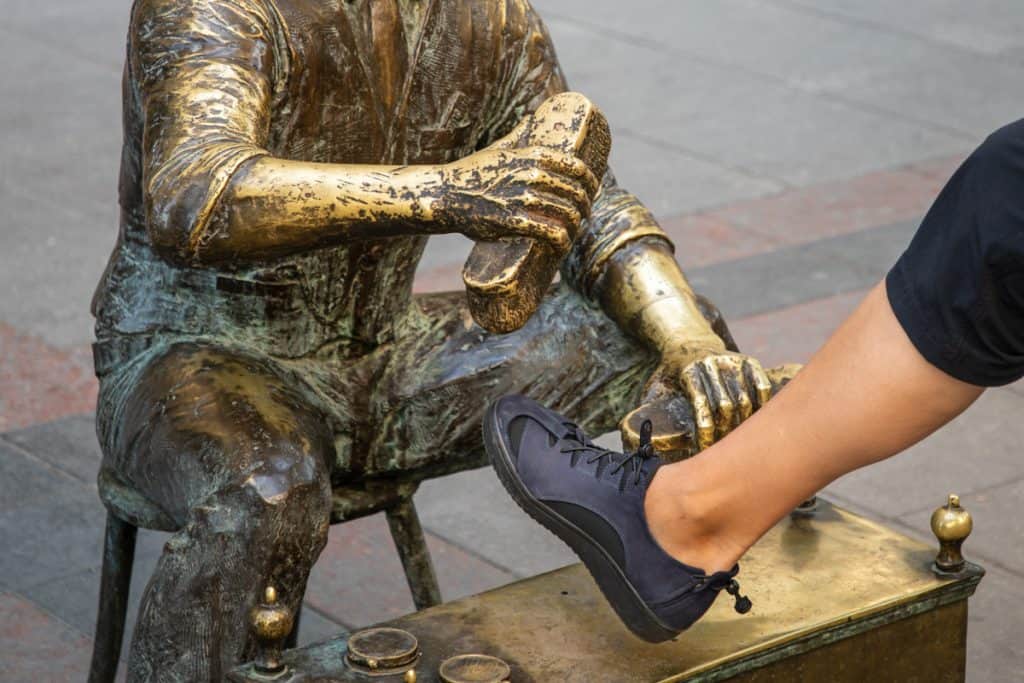 The Barista comes in four colours- slate grey, classic black, cool blue and burgundy. As you can see, I got the cool blue, which goes great with jeans and shorts.
Being vain, I loved the way the shoes didn't make my feet look massive. Jonathan kept saying, "Are you sure they're big enough?" Not sure, if that was a compliment or not.
Were they comfortable? Yes, very. After a full day walking, it was great to be able to adjust the toggle at the back of the shoe. Apparently, both the Barista and Rodeo can expand from a B width to an E width. I've no idea what width my feet are. But to be able to enlarge the shoe, and sit down with a glass of Macedonian wine at the end of the day was just fabulous.
The Rodeo felt a little loose around the ankle at first. But as it looks more like a boot than a shoe, I decided to wear real socks as opposed to those no show and liner socks and they felt and fit much better. At the moment, the shoes only come in black – but I believe there are plans for other colours in the future, but I love the black.
Again, Jonathan said, "Are you sure they're big enough?" Eye roll!
Both pair of shoes come with anti-slip recycled rubber bottoms. Great, if like me, you tend to slip over at every opportunity.
Would I Recommend Them?
Yes, I have so much trouble finding shoes. I'm very excited to have discovered Pandere Shoes. And no, I didn't need to use any bandaids.
Jonathan tested the Saturday. The Saturday shoes are available in men and women sizes. They can expand up to EEE width for women and EE for men. Currently, they are only available in black and slate grey.
When we were visiting a mosque in Skopje, we had to remove our shoes before entering. He commented afterwards, how great it was to be able to put on and take off shoes so quickly and effortlessly.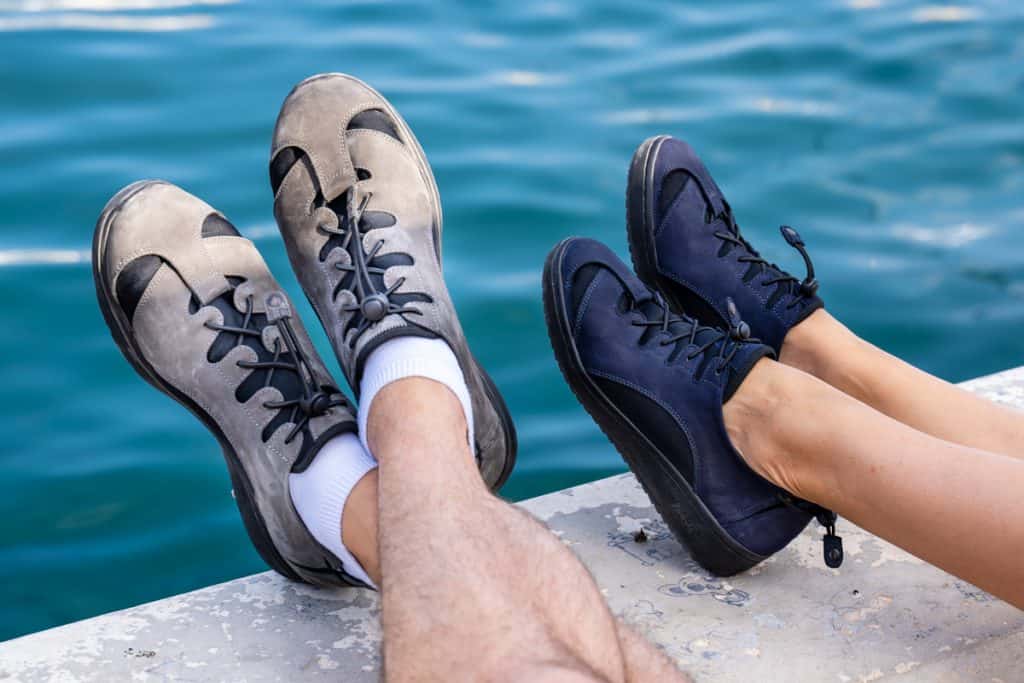 Would Jonathan Recommend The Saturday Shoe?
Yes, he loved them. The fact that Jonathan wears these shoes constantly, even when we are at home, suggests that he loves them.
He says they're so comfortable. They are great walking shoes but feel like slippers. They'll be perfect airline shoes for his flight to Los Angeles.
Tell Us More About The Pandere Shoes
The shoes are made in Portugal. What? We lived in Portugal and could never find shoes that fit.
The shoes are breathable, so no smelly feet at the end of the day. Always a bonus!
The outside of the shoe is made from nubuck leather and neoprene. The soft shoe interior is made from stretch neoprene.
Not only are there adjustable toggles at the back of the shoe, but also at the top.
The memory foam insole comes with arch support and a heel cushion and are removable.
Pandere Shoes Are Perfect For Those Who……
Pandere Shoes are perfect for those who are looking for comfy walking shoes. Fantastic for those who are on their feet or day or suffer from swollen feet caused by flying, and pesky insects. And an excellent choice for those with from lymphedema, diabetes, plantar fasciitis, and feet swelling during pregnancy. I must remember to tell my sister in law about these shoes.
If They Are As Good As You Say, They Must Be Expensive
For shoes as comfy and stylish as these, they are excellent value — prices from US$159- $179.
And if you use this code LIFEPART2-10, you'll get a 10% discount off your first order. This code is valid for 60 days.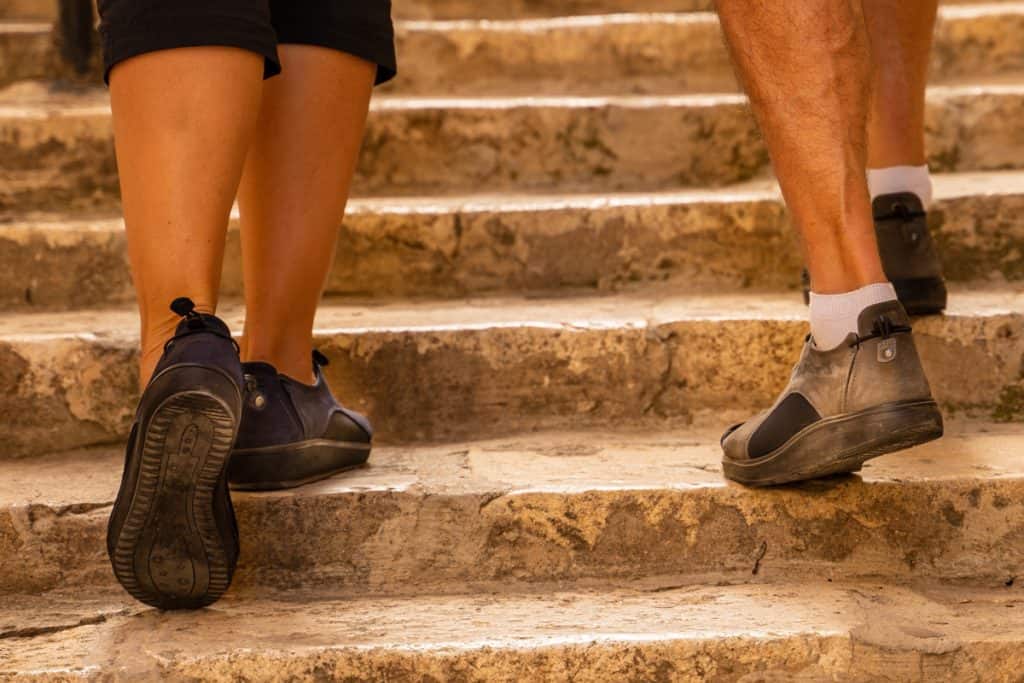 Where Can I Get Pandere Shoes?
Currently, Pandere Shoes only ship to US addresses BUT are working on developing ways to ship to Canada, UK and Europe. For those outside the US, stay tuned.
And Finally
For every pair of shoes sold, Pandere Shoes donate $1 to LE&RN, the leading lymphedema advocacy non-profit.
Disclosure: Pandere Shoes sponsored this post. However, this has no bearing on our completely honest review above and we were not influenced by any type of monetary compensation. We wouldn't recommend anything that we hadn't tried out firsthand and truly loved.