(Last Updated On: January 28, 2023)
Skopje, North Macedonia was a very last-minute getaway for us. As our lovely dog sitters Neil and Orla from All The Ways You Wander were staying at our home for an extra week after we returned from Slovenia, we decided to sneak in another trip away. Well, my dog loves them and hey, never turn down an opportunity for an adventure.




So after a quick search online for a short and inexpensive flight, we found one with WizzAir to Skopje. Less than an hour and a half away from our home in Malta and less than €50 return, providing we travelled with no luggage. As luggage would have cost us an extra €60 each, we just wore more clothes than we usually do to the airport.


Woohoo, excitedly we booked a three-night escape. Then turned to each other, 'Know anything about Skopje?' 'Nope, nothing!'


So, Where Is Skopje?
Google Maps Image of Skopje


Skopje is the capital of the Republic of North Macedonia in southeastern Europe. Kosovo and Serbia border the country to the north, Albania to the west, Bulgaria to the east, and Greece to the south.


How Do You Even Pronounce Skopje?


Skop-yey! Click here to listen to how you pronounce Skopje.


First Impressions of Skopje



We arrived early Friday evening. It was very straightforward finding our way from the airport to our guesthouse in Skopje City Centre. Our room overlooked one of the main shopping streets; everything looked very clean and modern.


Just next door, they were renovating (well it looked like they were renovating) a church with a very tall bell tower, but actually, it was a completely new church, just being built to look old!


As we took a stroll down the street to Macedonia Square, the largest square in Skopje and North Macedonia, we were impressed by the fancy architecture and the many statues – lots of statues, I mean seriously how many statues does a city need?


We knew Skopje had a long history and the historic-looking buildings, and the magnificent statues certainly looked like they were built a long time ago, but things were not as it seemed!


Skopje – Capital of Kitsch




After the devastating earthquake of 1963 that destroyed most of Skopje, reconstruction was done in a very plain, socialist-style. You can still see examples of this throughout the city.


All the beautiful Baroque and neo-classical buildings that you see today in Skopje around Macedonia Square are actually just a few years old. They were all built as part of a controversial project called "Skopje 2014" to make the city look more beautiful to attract tourists.


Interestingly, Mr Zernovski, a member of the Liberal Democratic Party, which opposed the country's ruling party said, "The consequences of changing the look of the city are changing the identity of the city because neoclassic and Baroque style have never been present in Macedonian history."


So, What Is There To Do In Skopje?


Free City Walking Tour


As we knew virtually nothing about Skopje, we thought it would be fun to join one of the free city walking tours. We decided to go with Miha from Skopje Walks simply because his tour started close to our guesthouse. It was supposed to be three hours, but Miha loves to talk, so the tour lasted almost four. I was too nervous to ask questions in case that made him talk more, but overall it was quite an interesting walk and helped get our bearings plus a better understanding of the city.


Miha said that every time a politician went abroad, they would see something they like and then copy and pasted it into the city of Skopje.


For example, there's an Arc de Triomphe or Porta Macedonia as it's officially known.


And you know the statue of a bull that you see around the world in financial districts, they have one of those too, but in Skopje, it's located outside a shoe shop.




Jokingly, he said, he hoped no one from the Government would ever visit Venice!


Admire Statues


Statues are a big part of Skopje. They are everywhere, literally everywhere. Some very majestic, others very quirky. And no one seems to be really sure just how many statues there are in Skopje, but clearly, this city has a serious statue obsession!


Don't Miss The Warrior On A Horse Statue




Actually, it would be pretty impossible to miss this statue. It takes pride of place on Macedonia Square, and it's massive, I mean truly massive. It's 22 metres tall, that's just over 72 feet or eight storeys high!


Its official name is "Warrior on a horse", but it's a statue of Alexander The Great. But there's an ongoing dispute between neighbours Greece and North Macedonia about whether Alexander the Great is Greek or Macedonian. So by naming the statue "Warrior on a horse", it stops Greece complaining. This ongoing dispute stems from the fact that the geographical borders of Greece and North Macedonia have changed somewhat since the time of Alexander the Great.


In front of the statue, there's a colourful dancing fountain.


And Don't Miss The Statue of Alexander the Great's Mum




There are four enormous statues of the Alexander The Great's mother with him as a baby.


The Old Train Station


Skopje's old train station was built in 1938 by Velimir Gavrilovik. For a long time, it was the most beautiful train station on the Balkans. Well, it was until the earthquake of 1963 demolished it.




The earthquake struck at 5:17 am on the morning of 26 July 1963.


The train station partly collapsed in the earthquake and was left in its semi-destroyed state. The clock at the front of the station stopped at 5:17, the exact time that the quake struck.


Today it is the Museum of the City of Skopje, although it was closed when we went there.


Mother Teresa Memorial





Mother Teresa is undoubtedly Skopje's most famous person. Her memorial stands on the very spot where the Catholic Church Sacred Heart of Jesus used to stand. And it was in that church that Mother Teresa, then Gonxha Bojaxhiu was baptized just one day after she was born.


The exhibit area in the Memorial House of Mother Teresa follows the life of Mother Teresa from her childhood in Skopje, through the years spent as a Missionary of Charity, until her death.


Just a short walk from the Mother Teresa Memorial is a plaque that shows where the house that Mother Teresa was born once stood. The house was completely destroyed in the earthquake of 1963.





The Stone Bridge




The Stone Bridge connects Macedonia Square in the New Town with the Old Town. Parts of the old bridge date back to Roman times, but its been damaged and restored many times over the centuries.


As you cross the bridge, you'll see one of my favourite statues in Skopje – a young girl in a red bikini ready to dive into the river. No one seems to be quite sure why this statue is here; some say that once there was a beach here just for the ladies, but these days, the river is too polluted to go swimming in.




The Old Bazaar


The Old Bazaar is North Macedonia's oldest marketplace and one of the oldest in the Balkans. It dates back to the 12th century.




It's fun to roam the narrow streets. Some parts are a little touristy, packed with souvenirs stores but come away from the main streets and it's like stepping back in time.


Ancient teahouses still serve tea in small glasses from a metal tray. They are great places to relax and observe local life.




While exploring the Old Bazaar, keep an eye out for the Hotel Arka. It's towards the back of the old district. It's one of the tallest buildings in the area. Go up to the seventh floor, and you'll get a lovely view of Skopje with Skopje Fortress in the background.


Skopje Fortress aka Kale Fortress


The Skopje Fortress, aka Kale Fortress, or simply Kale is a historic fortress. It is located at the highest point of the city overlooking the River Vardar.





The fortress is depicted on Skopje's coat of arms and city flag. From outside the fortress walls, it looks quite impressive but actually, once you're inside its nothing special – just rocks and parched grass.


But it's free to enter, and you get quite a lovely view of Skopje from up there. The walk up from the Old City to the Fortress is not too difficult.


See also:
Is Thessaloniki worth visiting?
Mustafa Pasha Mosque


As you come down from Skopje Fortress, you'll notice the mosque. Mustafa Pasha Mosque was built in 1492. Somehow, it has managed to survive every disaster and looks just as it did 500 years ago. There's a small garden in front of the mosque that is a nice place to sit and relax.




As long as you remove your shoes and are respectably dressed, you are welcome to enter and view the mosque's interior.


Church Of The Ascension Of Christ




This small church just a short walk from the Old Bazaar and the fortress is known for its unusual wooden bell tower. Unfortunately, it was a Monday when we visited, and it's closed to visitors on Mondays.




Museums


There are loads of museums to explore in Skopje. I'm afraid we tend to be more interested in museums when the weather isn't so good, so we didn't visit any on this trip, but we were told that the Museum of Archaeology is well worth a visit. So, if you've been there or go there, please let us know what it's like.


Debar Maalo – Skopje's Bohemian District


Just a short walk from Skopje's city centre, you'll come to Debar Maalo. It's a totally different ambience here from the kitsch of the New Town and the hustle and bustle of the Old Town.


Here you'll find streets lined with trees and numerous trendy cafes and restaurants. It's a cool place to explore on foot, and we just love exploring different neighbourhoods. As far as we know, there aren't any significant sights here to see – please correct us if we're wrong – but for chilling and people watching, this is the place.


Nearby is Skopje's City Park, nothing special, so wouldn't go out of your way to visit but pleasant enough for a stroll. Next to the park is the zoo. It looked a bit dodgy from the outside. As we aren't fans of zoos, we didn't go in.


Need some nature?


If we had had one more day, we would have gone to Matka Gorge which is just 15 kilometres/ ten miles from Skopje.

There are many tours on offer to go to Matka Gorge for around €26 per person.

It's also possible to take Bus 60 from the city centre, not sure exactly how much but around €2-3.

You could always rent a car and go yourself, in September high season, car rentals were only €40.

Or take a taxi, about €10-15 each way.

If you've been to Matka Gorge, please tell us in the comments what it's like.


Our Recommended Skopje Restaurants

Near Macedonia Square

On our first evening, we headed to Kolektiv. Located on Macedonia Square, it's a nice casual diner serving good craft beers and wine. Jon enjoyed a huge platter of fried goodies, and I had a traditional vegetarian casserole. Sorry, can't remember the name of it, but it was really yummy.


Old Bazaar in Skopje
For our second night, we headed to Kaj Serdarot, in the Old Bazaar. A small restaurant tucked away in a side street serving authentic Macedonian food.

Debar Maalo



This was probably our favourite meal in Skopje. The DM DEbar Maalo restaurant opposite Chillin Cafe in Debar Maalo was very highly rated on Trip Advisor. It was packed when we got there with locals which is always a good sign. In fact, we were the only toUrists. As with most Macedonian dishes, it was very meat-based, but it came with a fabulous Greek salad. Ooh, the feta cheese was so good on that.


How To Get To Skopje City From The Airport


The distance from the airport to the centre of Skopje (Macedonia Square) is 23 kilometres / 14.3 miles.


By Bus


The bus from Skopje Airport to the city costs 180 MKD (just under €3 or just over $3), and you pay on the bus. If you don't have local currency on you, you can pay onboard with a credit card.


There was a bus due to leave at 17:30, but it was already 17:40 when we entered the Arrivals Hall. The next bus wasn't scheduled to leave until 19:00, so I assumed we would end up having to get a taxi. But then the bus driver appeared, saw us looking at the timetable and led us out to the bus. Result!


For current times, the bus schedule is here.
By Taxi


Book a private transfer from Skopje Airport to your accommodation in Skopje here.




Where To Stay In Skopje?


There's accommodation in Skopje to suit all budgets. We booked through Agoda and stayed at the Up Cooltura Guesthouse. Our room was only €30 a night, clean, modern and well located.


What Currency Do They Use in North Macedonia?




In North Macedonia, they use the North Macedonia Dinar, although the Euro (not US$) is welcome everywhere. It's best to have some local currency on you though. And don't worry, there are ATMs and money exchanges everywhere.


Credit cards are accepted pretty much everywhere.


Do I Need A Visa To Visit Skopje?


EU citizens and US citizens can visit visa-free for up to 90 days within a six month period.


Citizens of other countries, please check here to see if you need a visa.


Do they speak English?




Yes, don't worry about your lack of Macedonian language skills. In the city centre, everyone speaks English pretty well, and the menus all have photos of the food. Although it's always polite to know a few words.


Hello – Zdravo


Thank you – Blagodaram


Sim Cards


As Northern Macedonia is not part of the EU, our SIM cards wouldn't work there unless we used data roaming – umm, usually, that option ends up rather expensive.


If you can't bear to be without internet connection, it's possible to buy a SIM card in Skopje Airport's Arrivals Hall. T Mobile offers a 5GB card for MKD 699 (just over €11 or $12.50). You just need to show your passport.


Alternatively, pretty much every bar, cafe and restaurant that we visited had access to free WiFi.




Is Skopje Safe?

Yes, we felt perfectly safe here. Just use normal precautions as you would anywhere else in the world.


There are a few beggars around. They can be a little persistent if you make eye contact.


Is The Water Safe To Drink?


Yes, we did and lived to tell the tale.


What About Tipping?


Despite salaries being low in North Macedonia, the restaurants pay a livable wage and tips are not expected. However, it's always nice to leave a small token of appreciation for good service.


When Is The Best Time To Visit Skopje?


The best time to visit Skopje in North Macedonia is from May until September. The highest average temperature in Skopje is 30°C in August, and the lowest is 4°C in January.


We visited in mid-September, and the temperature was very pleasant in the day and a little chillier in the evening but not as cold as we thought it would be — no need for jackets when we visited.


Don't Forget To Wear Comfy Shoes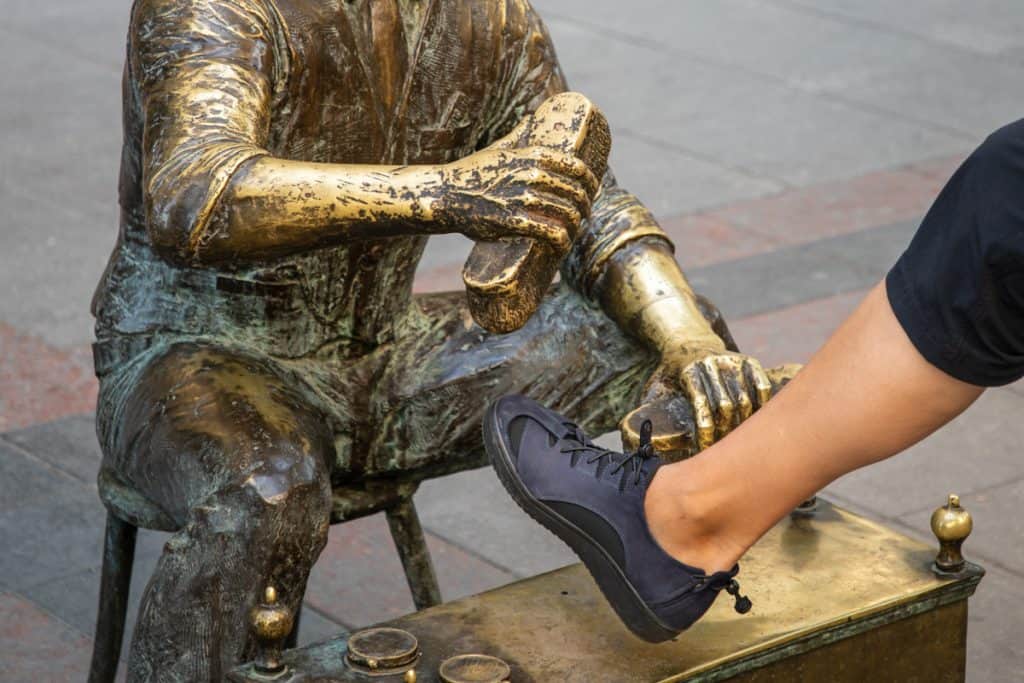 Wear flat, comfortable shoes, as you'll probably be walking a lot. There may be lots of new, fancy statues and buildings in town but the pavements can be a bit random 🙂


Visiting Skopje gave us a chance to try out our new shoes from Pandere. Perfect for city trips and if like me, your feet swell when on flights and walking lots, the shoes expand with you 🙂


Have you visited Skopje or other parts of North Macedonia? Tell us about it in the comments below.



Disclaimer: This article may contain affiliate links, where I receive a small commission that helps towards the cost of running this blog but don't worry, there's no extra cost to you.