(Last Updated On: January 12, 2023)
The city of Bergen is located on Norway's west coast, in the heart of the fjords. It's both a UNESCO World Heritage City and a European City of Culture. And yes, it's a wonderful city to visit in winter.


Visit Bergen in December to experience the Christmas markets, the world's largest gingerbread town and many other Christmas festivities; you'll be feeling Christmassy in no time.


But even without all the Christmas activities, Bergen is still a great place to visit in winter. It's a beautiful town to explore and just a short hop from the stunning nature of the fjords.


So, What Is There To Do In Bergen In Winter?




Wander Around Bryggen, Bergen's Historic Center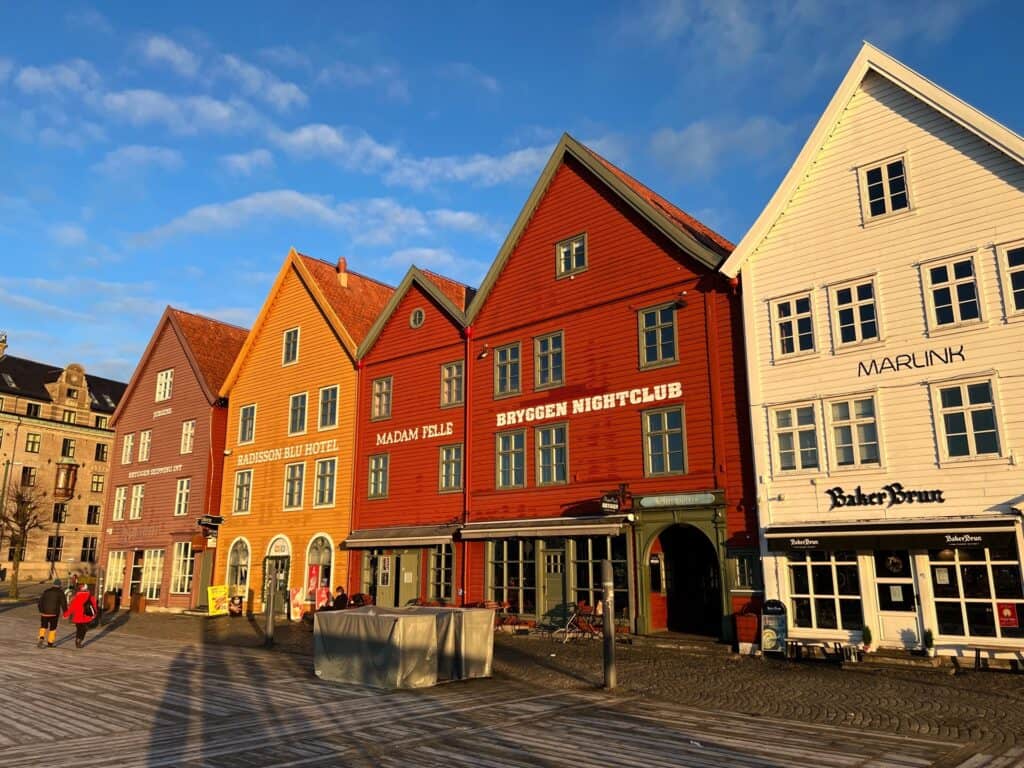 Bryggen is the historic heart of Bergen. It's the old port and a reminder of Bergen's important role within the Hanseatic League's trading empire from the 14th to the mid-16th century.


Many fires, the last being in 1955, have damaged Bryggen's characteristic old wooden houses. But the buildings are rebuilt using the traditionally followed old patterns and methods, leaving the main structure preserved, a relic of an ancient wooden urban design that was once common in Northern Europe.


Today, there are 62 wooden buildings in Bryggen.


This short guided walking tour through Bryggen comes highly recommended.


Take The Fløibanen Funicular To The Top Of Mount Fløyen!




For great views of the city of Bergen, nearby fjords and mountains, take the Fløibanen funicular to the top of Mount Fløyen!


Once you reach the top, there are places to admire the views, enjoy a warming hot chocolate, take a forest walk, or spot the trolls!


If you're visiting Bergen in December, you can watch the traditional lighting of the big Advent candles on top of Mount Fløyen that takes place on each of the four Sundays leading up to Christmas.
There are several walks to do on top of Mount Fløyen, but having limited time, I opted for the shortest stroll to nearby Lake Skomakerdiket.


This lake is surrounded by forest, and even in the cold winter, locals were making use of the barbecue areas and enjoying lunch.


It's just a 10-15 minute walk from the top funicular station.


If you're visiting Lake Skomakerdiket at the weekend, stop by for a hot beverage and snack at the Skomakerstuen cafe. Try the traditional Norwegian snack, Svele. It's similar to an American pancake, served with butter and sweet brown cheese. Delicious!


The journey time from the lower station in Bergen city centre to Fløyen takes five to eight minutes and runs every 15 minutes.


You can return to the city centre by funicular, but a lovely 45-minute stroll down to the centre takes you through the forest and some delightful neighbourhoods.
How Much Does It Cost To Use The Fløibanen Funicular?


For up-to-date prices and schedules for the Fløibanen Funicular, see here.


If you plan to visit many sites in Bergen, I recommend getting a Bergen Card. With this card, you will get a 50% discount on return tickets on the funicular.


Gingerbread Town (Pepperkakebyen)


If you are visiting Bergen in December, be sure to visit the world's largest gingerbread city, located at Kode 4 (Lysverket). Everything you see – the houses, cars, and boats- is made from gingerbread and the whole venue smells divine.


Many gingerbread houses and church buildings are modelled on real places in Bergen.


The Gingerbread Town is open every day, except Christmas Day and runs from mid-November to 31 December. If you are in Bergen in December, it's a lovely place to visit.


For information on opening hours and ticket prices, see here.


Bergen Christmas Market




Bergen Christmas Market is located at Festplassen, right in the heart of Bergen, and it's free to visit!


With around 80 market stalls, it's a great place to explore and sample delicious Norwegian snacks and Christmas treats. There's everything from local cheeses and sausages to hats and woolly jumpers to keep you warm in the Norwegian winter.


You can also join the locals in their search for the perfect Christmas tree and gifts, then enjoy a warming cup of gløgg (mulled wine) or a festive Christmas beer. I tried a beer that tasted of marzipan – weird tasting but oddly Christmassy and it went down very well!


Experience Lumagica at the Bergenhus Fortress





Lumagica features more than forty magical light installations, such as sparkly reindeer, glittery polar bears and roaring dragons. It's a magical experience for people of all ages.


Simply follow the path around the grounds of the Bergenhus Fortress. Each light installation is a show in itself – fun, a great place, and a must-visit if you're in Bergen in December.


Tickets for Lumagica can be bought in advance here.


Swimming In Winter
I don't even swim in summer, but in Bergen, winter swimming is becoming increasingly popular. Apparently, it's excellent for your health – I may need a bit more convincing!
Check here for a list of places where you can swim in winter.
Visit The Majestic Fjords And Ride The Famous Flam Railway


The most popular day trip from Bergen is the Norway in a Nutshell tour to the nearby fjords and a ride on the Flam Railway.


It's a self-guided tour that you can tailor-make to suit your requirements. Finish in Oslo or return to Bergen; it's your choice.


At first glance, the itinerary seems a little overwhelming as there are so many tickets and information. But at each change of transport, there is time for a coffee, to relax, and take photos. You will see and experience a lot during the tour, but it's actually a very relaxing day out, albeit long.


This day trip gets busy during the summer months, but fewer people visit Bergen in winter, so there is no having to fight for window seats. And winter brings snow, icicles and a whole new beauty to the region.


So dig out your thermals, wrap up warm, and enjoy.


The Norway In A Nutshell Tour


Tours leave Bergen Train Station at 8 am. Typically, you will board a train to Voss, but check your tickets. When I took this trip, the train line was partly closed by an avalanche, so travel to Voss was by bus.


So, check your itinerary, but whatever the means of transportation, you will be departing from Bergen station.


You'll be taking another bus from Voss, this time to Gudvangen. Check the board at the bus station to know which bus stop you need, but no doubt there will be many others around on this Norway in a nutshell tour. You have about 30 minutes here, so time for a coffee.


At Gunvangen, there's a bit of a wait as the two-hour fjord cruise departs at midday. But it's a pretty area, and there's a decent cafe, clean toilets and a souvenir shop.

The two-hour fjord cruise is lovely. I imagined a ferry, but it's more like a small cruise ship with comfy lounge seating. Refreshments are available on board.


You can roam around the boat – inside and outside on the deck at will. The decks were a little icy and slippery, so take care.


The fjords are part of a World Heritage Site, and the scenery is just stunning. Watching the boat break through the fjord's icy waters was fascinating, as was admiring the steep mountainsides and observing village life by the banks of the fjords.



You disembark in Flam, famous for its railway. After a short break here, it's time to board the train.


Taking the train in winter when it's not fully booked means you can easily move from each side of the train to take pictures. In the first half of the journey, the best views are on the right-hand side, but after that, it's more evenly spread.


The train stops for a five-minute break, and you can jump off and take photos of the waterfall.


You leave the Flam Railway at Myrdal, and then it's time to start heading back to Bergen or move on to Oslo.


You'll arrive back at your hotel in Bergen around 7 pm.


It's a long day, but you can't visit Norway and not see the fjords.


For information on prices and availability, you can check the tours here.


The Fjords



On the Norway in a nutshell tour, your two-hour fjord cruise will transport you from Gudvangen to Flåm. You travel through Nærøyfjord and Aurlandsfjord, two of the many arms of the Sognefjord, a World Heritage area.


The Nærøyfjord (Narrow Fjord) is the narrowest of all the fjords and is surrounded by tall mountains up to 1700 metres high, hanging valleys, waterfalls and tiny hamlets.


The second fjord you'll pass through is the Aurlandsfjord. This fjord is much broader, but the scenery is just as incredible. These fjords are considered to be among the world's most picturesque fjords.


Flåm Railway



Flåm Railway or Flåmabana is a 20-kilometre-long train journey on one of the world's steepest standard gauge railway lines. The train runs between Flåm and Myrdal, and the views of the fjords, mountains and farmlands are breathtaking.


Travelling in winter, you'll notice that many of the waterfalls on the snow-capped mountains are completely frozen.


As I mentioned earlier, the best views on this train journey are on the right side of the train, but about halfway through the journey, there are fantastic views from either side of the carriage. And the joy of travelling in winter is there will be fewer people on board, so you can easily move around the carriage.


There's a five-minute stop at the Kjofossen Waterfall. Don't worry; the train gives you plenty of warning before it's about to leave.


Recommended Restaurants in Bergen


Fish Me

Fish Me Restaurant is located in Bergen's historic fish market. I devoured an amazingly delicious baked halibut here.


Just looking for a light bite, you can also pick up fresh sushi and seafood snacks to take with you.


This was my favourite meal of all the delicious food I enjoyed in Norway.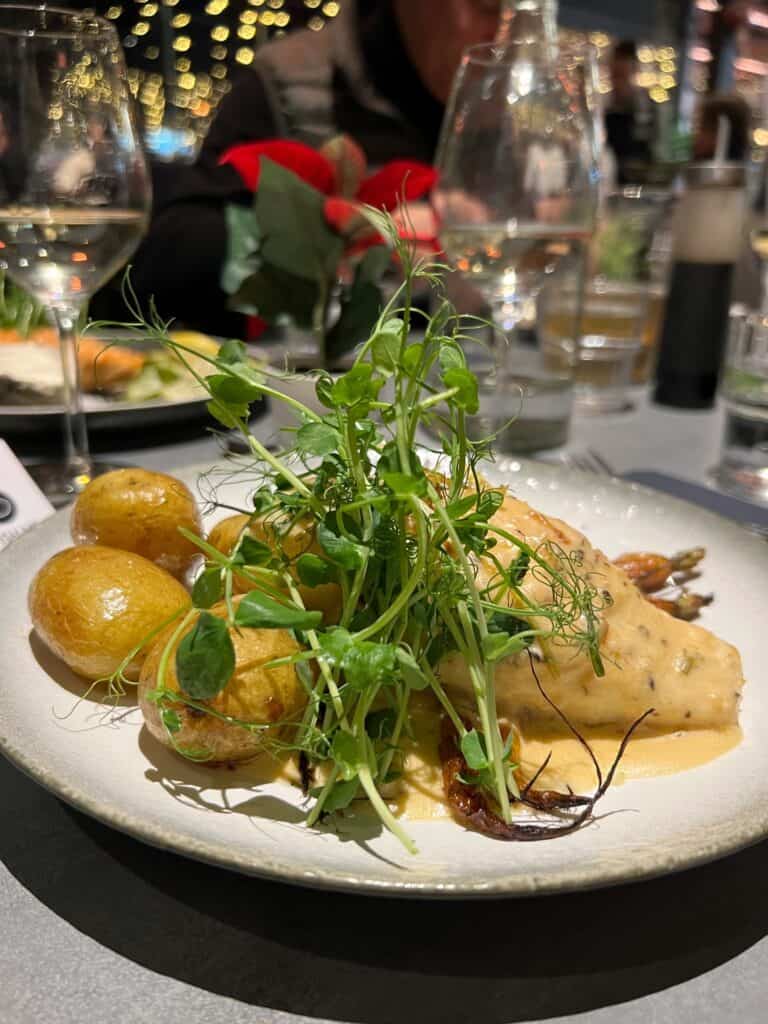 Bryggeloftet


Bryggeloftet is a lovely traditional restaurant in Bryggen that overlooks the harbour.


If you are visiting Bergen in December, try Pinnekjatt (ribs of lamb or mutton). It's the meal that's traditionally eaten on Christmas Eve in Norway. Be sure you come to the restaurant hungry, as portion sizes are enormous, and there are a lot of ribs!!


Recommended Bars In Bergen


Frescohallen Bar


The Frescohallen Bar, located in a historic building that was once the Stock Exchange, opened in May 2022. It's now one of the trendiest spots in Bergen and has a wonderful gin menu – just an observation! Even if you don't want a drink, it's worth visiting just to see the beautiful frescos on the wall.


Save Money With The Bergen Card


If you're planning on visiting lots of museums, tourist attractions and tours during your time in Bergen, then a Bergen Card will save you money.


You can purchase your Bergen card here.
Weather In Bergen In Winter

It's going to be cold – so bring your thermals. Temperatures hover around freezing.
How To Get To Bergen In Winter


By Plane


Bergen Airport Flesland is 18 kilometres/ 11 miles from Bergen city centre.


Norwegian airline Widerøe, Eco-airline of the year 2022, offers daily flights from London Heathrow Terminal 2 to its hub in Bergen and twice daily flights from Aberdeen.


Single fares from London to Bergen start from just £62.


From Bergen, Widerøe offers several daily flights to many destinations within Norway including Trondheim, Tromsø and Bodø, offering excellent opportunities to combine trips to the fjords and the north of Norway and a chance to see the Northern Lights.  


By Train


The train journey from Oslo to Bergen is considered to be one of the world's most scenic rail journeys.


By Ferry


Ferries run between Bergen and Denmark with Fjord Line.


How To Get From Bergen Airport Flesland to Bergen City Centre


By Bergen Light rail line 1 (Bybanen)


The cheapest way to get to Bergen city centre from Bergen Airport Flesland is to take the City Light Rail (Bybanen) line number 1.


The journey time is around 45 minutes and costs NOK 40 for an adult and NOK 20 for a child.


If you have the Bergen Card, you can travel for free on the City Light Rail and all Skyss buses around Bergen.


By Airport bus (Flybussen)


The airport bus will get you to Bergen city centre in around 30 minutes. You'll save money by purchasing your bus ticket in advance and even more if you have the Bergen card. Ticket prices start from 179 NOK. (Approx $18)


To buy your airport bus ticket in advance, click here.
By Taxi


The most direct way to get to your hotel in Bergen is to take an airport taxi. Prices vary depending on the number of people and the time of day. Prices are around 500 NOK.


Where To Stay In Bergen


Thon Hotel Rosenkrantz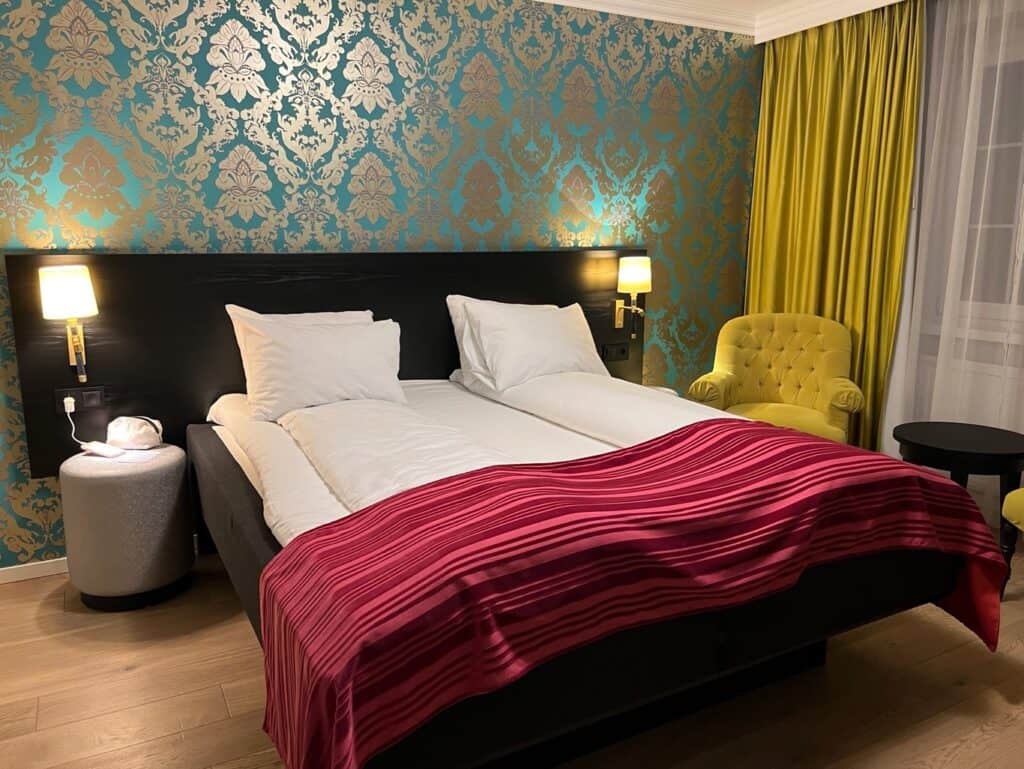 Thon Hotel Rosenkrantz in Bergen is a lovely mid range modern hotel, right in the heart of Bergen's historical city centre, just a few steps from Bryggen, the Fish Market and the Fløibanen funicular.


An excellent breakfast is included, with lots of salmon and cheeses and this weird egg curry salad, that I became hopelessly addicted to – it was so good.


Is Bergen Worth Visiting In December?


Yes! Bergen surprised me. Totally different to what I expected. I hadn't realised how pretty Bergen was, nor how good the food was, especially the fish dishes.


Yes, it's cold in winter, but we experienced beautiful clear blue skies and the daylight hours were longer than I expected. Even on the shortest day of the year, you'll still have almost six hours of daylight which coordinates perfectly with a day trip to the fjords.


It's a truly great city to embrace the chill, feel Christmassy, and enjoy the beauty of the nearby fjords.



For More Wintry City Breaks, Check These Posts



The Sami and Reindeer Experience in Tromsø
Chasing the Northern Lights in Tromso

What To Do In Krakow In Winter

Best Things To Do In Lausanne

Visiting Gruyeres in Winter

Montreux and Chillon Castl
Save This Post For Later!
Disclaimer: I visited Bergen as a guest of Widerøe and Visit Bergen and loved every minute of this trip and wanted to share it with you!

Disclaimer: Some of the links on this website are "affiliate links", meaning that if you click on the link and make a purchase, I will receive a small commission at no extra cost. This helps me to keep my website running and continue to share my travelling knowledge with you. I thank you for using the links on my website.