(Last Updated On: December 31, 2022)



If your idea of a perfect city break includes enjoying delicious food, sampling local wines, exploring a fascinating old town, admiring lake and mountain views, and devouring Swiss chocolate! – then, Lausanne in French-speaking Switzerland could be just what you're looking for.


Two full days in Lausanne will give you plenty of time to discover the highlights of the old quarter, explore the new art district and visit the nearby stunning UNESCO Lavaux vineyards. And eat. And drink wine. Who knew that Swiss wine was so good?


In fact, why not try out this Swiss City Self-Guided Food Tour while you're there?



What To See In The Old Town Of Lausanne





Take A Walking Tour With A Local Guide


It's always fun to familiarise yourself with a new city by joining a walking tour. Why not try one of these free walking tours of Lausanne or join a smaller walking tour with a local guide?
Lausanne Cathedral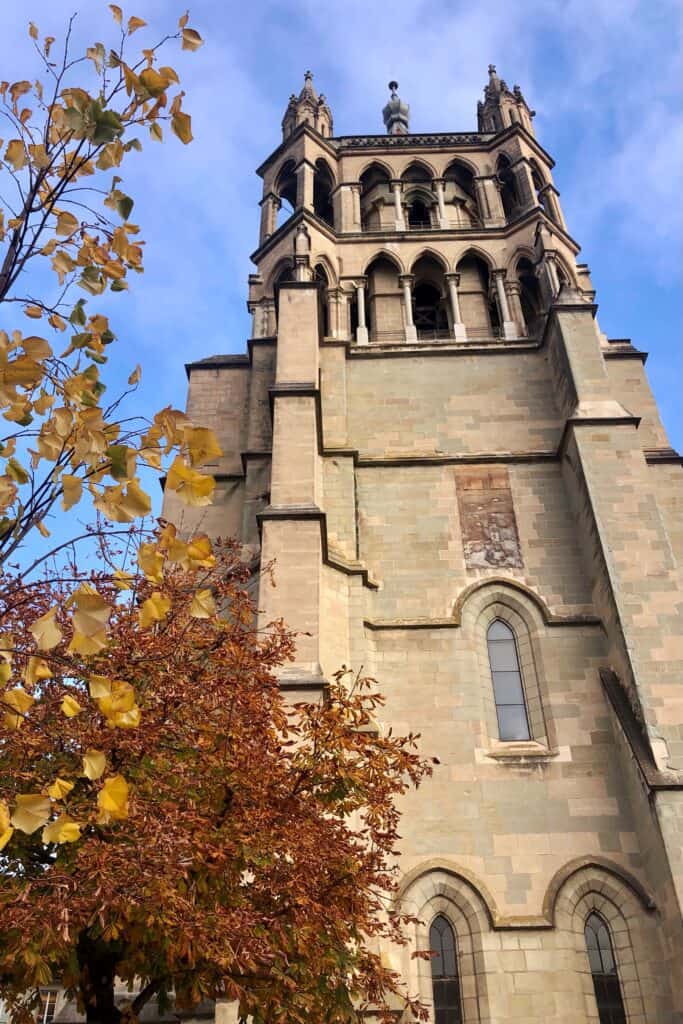 Lausanne Cathedral is Switzerland's largest and most important early Gothic church. And it's on one of the Camino routes. I get ever so excited when I come across a cathedral on a Camino route; it always brings back such happy memories!


But back to the impressive Lausanne Cathedral- the cathedral dates back to the late 12th, or early 13th century. The Gothic interior is particularly beautiful, and I just loved the symmetry.


Compared to many churches I've visited, the interior is rather plain because many of the original artwork, sculptures and furnishings were removed during the Reformation in 1536.





Opening Hours of Lausanne Cathedral



Open daily.

From October to March, 09:00 -17:30

From April to September, 09:00 – 19:00

Admission is free to enter the cathedral.




Random Fact About Lausanne Cathedral



Lausanne Cathedral was the first cathedral in Europe to have an American pipe organ!



The Bell Tower at Lausanne Cathedral




Even though heights spook me somewhat, I always find myself climbing every tower in every town I visit, and Lausanne was no different. Just 224 steps and you are rewarded with a 360-degree panoramic view over the city. On a clear day, you can see Lake Geneva and the French Alps in the distance.


I went up in the morning, and it was still rather misty over the lake, and the mountains had yet to come into view. But the views were still incredible. Just in front of the cathedral, there's a viewing platform, so you will have an idea of how clear it will be before climbing the tower. But I never heed my own advice.



A 600-Year-Old Tradition



Between 10 pm and 2 am every night, the cathedral's night watchman stands at the top of the bell tower and shouts out each hour to the residents. This role was historically meant to watch over the city and keep an eye out for fires, but now it's just a charming 600-year-old tradition.


And guess what, for the first time in history, the job is now held by a woman.



Opening Hours For The Bell Tower



From October to March 09:30-12:00 and 13:30 -16:30, Sundays 14:00-16:30.


From April to September 09:30 – 12:00 and 13:30-18:00, Sundays from 13:00-17:00.


It costs CHF 5 to climb the bell tower. Delighted to say it's not as scary as the climb up the bell tower in Delft.



Lausanne History Museum



Just next to the Cathedral housed in the former bishop's palace is the Lausanne History Museum.


The permanent exhibition in the museum tells the story of Lausanne – from its prehistoric beginnings through to today.


The museum's highlight for me is the incredible miniature model representing 17th-century Lausanne on a 1/200 scale. It is based on a 1638 map of the city. A documentary is shown in both English and French that tells the history of Lausanne. When the video talks about a specific part of the city, that part of the model lights up. It's really quite cool. Yes, I know, I am easily amused.



Opening Hours Of The Lausanne History Museum



Open daily except Mondays.


11:00 -18:00


Cost CHF 12 to enter but is free if you have a Swiss Travel Pass.



The Escaliers du Marché



The Escaliers du Marché, with its timber roof that leads up to Lausanne Cathedral from the Place de la Palud, date back to the 18th century. However, the existence of a staircase here dates back as far as the 13th century. It is rather a steep staircase. I have to say walking around the old town of Lausanne is a good workout. Thank goodness eating Swiss chocolate gives your energy a boost!



Place de la Palud



Place de la Palud is the main square in the heart of the old town. It's home to Lausanne's 17th-century City Hall and the Fontaine de la Justice


The square is filled with boutiques, cafes and florists. As you wander the streets of the old city and get hopelessly lost, you will somehow always end up back in this square.


For those visiting Lausanne with families, be sure to visit the square on the hour. Because every hour between 9 am and 7 pm, you can join the kids who line up to watch the town clock display of the history of Vaud (the canton where Lausanne is). It's pretty cute to watch.




Markets In The Old Town





If you happen to be in Lausanne on Wednesday or Saturday, do visit the farmer's market. Stalls are set up in the Place de la Palud and along the streets that veer off the square. The cheese stalls were particularly good, offering lots of samples. Well, of course, I had to try them all. I did treat myself to some cheese to take back to Malta, but alas, it all ended up in my stomach.



Wander the Streets



But the best part of visiting any old city is to just lose yourself in the streets, and yes, I did get lost a few times. I have no sense of direction, but what a great place to get lost.




And Now For Something A Little More Modern



PLATEFORME 10- A Trendy New Art District In Lausanne


There's a new trendy art district in town. Well, parts are still under construction. So far, it's just the MCBA (The Museum of Fine Arts) which opened its doors in October 2019. 


When it's complete, it will also include the Musée de l'Elysee (the photography museum) and Mudac (the Museum of Contemporary Design and Applied Arts).


There will also be restaurants, bookshops (yay!) and boutiques. So it should be nice when it's done. And it's right by the train station in Lausanne, so easy to find.


I had a look around the MCBA when I was there. I enjoyed what I call classic art, you know, the 18th-century paintings to post-impressionism. I was very proud of myself when I spotted an image and thought, isn't that by Monet? And it was. Obviously, my earlier trip this year to Monet's Garden near Paris had paid off.


Upstairs was the modern art. Some modern art I love, and some I just don't get at all.


Opening Hours Of PLATFORM 10 (Musée cantonal des Beaux-Arts)



Open every day except Mondays.

From 10:00 – 18:00. Thursdays open until 20:00.


There is no charge to visit the permanent exhibitions.


Olympic Museum
Olympic Museum Lausanne, the Olympic Capital, has been home to the International Olympic Committee (IOC) for 100 years, and in 1993, the IOC opened the Olympic museum on the banks of Lake Geneva.



The museum is spread over three floors, and it's incredibly well done. Even if you're not a fan of the Olympics and I'm not particularly a huge fan – it's still a cool museum to visit. The permanent exhibition presents the origin of the Olympic games through to the modern day.



There are loads of interactive exhibits, and it's hard not to actually get a bit emotional watching the Olympic highlights over the years on the gigantic screens.


Even if you don't go inside the museum, the grounds are fun to stroll around. You'll see Olympian statues and the Olympic fire, plus great views of Lake Geneva. There's even a picnic area, so bring your sarnies and enjoy the view.



Check their website for up to date information on tickets, opening hours and exhibitions.



Stroll Along The Ouchy Promenade


Strolling along the Ouchy Promenade by Lake Geneva is a favourite Sunday activity for both inhabitants of Lausanne and visitors.
There are three parks – the Denantou, the Elysée, the Olympic Park, and a rose garden at the Place du Général Guisan.



The Fake Ruined Medieval Haldimand Tower



At one end of the promenade, not far from the Olympic Museum, is the Tour Haldimand. The tower was built about 1825 as part of a daft competition between three noblemen.


The competition was to see who could build the most beautiful ruined medieval tower. The winner was William Haldimand, owner of the Denantou estate.






The Thai Pavilion



I wasn't really expecting to see a Thai pavilion in Lausanne. Turns out the Thai pavilion was gifted to the City of Lausanne from His Majesty the King of Thailand in 2005 to mark H.M. King Bhumibol Adulyadej's 60th anniversary of the accession to the throne and the 75th anniversary of diplomatic relations between Thailand and Switzerland. H.M. King Bhumibol Adulyadej (Rama IX) lived in Lausanne for from 1933 to 1951.
The Lavaux Vineyards – A UNESCO World Heritage Site





The Lavaux vineyards are stunning and should be a must for every visitor to Lausanne. And it doesn't matter if you don't even like wine (although it's even better if you do!) because the scenery alone is just spectacular. There are terraced vineyards as far as the eye can see, with Lake Geneva and the Alps as a backdrop. Just wow! What can I say?


The Lavaux Vineyards are a UNESCO World Heritage site. You can visit several wineries in the area, sample the wines, learn about the local grapes, walk amongst the terraces and just enjoy views of the Swiss Alps. This place really was a highlight of my trip.


I visited the Domaine Croix Duplex. Just a very short walk from Grandvaux Station. It offers wine tastings on its terrace—fabulous views with fabulous wines. The servings were rather generous, and I admit I felt a tiny bit tipsy as I strolled through the vineyards down to Cully Station to catch a train back to Lausanne. Thank goodness the wine was served with yummy local cheeses and hams to keep me from doing anything I'd regret later.


So for all wine lovers out there, this is what I had.



Les Barberonnes . A light white wine made from the Chasselas grape, which is the main grape of this region. When I'm back here in January, I may pick up a bottle or two for those wintry nights caring for two cats.


Les Fleurettes – another fabulous white wine. 'This has a fruity, floral taste,' I said before seeing the label. And I was right. Woohoo, how wine connoisseur am I? A little heavier than the first wine but another new fave. I have never seen Swiss wines on sale in Malta; I shall keep an eye out. This one was a blend of four grapes – Riesling, Muscat Ottonel, Sylvaner and the Chasselas. It went down very well.



Next is the Rosé, the Oeil de Perdrix (the partridge's eye). I love drinking Rosé on hot summer days, although the local one in Malta, there's a really awful aftertaste and your teeth feel like they are coated in sugar. But although it may not have been summer, the sun was shining, so let's give the Rosé wine a go. Another winner. Made from Pinot Noir grapes, which I'm a big fan of anyway.



Having mentioned that I'm rather partial to Pinot Noir, out came a bottle of Praz du Roy. Lovely and smooth and made from Pinot noir grapes. I was a little embarrassed now because typically, at wine tastings, there is always one or two wines you're not so keen on, but this one went down very well too. Will they think I'm an old lush?


I felt it was time to start making my way back to the city. 'Non, non, I as more you must try.' Who am I to argue with the Swiss?


Out came a bottle of Gameret, another red wine. A little heavier, but it would be a lovely wine with dinner. How would I get these wines onto my Ryan Air flight?


One more for the road, or rather one more before catching the train. Le Message – a full-bodied wine. I'm more of a light wine girl. Full-bodied makes me go a little silly. Honestly, I can't remember how this wine tasted; I had reached my wine limit. But based on the others, I know it had to be good.

The sommelier pointed out the train station in the distance, and off I waddled. I'm not sure if they are as generous with their wine servings at other wine tastings or because I was on my own, I was treated differently, but it was fun. The wine was great, the company was fun, the views were amazing, and the sun was shining. I love Switzerland!


I have to say I was really impressed with the wines here. It will be tough to return to Maltese wine.




Opening Hours For The Domaine Croix Duplex


Mondays and Saturdays from 10:00 -18:00

Tuesdays and Wednesdays by appointment

Thursdays and Fridays from 10:00 – 20:00



How To Get To The Lavaux Vineyards



It's just ten minutes on the train from Lausanne to Grandvaux, so it's a straightforward journey. Trains depart every half hour. The only bit that was a tad confusing is that there are eight platforms, and the Lavaux trains depart from platform 70! 🤔


Also, not all stations are listed on the station board, as no room to write down all the names! So you just have to hope you're on the right train or practice your French and ask the guard.





Where To Eat In Lausanne



Now, when I wasn't wandering around the old town or knocking back the wine, I was eating.


I really wanted to try a proper Swiss fondue. I had only ever had fondue in Thailand (not exactly renowned for their fondues!), and I was eager to try the real thing. But don't order one of these dishes in summer, only tourists do that, a Swiss fondue is a winter dish. Fortunately, I was there end of October, so perfect timing.


And one benefit of travelling solo is not having to share. All the bread and potatoes dunked into the cheesy sauce was mine, just mine. Washed down with a couple of glasses of local red wine. Delish!



Although I loved my red wine with cheese fondue, I was told later by locals that red wine with this dish is a big NO-NO! Apparently, one should only drink white wine, kirsch, or a tisane of herbal tea, otherwise, you risk terrible digestion problems!



Café du Grütli


So where did this little bit of heavenly fondue dining take place – at Café du Grütli. Just off Place de la Palud in the old town in a charming historical building that dates back to the 14th century. This place is popular with both locals and visitors, so probably a good idea to make a reservation in advance.



La Brasserie De Montbenon



Another excellent dining spot is La Brasserie De Montbenon, one of Lausanne's trendiest dining spots. It's located in the Esplanade de Montbenon Park, has excellent views over the lake and is a good spot for sunsets. On summer evenings, you can dine out romantically under the stars on the terrace. Too chilly for that; I was staying inside for sure.


I have to say, at first, I was a little intimidated coming here. I love solo travel, but solo dining still freaks me out a little. I'm quite content in small restaurants, but the more prominent venues where it's all couples and large groups of people make me a tad uncomfortable. But hey, travel is all about stepping outside your comfort zone, isn't it?


So I went, and I'm glad I did. This restaurant is where you can enjoy terroir products with a modern twist. Now, it's a well-known fact that I'm the world's worst vegetarian, especially when I travel, because I don't want to miss out, and this night was no exception.


I started with a pâté dish that's usually a starter for two people, but with no one to share it with, I ate it all. I do love pâté. Followed by a ravioli dish with roe deer meat. I love pasta dishes, and this was really amazing. Feeling very full afterwards and thinking no way could I ever eat again, I heard myself saying yes, please, to a dessert. Well, you never say no to a creme brûlée!



Cafe de Grancy



I had a great lunch at Cafe de Grancy. If you don't feel like walking, this excellent lunch spot is conveniently located next to the Grancy metro stop on the M2 and just a few minutes' walk from Lausanne's train station.


I sat outside on the terrace, it may have been the end of October, but it was a beautiful sunny day. Although, it was nice to have the outdoor heaters on as well.


What did I eat? I had the Swiss equivalent of bangers and mash. That's sausages with mashed potatoes for those not familiar with English dishes.


Delicious. I feel I may have to go on a strict diet when I return home at this rate.


For vegetarians, they do have some great veggie options. I was tempted but got sidetracked.



Le Nabi



Le Nabi is located inside the Museum of Fine Arts at Plateforme 10. I enjoyed a light veggie lunch here. My body was beginning to cry out that I needed to stop eating this crazy amount of food, so I was craving something light.


I'm not 100% convinced I got what I ordered. I'm very British in that I accept what I'm given and never wish to question if it's a mistake or not. But whether it was or not, it was a delicious vegetarian dish. Allowing me space to enjoy my upcoming last meal in Lausanne. Although had I known how much wine I would be consuming at that afternoon's wine tasting, I may have lined my stomach a little more.


Good selection of teas here too.



Eat Me


The Eat Me restaurant is a fun venue. Perfect spot for a night with friends, and tonight I had a dinner companion. No, nothing like that!!!


The restaurant serves small dishes. I guess you'd call them tapas from all over the world. It's a great concept. And great food too.


Take a look at their menu, and you'll see what I mean.



Best Time To Visit Lausanne



The weather in Lausanne ranges from really rather cold in the winter to sunny and warm in the summer. I'd say the best time to visit Lausanne is during Spring and Summer.


Summer is the most popular time to visit Lausanne, and it is also the busiest time of the year. The average temperature in summer is 20°C. A perfect time to enjoy water activities on Lake Geneva and the city's many festivals.


September has temperatures similar to the summer, but it can get quite chilly by November. The average temperature is 11°C. The autumn colours make the countryside quite picturesque.


I visited in October. My friends in Malta said I must be mad; it would be cold, grey and rainy. I got lucky, a little chilly but beautiful clear blue skies once the mist had burned off. Meanwhile, in Malta, they had torrential rain.


The average temperature in winter is 2°C. Yikes, I'm going to be back here in January! I'll let you know just how cold it really gets.



How To Get To Lausanne



The nearest airport to Lausanne is Geneva Airport. Direct trains run between Geneva Airport and Lausanne up to four times per hour and only take 50 minutes. Zurich Airport is another option with direct trains to Lausanne in just under three hours.


It's also possible to take direct trains to Lausanne from Paris and Milan. I travelled by train to Lausanne from my house-sit in Delft to Switzerland with a quick change in Frankfurt. It was a long day, but I prefer train travel to flying.


If you prefer driving, well as you can imagine, the road network in Switzerland is excellent.



How To Get Around Lausanne



I have to say in Lausanne, well everywhere in Switzerland really, public transport is incredibly efficient.


When you stay in a hotel in Lausanne, you receive a free public transport pass for the bus, metro and trains for the duration of your trip (up to 15 days.) So, you can jump around Lausanne and its surroundings for free. Yes, that even includes your visit to the UNESCO vineyards.


Exploring the old city on foot is easy, but you may want to use the metro when visiting some of the other neighbourhoods. And if you walked up the incredibly steep Rue du Petit-Chêne from Lausanne's central train station (oh, it's only a ten-minute walk to the city centre!) when you arrived, you won't want to walk that again.



Top Tips For Visiting Lausanne



Getting By In English


French, German, Italian and Romansh are the official languages in Switzerland. Lausanne is located in the French-speaking region, but don't panic if your schoolgirl or schoolboy French is not up to scratch. English is widely spoken, especially in the main cities.



Swiss Currency



In Switzerland, the currency is the Swiss Franc. There are plenty of ATMs and money changers in Lausanne. I used my card the whole time and didn't use cash at all. Don't forget when paying by card, always choose to pay in the local currency.



Get A Sim Card



As I'm sure you are aware, Switzerland is an expensive country to visit, so make sure you don't get stuck with high roaming charges. Get yourself a local sim card on arrival.


Most hotels and restaurants, though, do offer free wifi, but sometimes it's handy to have access to GPS on your phone if, like me, you are prone to getting lost.


As I never pay any attention to my own advice, I didn't get myself a SIM card, but fortunately did remember to turn off data roaming. Although, I did turn on Google Maps for a teeny weeny bit, and it ended up costing me 20 euros!



Bring A Water Bottle



Bring a water bottle with you. The water straight from the tap is delicious in Switzerland. Save money and save the planet by not buying plastic bottles of water.



Wear Comfy Shoes



Wear comfortable shoes; you will probably be doing a lot of walking.



Tipping



Tipping is welcome but not expected.



Eat Lots Of Swiss Chocolate



My favourite chocolate shop is Durig Chocolatier . Their hot chocolate is lush. Their shop is just off the Place de la Palud, almost opposite Café du Grütli.
I will definitely be stocking up here on my next visit.



Is It Safe For Solo Travellers?


Now, as I travel alone, I'm always asked if a place is safe for solo travellers, in particular solo female travellers. Yes, I felt extremely safe wandering around the city. Switzerland is actually considered to be one of the safest countries in the world.



Where To Stay in Lausanne



I stayed three nights in Lausanne at the mid-range Hotel des Voyagers. It was in a great location, right in the heart of the city but in a quiet pedestrian area, and opposite a chocolate shop!


Only 35 rooms which I like – I'm really not keen on the big chain hotels.

The rooms were modern and spotlessly clean. However, the magnifying mirror in the bathroom was a bit evil – surely, I don't look that bad – don't answer that! But the shower pressure was excellent and strong, just the way I like it.


However, there are places to stay to suit most budgets in Lausanne. From cheap hostels to five-star hotels. Whenever I travel, I usually book my accommodation through Booking.com.


I really loved my brief time in Lausanne. I knew the old city would be pretty, but I honestly never expected the wine and food to have been as excellent as it was. Except for the chocolate, I knew that was going to be good!


Day Trips From Lausanne



For an easy-to-do day trip from Lausanne, consider a trip to nearby Vevey. Home to Chaplin's World and a Giant Fork, there's a lot to see in Vevey, and it's well worth a visit. For more information on a day trip to Vevey, I have a more detailed post here.



Not far from Vevey are Montreux and the charming Chillon Castle which can easily be combined with Vevey but really merits a full day.
A little bit further, but only just over an hour away by train, is a trip to Gruyères. If you love cheese, castles, and cutesy medieval towns, you will love Gruyères.
Looking For More Inspiration For Winter City Breaks?
Have you thought about visiting Bergen in Norway? Or a Sami and Reindeer experience in Tromso? Or a long weekend in lovely Krakow in Poland?


If you enjoyed this post on Lausanne, please share it with your friends.

Disclaimer: I visited Lausanne as a guest of the Lausanne Tourist Board. And yes, I really did enjoy my time exploring the city, so much so that I am really looking forward to returning in January to house-sit for two cats.


This article contains affiliate links, where I get a small commission at no extra cost to you.