(Last Updated On: January 28, 2023)
The picturesque town of Delft is located in South Holland in the Netherlands, between Rotterdam and The Hague. This beautiful little university town with its many canals and the charming historic centre is absolutely perfect for a short break.
It is famous worldwide for its Delft Blue earthenware and for being the hometown of Johannes Vermeer, the artist probably most well known for his painting 'The Girl With The Pearl Earring.'
I was to be based here for a week, housesitting for two gorgeous and very affectionate Siamese cats – Bertie and Otto. So, apart from having lots of cat cuddles, here are some of the very best things to do in Delft.
City Walking Tour



As many of you know, I always enjoy taking a city walking tour whenever I visit a new city, and Delft was no exception. My friend Mhoi from Amsterdam, who had never been to this town before, joined me, and together we did the historical walking tour with Do Delft. And result – it was just the two of us!
A walking tour is such a great way to get your bearings and see the highlights in a short time. And as I would be in town for a week, I now knew what I needed to see in Delft. Clever, huh?
The Markt



The Markt is the main square in Delft and a great starting point for exploring the city. On one side, you have the Delft City Hall, and on the other, the Nieuwe Kerk (new church). And there are plenty of bars, cafes, souvenir shops and pottery outlets in between, all overlooking the square.



Delft City Hall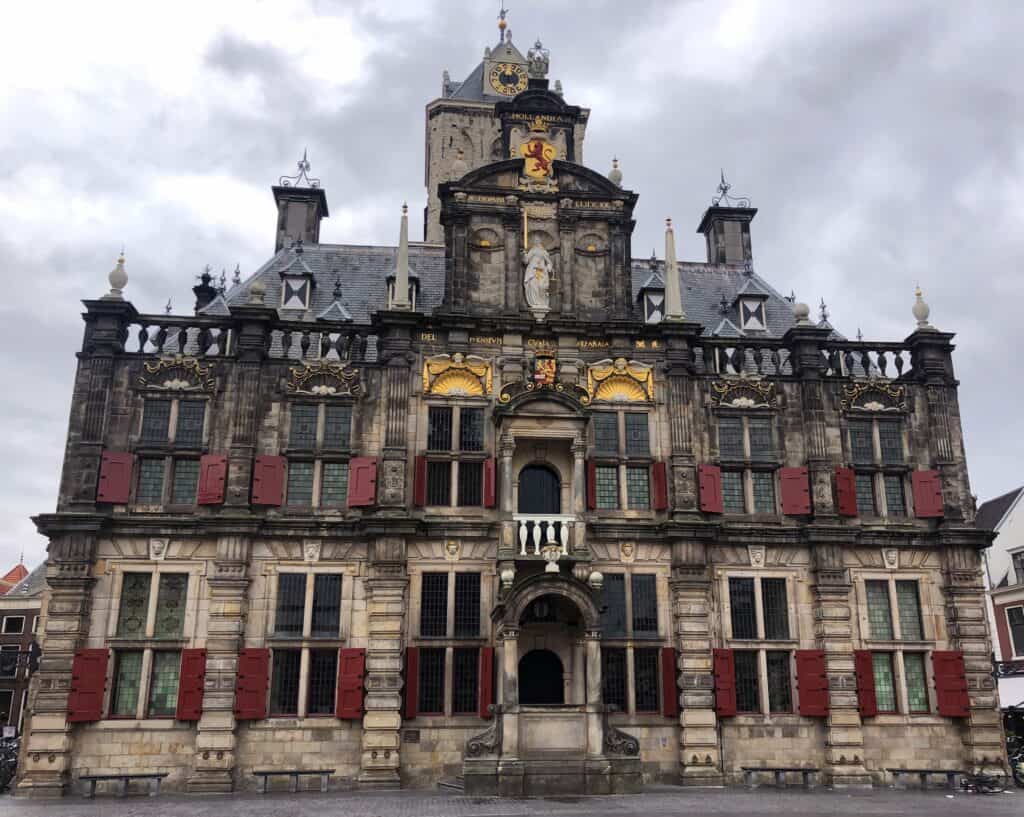 Located in Markt square, the Delft City Hall is an interesting piece of architecture.
On the front of the Renaissance-style building, there is some beautiful stonework, red shuttered windows, and several impressive stone statues. It serves as the seat of the city's government and is a popular venue for weddings.
Unfortunately, you can't go inside the building- only admire it from the outside.
Nieuwe Kerk (New Church)



On the other side of the Markt, facing the Delft City Hall, is the gothic-style Nieuwe Kerk (New Church). Well, the new church is not really that new. The building dates back to the 1300s and was completed in 1496. Its main feature is the bell tower which stands at 108.75m high. And yes, you can climb the 376 steps to the top, and it's a bit daunting. It feels considerably higher and has a lot more steps.
I've climbed many towers in various cities worldwide, but this one was actually quite scary. It felt ever so high, and you had to walk up a really narrow and slightly claustrophobic feeling spiral staircase. Be prepared to get rather intimate with others when passing on the stairs.
The view from the top was excellent, though. However, my legs were shaking, not from the climb itself but from my fear of heights. I took a quick photo, slightly blurry, stared at the view for a second, and thought how lovely, but couldn't wait to get back down the stairs. Yes, I know, I'm a complete wuss.
Inside the Protestant church, there's a fascinating permanent exhibition that explains the history of Delft and its relationship with the Dutch Royal Family. There is the tomb of William the Orange, the father of the nation of the Netherlands. Also known as William the Silent because well, there are a few stories around to explain this nickname. One version says that when the kings of Spain and France asked William to kill all the Protestants in his area, William did not respond. Our guide said it was because William couldn't speak Dutch – I wasn't sure if he was joking or not!
Opening Hours At The Nieuwe Kerk


Open daily except Sunday from 10:00 -17:00


How Much Does It Cost To Visit The Nieuwe Kerk


Adult €10
The entrance fee allows you to visit both the new and old churches and climb to the top of the tower. If you aren't daft enough to climb the tower, it's only €5,50.
Oude Kerk (Old Church)



So the Nieuwe Kerk is not really that new, and the Oude Kerk (Old Church) is not really that much older! The old church was built in 1246, roughly 100 years before the new church. The Oude Kerk has a leaning tower that stands at 75m tall. At first, I thought it was my eyes, but yes, the bell tower does lean.
The tower was partly built on top of a former canal. This turned out not to be a solid foundation for the tower's heavy stones, and the building started to subside as it was being built.
The leaning tower – also known as 'Scheve Jan' or 'Crooked John' – is now fully stabilised. But for quite a while, the people of Delft lived in fear of its collapse.
In 1843, the local council actually wanted to knock the church down, but there was a public outcry, and fortunately, the plan did not come to fruition. So the tower of the Old Church is still standing -75 metres high and almost two metres off-centre.
Inside the church, there are three ornate pipe organs from the 18th and 19th centuries and many interesting images on the stained-glass windows. It's a lot prettier inside than the new church but has that weird musty church smell.
Watch where you walk, though, as you wander around the church. Many of the floor tombs stick out slightly. Before you ask, yes, I did trip over one.
I'm not sure if it's a permanent display or not, but inside the church when I visited was an interesting photo exhibition of Delft under German occupation during the Second World War.
Opening Hours For The Old Church


Open daily except Sunday from 10:00 to 17:00
If you're planning to visit both churches in Delft, you can get your joint entrance ticket here.



Oostpoort



The Oostpoort, or Eastern Gate, was once one of the main entrances to the city. Now, it is the only city gate remaining in Delft. Built around 1400, it is an example of Brick Gothic Northern European architecture.
Today, it's a private residence.



Canals



Like many cities in the Netherlands, Delft has a great network of canals that are just lovely to stroll alongside—lined with beautiful trees and typical Dutch architecture. It's all so wonderfully Dutch.
Be sure to take some time to just simply enjoy walking or cycling the lengths of the canals and exploring the streets of Delft. You'll also find many bars and cafes alongside the canals, and maybe even take one of the canal cruises with a guided commentary.



Molen de Roos



The Molen de Roos windmill is the last standing windmill in Delft.
Admittedly, not as lovely as the windmills of Kinderdijk. But you have to see a windmill when you're in the Netherlands, don't you?
This mill from 1679 was used as a corn mill and was built in stone to replace the former wooden versions.



The Vermeer Centrum Delft
Just off Markt Square is the Vermeer Centrum Delft. This museum is dedicated to the life and works of 17th-century painter Johannes Vermeer (1632 – 1675).
Here you can see high-quality reproductions of all the work of Johannes Vermeer in chronological order. The genuine version of The Girl With The Pearl Earring' is displayed at the Mauritshuis Museum in Den Haag.
There is also an art studio within the museum that is devoted to the work method of Vermeer. Johannes Vermeer was known as the master of the light, and in this part of the museum, you can experiment with the camera obscura and play with colour, hidden views and perspectives just like Vermeer. It's quite clever and kept me amused for hours!
Opening Hours of The Vermeer Centrum Delft


Open daily from 10:00 to 17:00


How Much Does It Cost To Enter The Vermeer Centrum Delft


Adults €12
Children 12-17 €6
Children under 12 are free.
Prices include an audio guide. Audio guides are available in English, German, French, Italian, Spanish, Japanese or Chinese. Tickets for the Vermeer Centrum Delft can be bought online here.
Royal Delft Museum (Koninklijke Porceleyne Fles)



Rainy day in Delft; what to do?
So I've been to pottery museums before and confess, I find them a little boring. But as I'm in Delft, and I quite like some of the Delft Blue pottery, I felt I ought to go along to the Royal Delft Museum.
This museum is the last remaining Delft Blue pottery factory from the 17th century. And as it was just a few minutes' walk from where I was housesitting, and the rain had stopped for a second, I headed off there.
So the tour starts with a four-minute time travel history of Delft pottery. It was fun, and informative and kept your attention. You then move into another room for a short, interactive movie. It made me laugh; no one else laughed; maybe it wasn't supposed to be funny. I always laugh at the wrong moments.
After that, you take a self-guided tour of the museum and the factory. I loved watching one of the artists painting a pot and trying her hardest to ignore people staring at her.
And as in all good museums, the tour ended in a shop. Most of their products are way out of my price range, but they do have a few trinket souvenirs for the more budget-conscious person.
And I have to say, whether you're a museum lover or not, the Royal Delft Museum is worth a visit.


Opening Hours of the Royal Delft Museum


Open daily from 10:00 – 17:00


How Much Does It Cost To Enter The Royal Delft Museum


Adults €14
Children 13-18 €8,75
Under 12 Free
Price includes an audio guide, and you can acquire a ticket online here.



Markets in Delft



Thursdays and Saturdays are the market days in Delft. Thursdays is a massive market with around 150 stalls selling everything from locally produced fresh products to clothing and bicycle accessories. But the Thursday I was there, it was pelting down with rain, so I opted for the smaller version on Saturdays with around 50 stalls.
The Thursday market takes place in Markt square, between the City Hall and the New Church. Also, on Thursdays, on Brabantse Turfmarkt, which is about a five-minute walk from the Markt, is a lovely flower market.
The Saturday market takes place at the Brabantse Turfmarkt.



You Have To Try A Stroopwafel



Whenever you visit one of the markets, you must try a stroopwafel. I bought a few as gifts, but none of them made it back to Malta. These Dutch cookies consist of a thin or not so thin layer of caramel-like syrup sandwiched between two wafers. And when they are served hot from the market stall, the steam heats up the wafers and melts the inside layer so that it's all warm and gooey. Lekker! They are so addictive.



Easy Day Trips From Delft



The trains are so reliable, and distances between cities in the Netherlands are not huge, so every day trip is easy. I was only in Delft for a week, so I could only do a few outings. These are where I went.



Utrecht



Don't tell Delft but Utrecht is even prettier. It really is a stunning place to explore and about an hour away on the train from Delft. It's one of those ooh; I could live here cities ( I have a few of those).
It was an incredible place to explore, with many churches, canals, hidden passages, secret gardens, and cute houses. I met up with my Dutch friend again, who downloaded a self-guided walking tour and acted as a guide for the day. I haven't uploaded the guide for you here because it was all in Dutch. Apparently, when I read Dutch, I sound like the Swedish Chef from the Muppet Show. Not sure if that's a compliment or not?
Not exactly Dutch food, but if you like dim sum, there's a really good dim sum place close to the train station in the Hoog Catharijne shopping mall.
Discover more about what to see in Utrecht here.
The Hague



As it was just 12 minutes on the train or via tram 1 from Delft, it would be silly not to visit The Hague.
The Hague is on Netherlands' western coast on the North Sea. It is both the administrative and royal capital of the Netherlands and also hosts the International Court of Justice and the International Criminal Court.
With a population of over 500,000, it is the Netherlands' third-largest city after Amsterdam and Rotterdam.
It's an excellent place for visiting museums and art galleries and shopping. You will find the original 'The Girl with The Pearl Earring' at the Mauritshuis Museum.
I have to admit, I didn't visit any museums, the sun was shining, and I got a bit distracted by the shops. Being tall, it was quite exciting to find clothes and shoes that actually fit.
But before being tempted to part with my cash, I did do an enjoyable free city walking tour.
For more activities in The Hague, check these out.
Haarlem



It was my last day in Delft, so I met up with my friend for the last time for lunch in Haarlem. Haarlem is a forty-five minute train ride away from Delft. And then, with a few hours to spare, we decided to follow this self-guided walk of the city.
This walk starts at Grote Markt and takes around 90 minutes, and visits fourteen of the hidden courtyards of Haarlem (Haarlemse hofjes). These secret gardens belong to the almshouse communities of Haarlem with their cute tiny houses and pretty courtyards.
In the past, wealthy citizens established these almshouses as sheltered accommodation for older women and the poor. These tiny homes are all arranged around an inner courtyard garden. I'm poor and old; I wonder if I qualify.
Want to know what other activities there are to do in The Hague? Check these tours.



Amsterdam
Amsterdam is less than an hour away from Delft. I didn't visit there on this particular trip, but Jonathan and I were in the city a few years ago when Sinterklass arrived. I got caught up in all the excitement, much to the embarrassment of Jonathan. When Sinterklass and his helpers threw sweets and candies to the crowds, Jonathan had to stop me from pushing children away to reach the goodies.
Interested in visiting Amsterdam? Have a look at these ideas.


Interested In Housesitting?



Housesitting is a great way to save money on accommodation, live like a local and have loads of pet cuddles when you travel. I have housesat in some great places – Gibraltar, Rome, Paris, Jerusalem to name just a few. And I always use housesitters, whenever I travel too.
If you're thinking about trying housesitting, take a look at TrustedHousesitters. This is where I find most of my sits and housesitters. This link will give you 25% off your membership.
From this house sit, I then hopped on a train to Switzerland to discover the delights of Lausanne.
I hope you enjoyed reading about Delft! If you did, please share this post with your friends 🙂
Disclaimer: This article may contain affiliate links, where I receive a small commission but don't worry, there's no extra cost to you.