(Last Updated On: December 30, 2022)


When we started doing our research on what to see and do in Sicily, we were amazed at just how many Sicily itineraries tried to cover the whole island in a week. That's fine if time is short and you don't mind rushing from site to site, but Sicily is not a small island.


With just a week, it would be a lot better to focus on a single region. And two weeks would be even better!


So, here's our 14 day Sicily itinerary for exploring the island's gorgeous east coast.


Days 1-3 Catania


We start our two-week Sicily itinerary in Catania. There are two main airports in Sicily, Palermo and Catania -well three if you include Comiso, but for now, there are only a few flights a week to Comiso with budget airline Ryan Air.


So, if you are planning to explore the east coast, fly into Catania Airport. It's easy to get to the city from Catania Airport via bus, or taxi and should be possible by train very soon, as a new train station has just opened at the airport.




We spent three nights in total in Catania. Yes, the city is scruffy, a bit rough around the edges, but we loved it. Yes, you could probably cover the main sites in an afternoon, but it's fun to take your time to explore the different neighbourhoods, and it's a fabulous town for foodies.


We recommend you stay close to the main square, the Piazza del Duomo, then everything is in walking distance.


What Is There To See In Catania?


Piazza del Duomo and the quirky Fontana dell' Elefante statue.


Visit the Cathedral.


Climb up to the rooftop of the Church of Abbey of Saint Agatha for a fab view of Catania and Mount Etna.


Don't miss the smelly, chaotic Fish Market. Go early for the best photos.


The Roman Theatre and Amphitheatre


Villa Bellini Park


The Castle Ursino


San Giovanni La Cuti


And our favourite activity of all, just wandering the streets and getting hopelessly lost, and of course, eating. Catania is, yes I know I have already mentioned this, but it's fabulous for food. Don't leave Catania without trying their iconic dish Pasta alla Norma.




For more on what to see, do and eat in Catania, we have a whole blog post dedicated to the gorgeous old city of Catania.


Days 4-6 Taormina




From Catania to Taormina, it's just an hour on the train and less than €5 for a ticket. If you time it right, there will be a bus waiting at the station that will take you up the hill to the town for just a euro. If not, and you aren't as tight with your money as I am, there are always taxis waiting. I just think €20 for a ten-minute ride is a bit steep but talking of steep, so is the walk up to town.


Taormina is a popular tourist spot, and this will be the most expensive part of your Sicily Itinerary, but for first-timers, it's a must-see. It is possible to visit Taormina as a day trip from Catania, but it's always nice to experience a town once the day-trippers have left, plus there is a lot to see around here.


What Is There To See In Taormina?

Ancient Greek Theatre – we saw a few Roman and Greek theatres while in Sicily. This site was our favourite because of the scenery. With the bay and Mount Etna as a backdrop, the views from here are just stunning. Occasionally, concerts and plays are shown here.


Take a stroll around the Villa Comunale Di Taormina Public Garden. It's a lovely spot to escape the crowds, enjoy the scenery and cool off.


Go shopping along the Corso Umberto and people watching from one of the many cafes.


Visit Castelmola – a cute hill town that overlooks Taormina. It's a lovely place to have a wander, and enjoy a lunch at the phallic themed Bar Turrisi.

The beaches – although admittedly we didn't go, the weather turned against us on our last day, so we were opted to eat cannolis instead.


Take a day trip to Mount Etna




.We didn't do the day trip but chose to stay in Linguaglossa for two nights. Linguaglossa is a town close to the summit, and from there, we explored the quieter northern side of the volcano. For details on a side trip to Linguaglossa, taking the Circumetnea train and visiting Mount Etna, see here.
For more on what to see, do and eat in Taormina, we have a blog post all about exploring Taormina.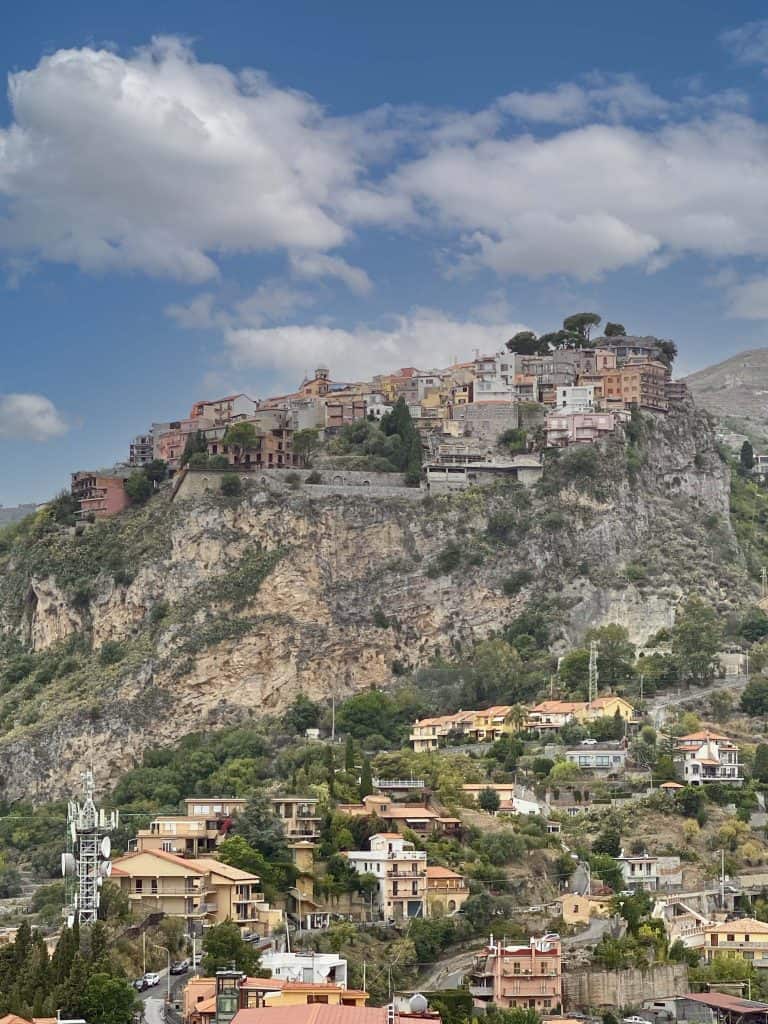 Day 7-9 Ortigia Island, Siracusa




From Taormina, we head back down the coast or around Mount Etna to Ortigia. By train from Taormina, it's just under two hours by train for less than €10 per person.


The train station is located in Siracusa which is around a twenty-minute walk away from gorgeous Ortigia, the historical heart of Siracusa. There are plenty of taxis waiting outside the station if you don't fancy walking. Sorry, not sure how much they cost because our very kind host at our Air BnB picked us up. There used to be a shuttle bus that ran from the station to Ortigia, but it wasn't running when we were there.


What Is There To See In Ortigia?
Piazza Duomo, which is quite possibly the most gorgeous piazza that you will ever see.


Ortigia Market


Temple of Apollo


Fonte Aretusa


Archimedes Square


Maniace Castle


Jewish Quarter
The Neopolis Archeological Park


And eat lots of fabulous food.


For more on what to see, do and eat in Ortigia, we have a blog post dedicated to just that.
Day 10-11 Noto Countryside


Now, you could easily add another day here in Ortigia, there's plenty to keep you entertained. However, sometimes it's nice to escape the city and relax in the countryside for a while. To be honest, having a car would be more useful for exploring the country region but it is possible by train.


We stayed in the newly opened agriturismo resort Kapuhala in the Noto wine region. Here, we enjoyed a fabulously relaxing two nights, a little bit of yoga and plenty of farm to table dining.


For more information on our time in Kapuhala, see here.


Day 12 -14 Ragusa


With just a few more days left, it's time to board the train and head to the gorgeous Baroque town of Ragusa. It's an absolutely stunning place to explore and jam-packed with fab restaurants. Have you noticed how excited we get about Sicilian food?


What Is There To See In Ragusa?


Admire the stunning view of Ragusa Ibla from the top of the stairs.


Lose yourself in the streets and alleyways.


People watch in the Piazza Duomo while eating gelato in a bun.


Appreciate the street art.


Head to Modica, another historic town famous for its Baroque architecture and yummy chocolate. Just twenty minutes away by train.


Giardino Ibleo – Park in Ragusa Ibla


Chiesa di San Vincenzo Ferreri, Ragusa Ibla with its weird 24-hour sundial. How does that even work?


For more on what to see, do and eat in Ragusa, we have a more detailed blog post all about Ragusa right here.




Now, after an amazing two weeks exploring Sicily's east coast, it's time to head back to Catania for your flight home. Make sure you don't choose a Sunday to travel on from Ragusa (like we did !) as no trains and busses operate. Update: There is public transport available from Ragusa during July and August!

If the flights work out for you, Comiso Airport is actually closer to Ragusa than Catania.


How To Get Around On Your Sicily Itinerary


Most people told us we should rent a car, and we probably will next time. But as this was our first of hopefully many trips to Sicily, and we were basing ourselves in the larger towns, we opted to travel by train.


Travelling by train in Sicily was pretty easy. We used OMIO to book our train tickets. Train tickets were surprisingly cheap, just a few euros between cities.


Buses frequent the main towns too, and in some cases are even cheaper than the train, but Jonathan and I are train nerds.


But note, public transportation is virtually non-existent on Sundays.


Also note: if you do opt to rent a car, parking can be a bit of a nightmare in some of the towns, particularly Taormina and around Ortigia.




When Is The Best Time To Visit Sicily


Sicily is an excellent all-year-round destination, but if you want your itinerary to avoid scorching temperatures and large crowds, it's best to visit in Spring or Autumn.


Being so far south, this is one of the hottest regions in Italy, so if you're not keen on heat, avoid July and August. That's also the most expensive and most crowded time to visit.


From November to March, it can get chilly, but you'll have the historic sites and parks all to yourself. Also note, some places close down during the winter months.


Would We Recommend Sicily?


We loved our time exploring Sicily's east coast and hope you enjoyed our Sicily itinerary. We can't wait to get back and explore more of this beautiful island. The food, the culture, the sites were incredible – could this be our next move after Malta?
For More Posts On Sicily, Check These Out
Agrigento and The Valley of Temples
Linguaglossa, the Circumetnea train and Mount Etna
Disclaimer: This article may contain affiliate links, where I receive a small commission but don't worry, there's no extra cost to you.