(Last Updated On: December 30, 2022)
After a fabulous three days exploring Catania, it was time to move on to our next spot on our Sicilian adventure – Taormina. We had heard mixed reports about the place: tourists loved it, while locals and ex-pats hated it, complaining it was too busy, too touristy and very expensive. We decided to see for ourselves.
We woke up that morning in Catania to stormy grey skies. We made it as far as one of the cafes on Piazza del Duomo before the heavens opened. So we decided to drink coffee and wait for the storm to pass. According to weather reports, the weather would improve as we went further up the coast – phew!
As soon as there was a break in the rain, we made a dash to the train station for the 45-minute journey to Taormina, followed by a 10-minute taxi-ride up the hill to our home for the next three nights.
From our terrace at the guesthouse Villa Sara, we had lovely views overlooking the town of Taormina and the bay. We were looking forward to exploring our new base.
What Is There To See In Taormina
Corso Umberto
We headed first to the Corso Umberto, just to get our bearings. The Corso Umberto is the main street that runs from Porta Catania to Porta Messina and is packed with elegant boutiques, churches and cafes. It was also quite packed with tourists, and this was in the middle of Covid times and no cruise ships. What must this be like in peak season?
We didn't stay too long on this street. Neither Jonathan nor I are big fans of touristy shops; we like to shop where the locals go. There weren't any on this street, that's for sure.
However, you do see a more authentic Taormina as soon as you wander off the busy main stretch and start exploring the side streets.
Ancient Greek Theatre Of Taormina
Even if you're not a fan of history, we highly recommend visiting the Ancient Greek Theatre Of Taormina for the setting. The views over the coast and Mount Etna are spectacular.
Built around the third century by the Greeks and renovated later by the Romans, this is a fascinating place to wander around. I even saw some people bringing their dogs. Our Angel would have a fab time sniffing history here.
Top Tip – if your phone battery starts to die, you can charge your phone battery in the Antiquarium which is now the book shop and small museum.
Opening Hours For The Ancient Greek Theatre Of Taormina
1 January to 15 February 09:00 – 16:00
16 to 28 February 09:00 – 16:30
1 to 15 March 09:00 – 17:00
16 to 31 March 09:00 – 17:30
April 9:00 – 18:30
May to end of August 09:00 – 19:00
1-15 September 09:00 – 18:30
16-30 September 09:00 – 18:00
1 to 15 October 09:00 – 17:30
16 to 31 October 09:00 – 17:00
1 November to 31 December 09:00 – 16:00

Book your ticket here in advance. The price of this ticket also includes a guided tour of the Greek Theatre.

Or this ticket just includes the entrance fee, if you want to explore by yourself.
Villa Comunale Di Taormina Public Garden
Not too far from the Greek Theatre is the Villa Comunale Di Taormina Public Garden. It's a lovely shady garden that once belonged to a wealthy English lady, and it's free to enter. Head here if you need to escape the crowds, enjoy views of the bay and listen to the bird song.
Castelmola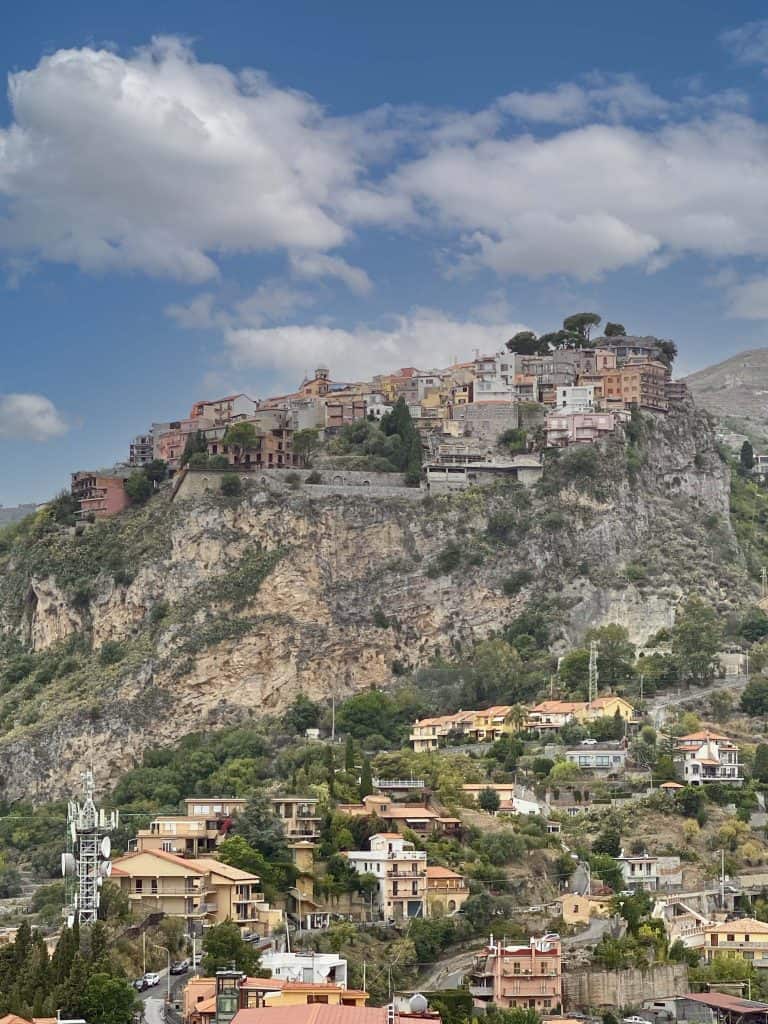 Castelmola is a small hill town above Taormina and well worth a visit. There are buses to Castelmola from Taormina, but we walked. Well, our guesthouse was just above Taormina anyway, so we were already halfway there.
We took the old Saracen path. It was a lovely countryside walk. The walk is about 30-40 minutes and brought you into the north end of Castelmola, and we returned via the southern end of town, so it makes for a pleasant circular route, but it's a steep up and down.
The town is a charming place to spend a few hours, simply wandering the streets, exploring the ruins of the Norman Castle and enjoying the fun phallic display at Bar Turrisi. Do be sure to try the almond wine.
Madonna della Rocca
On your way down from Castelmola, take a slight detour to visit the church Madonna della Rocca. It has more amazing views of Taormina and Mount Etna. You will find a cute little streetside bar close to the church. There's a castle here too, but it looks like it has been closed to visitors for a while.
As you continue your way down the hill to Taormina, you will pass the Hotel Villa Angela which is owned by Jim Kerr, the lead singer and songwriter of the 1980's pop group Simple Minds. I used to love them in my misspent youth. They were supposed to be performing at the Greek Theatre, but alas, it had been postponed until next year.
Beaches and Bays of Taormina
What can I say? We were planning to visit Isola Bella, a small island near Taormina but the weather was terrible on our last day, and Jonathan wasn't feeling too good, so we chilled and ate cannolis instead.
Have you visited any of the bays near Taormina? Do tell us in the comments what they are like.
Recommended Restaurants In Taormina
We ate some fantastic food on our trip around Sicily's east coast. However, we were incredibly disappointed with the food in Taormina. Not only was it really overpriced for what it was, but it also didn't taste too great either.
The first place we visited, we popped in for a quick bite to eat. It was already 3 pm, and the proper eating venues were now closed until evening, so we knew the place we found was probably not going to be that great, but you can't really screw up a bowl of pasta, can you? Apparently yes, you can. The restaurant looked cute, but for €8 I'm pretty sure that my spaghetti was straight out of a tin and Jonathan actually recoiled when he saw his carbonara. It was edible, as we were starving.
Here's our review on TripAdvisor.
The next time we ate out, we decided to listen to recommendations and check out the reviews on the place. We chose the Vineria Modi. Prices were a little expensive, but hey, this is Taormina, and if the food is good, that's ok.
The venue looked fine, it usually would be booked days in advance, but we arrived early and were given a table. The service was excellent, but the food so, so disappointing.
Here's our review on TripAdvisor.
But it wasn't all doom and gloom with food and drink in Taormina. I guess we were just unlucky with the above restaurant choices.
We had the best granitas at The Bam Bam bar. A granita is very similar to a sorbet but with a slightly different texture. I had a delicious lemon one with strawberry, and Jonathan opted for pistachio.
Our favourite cannoli of the trip came from the Laboratorio Pasticceria Roberto; a lovely old fashioned bakery tucked away in one of the side streets. The baker saw me eyeing some of the cakes that had just come out of the oven and offered me a piece. In my excitement, I tried to shove it straight in my mouth, totally forgetting I was wearing a face mask.
We also had a lovely pizza lunch at the Bar Turrisi in Castelmola and enjoyed a glass of delicious almond wine.
But if like us, you end up feeling horrified at the cost of eating out in Taormina, there's an excellent supermarket called Deco. It's just around the corner from the post office near the Porta Catania. On a rainy evening in Taormina, it was nice just chilling in the room, munching on fabulous Sicilian cheeses and olives.
How To Get To Taormina
Without a car, it's straightforward to reach Taormina using public transportation. Note that if you do have a car, parking can and will be a bit of a nightmare.
We love to travel by train, but there are plenty of buses too.
We took the train from Catania Central to Taormina-Giardini Station. From Catania, trains run all day varying in duration from 35 minutes to an hour.
For up-to-date ticket prices and timetables of buses and trains, we used the OMIO app.
From the train station up to Taormina town, there are buses and taxis. The buses are not that frequent, roughly one every 90 minutes, and cost one euro. The taxis are €15 for the short but steep climb to the town. It would take around 45 minutes to walk. If your guesthouse is just above Taormina as ours was, that's an extra €5. Welcome to Taormina!
For More Posts On Sicily, Check These Out
Agrigento and The Valley of Temples
Linguaglossa, the Circumetnea train and Mount Etna
Next Stop: Linguaglossa
Disclaimer: This article may contain affiliate links, where I receive a small commission but don't worry, there's no extra cost to you.