(Last Updated On: December 30, 2022)




After a couple of days exploring the ancient temples around Agrigento, I set off by bus for a three-hour journey to the lovely port town of Trapani.


Trapani is located beneath Mount Erice between the Mediterranean and the Ionian Sea on Sicily's northwest coast. It's not as popular with tourists as some of Sicily's east coast towns. Its primary industry sources come from salt extraction and trade, bluefin tuna fishing, and marble exportation. But there's plenty to do and see in the area, and Trapani makes an excellent base for exploring this side of the island.



Old Town Trapani



Trapani's old town is a delight to wander. Although Trapani suffered extensive bombing in World War II, the old town largely escaped damage and is certainly worth exploring.


The best way to see old Trapani is to lose yourself in the old streets and alleys. The oldest and most characteristic streets in the old town are Corso Italia, Corso Vittorio Emanuele and Via Garibaldi.



The Cathedral of San Lorenzo Martire


The Cathedral of Trapani, with its impressive ceiling artwork located in the city centre, was built back in 1102. It's been renovated many times over the centuries, and for lovers of Baroque interiors, it's well worth a visit.



Trapani's Clock Tower


The Clock Tower is part of the oldest city gate in the town centre. The clock is one of the oldest astronomical clocks in Europe, dating back to 1596. It has two circular dials: the sundial whose hands indicate the zodiac signs, the equinoxes, the solstices and the seasons, and a moon dial that shows the moon's phases.



The Mysteries of the Church of the Holy Souls of Purgatory





My favourite church in Trapani was the 18th century Church of the Holy Souls of Purgatory. It was the name that first drew my attention. Inside the church, there are twenty sculptures of the 'Mysteries' by local artisans that depict the Passion of Christ.


On Good Friday, one of Italy's oldest religious events takes place – the procession on the Mysteries.


The twenty sculptures are carried through the city's streets in a grand procession that passes through the streets for 24 hours. It must be quite incredible to witness, although not keen on being surrounded by huge crowds anymore.



Fish Market


They may be smelly, but it's always fascinating to witness real life when you travel, and a fish market is just perfect for that. Trapani's fish market (Mercato del Pesce) is a great place to visit in the morning for the sights, smells and sounds – a smorgasbord for the senses.



Ligny Tower (Torre de Ligny) Panoramic Point





Built as a defence against pirate raids, the Ligny Tower is one of the symbols of Trapani. It is located at the very edge of the west coast, just a short walk from the fish market and offers an incredible view over the Sicilian Channel and the Tyrrhenian Sea.


During World War II, Ligny Tower served as an anti-aircraft post for the Navy, but today it is the Museum of Prehistory and a marine archaeological exhibition hall.



Visit The Medieval Hilltop Town Of Erice



Erice is a gorgeous medieval town perched high on a hilltop 750 metres above sea level, just a few kilometres northeast of Trapani.


There are incredible views overlooking the countryside, the sea, and out to the Egadi Islands from the town. Apparently, you can see as far as Tunisia on a clear day!



The best part of a visit to Erice is exploring the quaint medieval streets and alleyways lined with ancient stone houses and just admiring the views.




There are two castles in Erice. The 12th century Norman Venus Castle sits on a headland close to Erice. On this site, a Temple of Venus once stood in this location. According to legend, Venus bathed in milk in the castle well.


The second castle is now the Pepoli Tower hotel, although it appears to be closed at the moment. However, if you decide to stay overnight in Erice, these hotels are open and available.


As with all Italian towns, there are many beautiful churches to discover. I came across this Jesus on a cross made from salt at the Church of Saint Salvatore.




The lively Piazza Umberto I square, with its bars and cafes, lies in the heart of the town.


Surrounding the town of Erice are thick defensive walls, some of which date back to the Ancient Greeks.


But no trip to this hilltop town is complete without visiting the Pasticceria Grammatico Maria to indulge in some traditional pastry Genovesi. Genovesi are traditional Sicilian pastries filled with milky custard cream or ricotta, then covered in icing sugar and served warm. Ooh, so delicious.



How To Get To Erice From Trapani



The easiest way to reach Erice is to take the ten-minute cable car ride from Trapani. The cost was €6 one way and €9,50 return when I travelled in 2021 but check here for the up to date schedule and ticket prices. The cable cars are not quite as glamorous as the ones in the Dolomites but, then again, are considerably cheaper.


I walked from my guesthouse to the cable car entrance, but buses 21 and 22 will drop you off very close to the main entrance.


Driving up to Erice is also an option, but the scenic route has some scary hairpin bends, but there is plenty of car parking at the top if you do decide to drive.



Tips For Visiting Erice




Wear comfy shoes with grip. The cobblestone streets were really slippery, even worse than the streets of Lisbon. Or maybe it's just time for me to invest in new shoes.


See Also:


Visit The Valley of the Temples and Agrigento

Cefalu – A gorgeous seaside town
Linguaglossa, the Circumetnea train and Mount Etna 
Visit The Nearby Salt Pans




Late afternoon is a great time to head out to explore the nearby salt pans of Nubia. The Phoenicians started the salt industry near Trapani over 3000 years ago.


Salt pans fascinate me. I love walking among the small mountains of white salt and keeping an eye out for cranes and flamingos. I was very excited to spot flamingos, but alas, they were at quite a distance. Note for the birdwatchers out there – more than 180 species of birdlife have been spotted in this area.


There's a tiny Salt Museum to wander around that's located in a 16th-century salt worker's house. Not only will you see all the ancient tools and photos of that era, but you can also learn about the whole salt production cycle. The guide was so enthusiastic; I left wanting to start my own salt company. She kept apologising for her terrible English, which of course, was absolutely perfect.




The packets of Trapani salt make excellent souvenirs, and a tiny pinch of the salt with rosemary is delicious on salads.


If you have your own transport, it's straightforward to reach the salt pans and there's a nice bar and restaurant here to relax and enjoy the sunset.


Without a car, it's a little bit tricky to get to as there's no public transport in that direction. I didn't fancy driving nor trying to explain to a local taxi driver what I wanted to see and do, so I signed up for this two-hour salt flats tour.


It was only one other person and me on the tour. It was really interesting, and I probably saw and learned a lot more than if I had attempted to go solo.



Visit The Egadi Islands



The islands of Favignana, Levanzo and Marettimo and the islets of Formica and Maraone are part of the Egadi Archipelago that lies just off the Trapani coast.


Also known as the Aegadian Islands, this is the largest protected marine area in Europe.


Ferries depart regularly to the islands from Trapani port, which is just a short walk from the historic centre. Tours to the islands are available online or at the many kiosks that line the shore.



A Day Trip To Favignana




I decided to visit Favignana, the largest of all the islands. I didn't actually take advantage of the many day trips on offer as not being a lover of water, the thought of being on a boat all day and stopping for snorkelling fills me with dread. So, I bravely jumped on the hydrofoil with Liberty Lines instead for the 30-40 minute crossing.


Don't wait until just before the ferry leaves to buy a ticket as queues can be seriously long.


A car ferry is also available to Favignana and takes around an hour.


The best way to explore the island is by bicycle. There are many places on the island to rent a bike for around ten euros a day. The island is relatively flat, so it's not too difficult to get around. If you don't want to rent a bike, the small town by the harbour is pleasant to explore on foot, and there are a couple of beaches with beach shacks for a light lunch within walking distance.


Most popular beaches on the island are Cala Rossa, Lido Burrone, Cala Azzurra and Cala Rotonda. If you're a beach lover and fancy staying a little longer on the island, there's plenty of accommodation to suit all budgets.



Favourite Restaurants In Trapani



Al Vicoletto


Tucked away in the back streets of Old Trapani, this restaurant was a great find. I arrived pretty early and found a table outside, but half an hour later, people who were arriving without reservations were being turned away. The Sicilian food served here was absolutely delicious.
I ate way too much, and as I have a terrible sense of direction, I got hopelessly lost on the way home but this allowed me more walking time to digest the food.



Trapani 210 Grammi


I enjoyed a fantastic delicious cacio and pepe with truffles here.



Where To Stay In Trapani



There are hotels and guesthouses to suit all budgets in Trapani. I stayed at Trapani Home, which was perfect for me. Simple, clean and in an excellent location for exploring the city. Check here for other great deals and accommodation in the area.



How To Get To Trapani



By plane


The closest airport to Trapani is Trapani airport, which low-cost airline Ryan Air serves. Alternative airports in Sicily are Palermo and Catania.



By Train



It's possible to take the train from many destinations in Sicily to Trapani, but it's painfully slow compared to the bus.



By Bus



In Sicily, it's a tad confusing buying bus tickets; everyone seems to send you to a different place. So allow extra time and assume the first three people will point you in different directions.


Top Tip: don't drink a large pot of coffee before a long bus ride!



By Car


Travel will be easier if you are interested in renting a car and are not intimidated by Sicilian drivers.



If You Enjoyed This Post, Please Share With Your Friends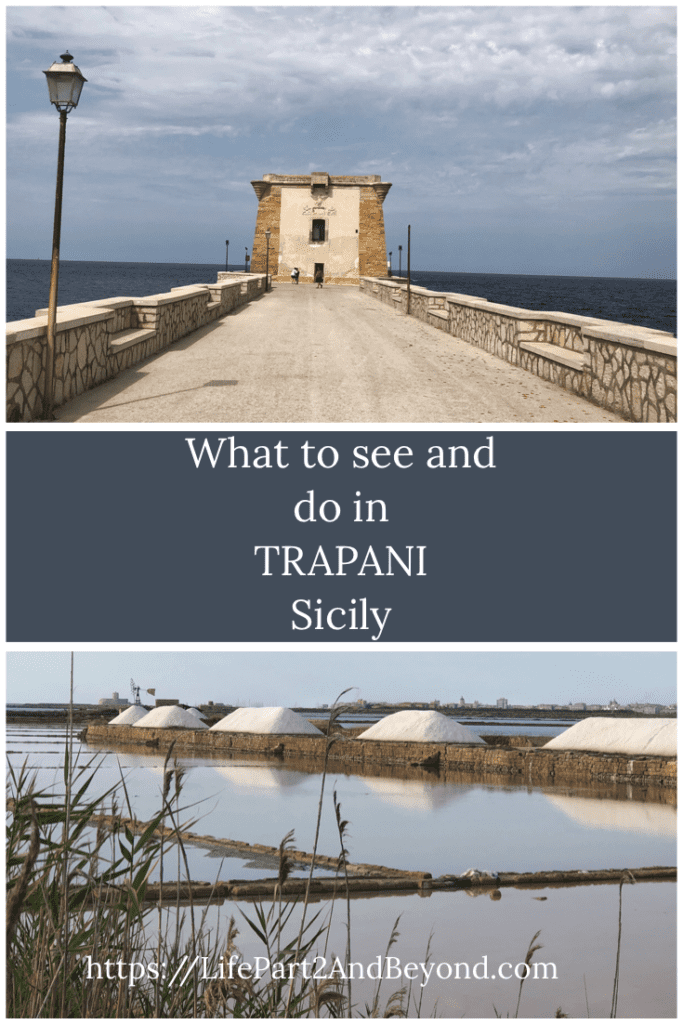 Disclaimer: This article may contain affiliate links, where I receive a small commission but don't worry, there's no extra cost to you.