(Last Updated On: January 14, 2023)




After spending a few days exploring the lovely city of Verona, it was time to head up to the mountains. My base for the next four nights was Ortisei, Italy in the heart of stunning Val Gardena in the Dolomites, an easy train journey from Verona to Bolzano, followed by a bus ride up to Ortisei.



Ortisei (St Ulrich in German, Urtijei in Ladin), Italy



Ortisei is a picture-postcard town catering mainly to tourists. Jam-packed with alpine hotels with balconies filled with colourful bougainvillaea, boutique shops selling cute souvenirs and hiking clothes, and plenty of bars, cafes, and restaurants serving hearty, warming cuisine.


At first, I thought the town was maybe going to be a tad too touristy for my liking, but after a full day of hiking, I enjoyed relaxing with a hot chocolate on my bougainvillaea filled balcony, them wandering the local shops looking for cute souvenirs and finding hiking boots in my size. Bonus!
Plus, I had the best pizza ever at the Turonda Pizza Bistrot, I went for the Cacio e Pepe pizza, oh, it was just so good.
Ortisei, the main village of Val Gardena, is situated 1.236 m above sea level. It is surrounded by gorgeous mountains and scenic high plateaus that are easy to access from the nearby cable cars and funiculars.
The town of Ortisei feels more German than Italian, and it didn't take long before I was speaking sentences in a mix of half German – half Italian, such as 'Wo ist il bagno?' To which the response would be, 'would you rather I speak English?
Did You Know?



The stunning Dolomite landscape has been listed as a UNESCO World Heritage Site since June 2009.



Don't Have A Car? No Worries!



Ortisei, Italy, is the perfect base for exploring the Dolomites, especially for those without a car. Everyone who stays here is given a free week's bus and train pass for exploring the South Tyrol. And there's a helpful tourist office that gives out handy hiking maps and information.
Here are the hikes I did. I'm not super fit, but I do enjoy a good walk, and there are walks around here to suit all fitness levels. If you're not keen on hiking, don't worry, I would still suggest taking the cable cars up the mountains. Then enjoy the incredible view with a coffee or glass of wine at the restaurants/ bars conveniently located as you exit the cable car.
Hike One – The Alpe di Siusi/ Seiser Alm Meadows



Alpe di Siusi (Seiser Alm in German, Mont Sëuc in Ladin) is Europe's largest high alpine pasture, and it's just beautiful.
Visiting the Alpe di Siusi is an absolute must for first-time visitors like myself. You will never forget that first glimpse of the mountains. I don't have the words to describe how I felt; it was just spellbinding.
Many hikers and mountain bikers visit here in the summer months. I was hiking by myself, but you're never really alone. There's always another hiker within sight. As per the recommendation of the tourist office in town, I followed trail 9 to Saltria. It was just a wonderful, leisurely, stunningly beautiful hike, and I had to refrain from howling 'the hills are alive to the sound of music.'
How To Get To The Alpe Di Siusi From Ortisei



From Ortisei, it's very straightforward to get to the Alpe di Siusi. Walking from the village, follow the signs to the Ortisei-Alpe di Siusi Ropeway (aka Mont Sëuc Gondola) valley station. It's a very short walk.
There is a paid parking garage by the cable car station if you're coming by car.
The cable car is not included in your free bus and train pass, I did ask. And by the look on the guy's face behind the counter, I wasn't the first to ask such a stupid question.
The cost of a one-way ticket is €14,60 and for a return € 24,80. For up to date information on schedules and ticket prices, please check here.
The cable car runs nonstop during the summer months from 08:30 to 18:00.
If you don't want to walk but just enjoy the view instead, there are a couple of coffee shops/ restaurants close to where you exit the cable car.



Hike 2 – Resciesa Summit Cross and the Santa Croce Chapel



Another fabulous walk. This hike follows a circular route, just over five kilometres and is relatively flat, with just a slight climb to the cross at the highest point. It took me around 2.5 hours to walk the loop, but that allowed me to take photos and constantly stop to admire the views.
Next to the funicular stop, there's a nice restaurant where I had a big bowl of hearty soup and had the crazy idea to walk back down to Ortisei rather than take the funicular. The young waitress looked me up and down and declared it would take me at least four hours to walk back.
But after a very leisurely hour and a half stroll, I was back in my guesthouse in Ortisei. It was a lovely downhill walk that meandered through pine forests. The smell of pine was pleasant, and the air was so fresh. I guess the waitress had never done this walk or didn't think I was capable!



How To Get To Resciesa From Ortisei



A very modern funicular takes you directly to Alpe Resciesa, in the Puez-Odle Nature Park. The funicular passes through woods and meadows, climbing to 2,200 meters.
From the centre of Ortisei, it's just a short walk to the funicular and clearly signposted.
A one-way ticket cost was €16 and €23 for a return.
The funicular runs from 08:30 to 18:00 during the summer months. For up to date information on tickets and schedules, check here for more details.



Hike 3 Seceda Ridgeline



The Seceda ridgeline is one of the most iconic places in the Dolomites. You will have probably seen the photos of this place a million times. And, yet it's even more spectacular in person.
The Alpe di Seceda is apparently located on the sunny side of Val Gardena. It lies just at the foot of the Parco Naturale Cisles-Odle (nature reserve). It was sunny when I visited, but rather windy too.
The views as you stepped out of the cable car station were breathtaking. You have a fantastic view of almost the entire South Tyrol and the mountains in Lombardy, Trentino, and Austria. Plus, of course, the fabulous peaks of the Dolomites.
However, the actual primary viewpoint at the Seceda Summit is just a ten-minute walk from the cable car stop. Follow the signs. It's just a short uphill stroll. The site is marked by a cross and a circular board detailing the most prominent visible peaks in the Italian and Austrian Alps. From the summit (2518 meters), there's an unbeatable view of the Odle/Geisler Peaks.
From here, I followed the level path to the Odel Peaks before beginning the stunning circuit trail to the Rifugio Firenze/Regensburger Hütte, where I stopped for a warm, hearty stew. As I sat there admiring the view, I couldn't help noticing how far away the cable station was, and it was going to be a very long uphill journey. I didn't recall walking this far downhill.
The first sign I came across said it was just a 90-minute walk to the cable car station. Ah, not so bad -I thought. I walked a while and came across another sign that also said 90 minutes. Yikes, I'm not getting any closer!
About halfway up that hill, I spotted a chairlift. I don't recall ever being on one before, so I had to try it out, and it dropped me off close to the summit – how lucky! Never have I been so grateful to see a chairlift.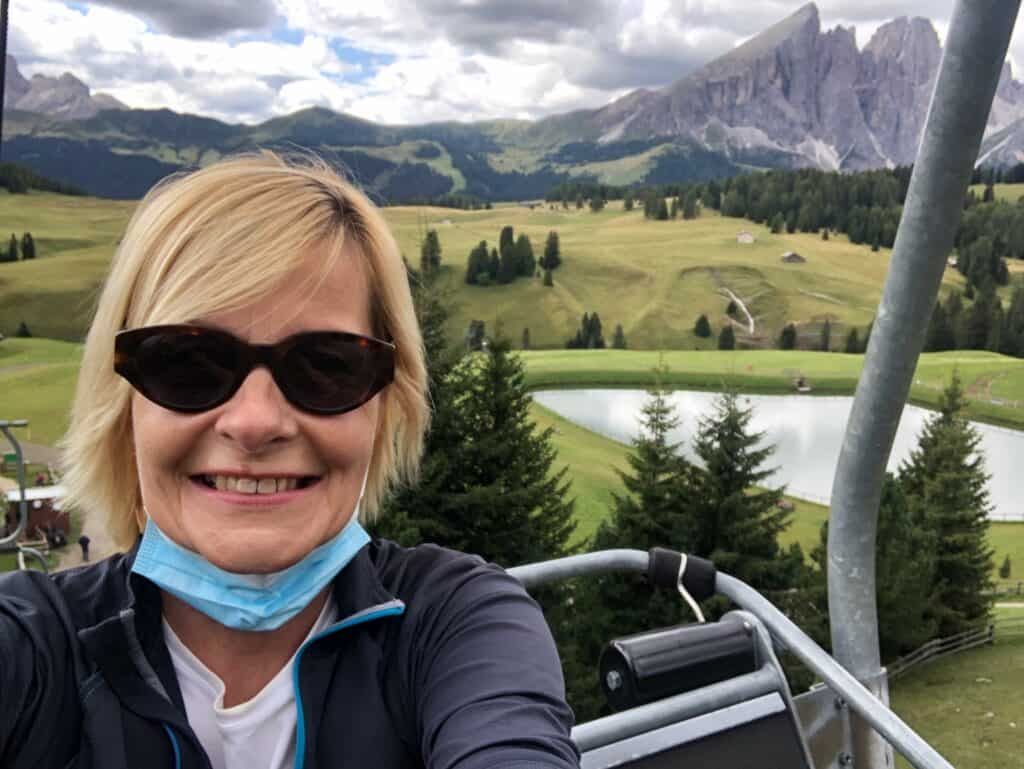 For me and especially my legs, it was €10,50 well spent. With all the ups and downs of today's hike, I was allowed to cheat.
Overall, it was a fabulous walk – one of those that made me realise I need to spend more time in the mountains and I need to walk another Camino.
So glad I allowed myself at least three full days in Ortisei, I wish I had longer, but the lakes were calling me.



How To Get To Seceda From Ortisei



From the centre of Ortisei, follow the signs to the Seceda gondola/cable car. This trip requires you to take two cable cars.
First, you have to take the Ortisei-Furnes gondola, followed by the Furnes-Seceda cable car. They are right next to each other, so as you exit one, you get in line to board the next.
When you buy your ticket, you'll be asked whether you want to go to Furnes (the middle station) or Seceda (the top station). As of 2021, the Seceda cableway ticket costs €35 round trip or €20.50 round trip if you disembark at Furnes.
For up to date information for visiting Seceda, see here.



Hike 4 – From Ortisei To The Church of San Giacomo



Despite being absolutely exhausted from today's hike in Seceda, I really wanted to see St Jacob's Church before moving onto Bergamo. It is just over a two-hour walk round trip from Ortisei.
The Church of San Giacomo (St Jacob's Church) is located just above the hamlet of San Giacomo, east of Ortisei, in a small clearing surrounded by trees and breathtaking views of Sassolungo. The church is believed to date back to 1181 and is the oldest church in Val Gardena.
To get there, simply follow the signposted path up to St Jacob's Church, from the Parish Church in Ortisei.
Note: this hike involves a 423-metre ascent.
I confess, I cheated and used my free bus pass for the first time. I jumped on the local bus 355 for the fifteen-minute journey to the village of St Jacobs. It was a 20-minute walk uphill from the village, which to me and my legs was better than walking another 90 minutes.
It was so worth the trip. It's unbelievably picturesque. I just wanted to take a photo of the church with the mountains in the background that I had seen in so many books and magazines. From there, it was an easy 45-minute walk all downhill back to the hotel.



Consider Getting The Gardena Card



You can use all the cable cars and lifts in Ortisei and Val Gardena with a Gardena card for three or six days. The price for adults is €85 for three consecutive days and €115 for six. Discounts are available for children.
I didn't actually get one because the weather forecast wasn't looking good for when I would be there, and I wasn't sure if I would be able to do much hiking. But hey, it's the mountains, and the weather changes all the time, and I ended up being fortunate enough to enjoy perfect hiking weather the whole time I was there.
If I hadn't taken that final chairlift up the hill to the cable car on hike number 3, I would have spent in total €77,70 on cable cars. So, I spent roughly €10 more than if I had bought the Gardena Card.
However, having a card would save time on queuing, although to be honest, when I was there, that really wasn't an issue.



Are The Dolomites Part of The Alps?



Yes, in theory, the Alps do include the Dolomites; however, the locals always refer to these mountains as the Dolomites.



Is It Safe For Solo Female Travellers To Hike In The Dolomites?



I'm a solo female traveller these days, and I felt very safe. At no time did I feel uncomfortable and unsafe walking by myself. I didn't see other people around when I walked back to town from the Resciesa Plateau, but there were people around for the other hikes. But that walk was all downhill, I stuck to the path, and you can always see Ortisei in the distance.



Do They Speak English In Ortisei Italy?



Yes, most people do. Ortisei is a tourist town, so don't panic. Italian, German and Ladin, a local dialect, are the main languages spoken. I love to practise my Italian, but I look German. So, it wasn't long before I found myself speaking in a new language that I created. I can't decide whether it should be called Gerlian or Itaman.



Best Time To Visit Ortisei in Italy



The summer season runs from early June to mid-October- perfect for hiking.
But Ortisei is also a ski resort town. The ski season starts around mid-December and ends in early April.



Where To Stay In Ortisei Italy
I always use Booking.com whenever I book accommodation. I stayed at the Hotel Dolomiti Madonna. A little bit old fashioned, but right in the centre of Ortisei, spotlessly clean and the staff were really lovely.



How To Get To Ortisei Italy



By Plane



Nearest Airports And Distance To Ortisei, Val Gardena
Bolzano BZO – 40 km distance
Innsbruck INN – 120 km distance
Verona VRN – 190 km distance
Bergamo BGY – 270 km distance
Venice VCE – 270 km distance
Munich MUC – 300 km distance
Milano MXP – 350 km distance



By Train



Trains are my favourite means of travel. The nearest train stations to Ortisei are Bolzano, Bressanone, Chiusa and Ponte Gardena. From there, you travel onwards by bus or taxi.
Italy: Trenitalia
Germany: Deutsche Bahn
Austria: ÖBB
Switzerland: SBB
From Bolzano Train Station, take bus 350 to Ortisei, Italy.
The bus station is right next door to the train station. You can buy your tickets at the office there. As of August 2021, it's just €5,50 up to Ortisei. If, like me, you have a problem with pronouncing city names correctly, make sure you have the city name written down. Apparently, the entire time I was in Ortisei, I never did manage to say it correctly. Still not 100% sure now!



By Car



By car, the easiest way to reach Ortisei is via the A22 Brenner motorway.
Take the exit marked Chiusa/Val Gardena if you are coming from the north via Innsbruck-Brennero-Chiusa or from the south via Verona-Bolzano-Chiusa.
From the exit, you'll arrive in the town of Ortisei after about 20 minutes or so on well-marked mountain roads.
If you are coming from the north via Innsbruck-Brennero-Bolzano or from the south via Verona-Bolzano, take the exit at Bolzano-Nord. Follow the main road towards Brennero to the Ponte Gardena exit, then take the road SS242 towards Val Gardena. After about 20 minutes, you will reach Ortisei.
For information on car rentals in Italy, please check here.



I really loved my time in the Dolomites. Being surrounded by nature was just the tonic I needed. The scenery was just breathtaking, I really hope to return one day, but there's still so much more of the world to see.

So from the mountains, it was time to head to the lakes – the gorgeous lakeside town of Varenna in lake Como.



Love Italy?


Check out these posts for other amazing places to visit around Italy.


Discover Spello – A Beautiful Town In Umbria
Beautiful Towns and Villages in Umbria

Exploring Orvieto – A Fabulous And Easy Day Trip From Rome By Train

How To Spend One Full Day In Bologna

Why You Should Visit Ferrara – An Easy Day Trip From Bologna

Varenna- The Perfect Base For Exploring Lake Como

Two Days In Verona

How To Spend One Full Day (and a little bit) In Milan

Four Really Easy Day Trips From Rome By Train 

Diary Of A Solo Traveller On A Viking Ocean Cruise From Barcelona To Rome 

Top Tips For Visiting Pompeii
If You've Enjoyed This Post, Please Pin For Later Or Share It With Your Friends.
Disclaimer: This article may contain affiliate links, where I receive a small commission but at no extra cost to you.