(Last Updated On: August 29, 2022)



When the lovely folks at Viking invited me on a Viking ocean cruise from Barcelona to Rome, of course, I said yes. Then the panic set in. I hate being on water, I can't swim, and I've seen the movie Titanic too many times. I know what could happen.


A few years ago, Jonathan and I enjoyed a two-week river cruise with Viking from Budapest to Amsterdam. I was nervous about doing that, too. Until they pointed out during the safety drill that in the unlikely event of the boat sinking, the top floor of the boat would still be above water. But that was not going to happen in the Mediterranean, though!


And this time, I'd be travelling solo.


However, I do enjoy the pure selfishness of solo travel- to do what I want when I want and not have to answer to anyone else. But on a cruise, yikes -I might be expected to socialize! 


Before Joining Your Viking Ocean Cruise 




So having said yes to booking a cruise and before joining the Viking Ocean Cruise from Barcelona to Rome, it was time to download the My Viking Journey app to pre-book shore excursions, spa treatments, and make dinner reservations, etc. 


Plans can be changed once on board if needed.


Electronic documents arrived about 14 days before embarkation. 


Also, 14 to 45 days before departure, you receive personalised embarkation tags, a Viking luggage tag, and one red transfer sticker per guest if you are being picked up at the airport. 



Diary Of My Journey Onboard A Viking Ocean Cruise From Barcelona To Rome



Day 1 – Barcelona Spain


Didn't sleep at all well last night. You know when you have to wake up early, you check your phone every hour to ensure you haven't overslept before finally falling into a deep sleep five minutes before the alarm starts ringing. Yes, it was one of those nights.


The taxi arrived at 4:30 am, so bleary-eyed, I headed out to the airport. As I was changing flights in Frankfurt on the way to Barcelona, I only brought hand luggage with me to avoid worrying about losing baggage.


Since losing our luggage on the way to Argentina a few years ago, I no longer check luggage in; it saves so much time travelling light, but I digress.


My flight arrived on time in Barcelona around lunchtime. According to my arrival instructions from Viking, I was to place the bright red Viking sticker on me so the local representatives could easily spot me. Noooo, I can't do that – I don't like stickers, so I just held it discreetly in my hand to flash when necessary.


And it was very easy to spot the Viking representatives; they were everywhere.


A bus was waiting (there were about 15 of us arriving in Barcelona around the same time) to take us to the ship.


The journey from Barcelona El Prat (the immature me loves that name!) to the cruise port terminal took around thirty minutes.


When we arrived, I saw a long line of people snaking out of the cruise terminal. My heart sank. But rejoice, we were being led to another building with no queue. I was checked in immediately and handed my keycard before I had even found my booking confirmation.


Before being allowed to your room, you had to go to your muster station for a quick safety briefing. Being a ship scaredy-cat, I paid great attention to every detail.


And then off to my cabin 6053.- a deluxe veranda stateroom on the 6th floor. And a very comfortable room it was indeed. I squeaked with excitement as I checked out every drawer, gadget, and corner of the room.


The large bed is insanely comfortable; there is plenty of storage; a safe that works, a coffee machine, toiletries – so much attention to detail. And a lovely balcony to sit on and watch the world go by.


I found the 24-hour room service menu, and I won't deny the thought of staying in my cabin the whole week, and just ordering room service did cross my mind.


But with my stomach rumbling and an urge to explore, I soon found myself in the Pool Grill Bar, where I had an excellent burger. 
After my late lunch, I began exploring the ship – pondering the restaurant menus, browsing the spa menu, contemplating having a dip in the pool.


But being a cruise newbie, I wasn't aware of how long it takes for your luggage to appear at your cabin. And somehow, paddling in the pool in your undies didn't seem socially acceptable on a cruise ship.


When I finally returned to my cabin, there was a lot of reading to do – invitations for solo travellers dinner the next day, checking my tickets for shore excursions, and the Viking Daily news.


Feeling exhausted from my early start and just a little hungry but not wanting a heavy meal – yes, I gave into room service on the first night. Just a glass of wine and nibbles on the veranda- I'll be more sociable tomorrow- maybe!


Top Tip: Luggage takes a while to get to your room, so pack anything you think you will need on day one in your day pack.


Day 2 – Barcelona Spain



An early start today as I was joining the included tour of Barcelona. The included tours are very well organised and the start times are staggered, so you don't have 900 people fighting to get on one bus simultaneously. 


Due to the distance from the cruise terminal to the city, this included tour was partly by bus and partly on foot. The first stop was the Sagrada Familia, the incredible and visually stunning unfinished basilica. We only viewed the basilica, though, from the outside.


If you want to visit the interior, I'd recommend booking a ticket in advance or maybe joining a small guided tour with access to a tower of the Sagrada Familia.


From the basilica, the included tour also took us to the old part of Barcelona. I loved strolling through the Gothic Quarter's small, windy streets with its beautiful Roman buildings, some of the city's oldest churches, and the cathedral of Barcelona. A little free time was included here to wander at leisure.


But, if you want to spend longer exploring Barcelona, Viking cruises offer a complimentary shuttle bus from the World Trade Center to the ship throughout the day.


After a light late lunch buffet in the World Cafe, it was time for a full body massage. Well, I needed something to calm my nerves before we set sail.


The spa onboard is lovely, and very calming, and no spa sales pressure!


However, the compulsory alarm testing started halfway through my fabulously relaxing massage. It's deafening.


I assumed I had to run to my muster station and grab a life jacket as we did on the river cruise. The poor masseuse struggled to hold me down as I tried to escape. Then I started having visions; what if the alarms were an actual warning, and I would drown right there, naked on the masseuse table?


It took a while for the poor masseuse to work her magic and get me back into that relaxed zen space again, and then all too soon, the massage was over.


That evening, a dinner was organised for the solo travellers on board in The Restaurant. Seven solos were on board – six said yes, and four showed up.


All four of us had recently lost a partner. So as the wine flowed, so did the tears.


After dinner, I headed to the Star Theatre to watch the Lee Bradley concert – a leading international operatic tenor. I have to confess, I've never heard of him, but he was very good.


Top Tip – Book your entrance ticket in advance if you want to go inside the Sagrada Familia.


Top Tip 2 – Don't book a massage time when the ship sets sail for the first time; those alarms are very loud and definitely upset the zen ambience.


Day 3 – Sete, France


Bonjour Sete!


Well, it turns out it was smooth sailing all night. Fell asleep in Spain and woke up in France. I was beginning to understand the appeal of cruising.


I started the day with a delicious buffet breakfast in the World Cafe on the 7th floor.


Then set off on the included Sete walking tour. In Sete, it's necessary to board a bus to get in and out of the port area. The buses run continuously throughout the day, so getting to and from the ship is no problem.


Once we were at the Port Gate, we were handed a town map. Yay, I love paper maps, and now I had the info on what to do and what to see in my hands.


I followed the group as far as the Central Market, but today's group was large (37 in total). And yes, I know, it will probably be me in a few years – some were such painfully slow walkers, and I was just itching to venture out on my own. So, I did.


Sete – what a lovely little port town! I roamed the streets, did a little shopping, and sampled food in the market. I strolled along the Royal Canal, which links the Thau Lagoon to the sea and is the harbour gateway to the Canal du Midi. 



Wandered up to the Upper District, where the workers who built the port used to live and is also the location of Saint Louis Church, the oldest and largest church in Sete.


I strolled along the pier to the lighthouse with views over the old harbour before finally walking alongside the canals to La Pointe-Courte, a cute district where the Thau Lagoon fishermen were based.


By 3 pm, with more than 18000 steps on my FitBit, it was time to head back to the ship, where I enjoyed another yummy burger in the Pool Grill. Well, after all those steps, I had earned it.


Later, after a slightly longer siesta than expected, I enjoyed a gin and tonic in the Explorers Lounge.


Dinner tonight, for me, was the French buffet in the World Cafe. But I discovered the sushi bar and never actually made it to the French delicacies.


Bit of a strange encounter in the World Cafe this evening. There was a let's call her Cruise Ship Karen. In a loud voice, Cruise Ship Karen demanded to know why I was travelling alone. Was I trying to find a man? Apparently, I was making her feel uncomfortable!


I decided it was no point engaging in conversation with her, her party were mouthing sorry to me as they led her away, and I happily continued to devour the sushi, drink wine and stare at the sea.


Top Tip – Be sure to pick up a map of Sete at the port entrance and explore this lovely French town.


Top Tip 2 –Pay no attention to Cruise Ship Karens.


Day 4 – Marseille, France ( In The Footsteps Of Van Gogh )


I started the day with yummy breakfast waffles in Mamsen's – a tiny eatery within the Explorers' Lounge.


There were several shore excursion options today. Sadly, my first choice of a motorcycle sidecar ride through Provence was full, so I did my second choice and joined the full-day tour In The Footsteps of Van Gogh, and it was a lovely day out. Yes, I would recommend it, and you don't need to be a massive fan of Van Gogh to enjoy it.


Our first stop of the day was in Saint Remy de Provence.


Vincent van Gogh arrived in Saint-Rémy-de-Provence in 1889 on 8 May after suffering a major mental crisis where he cut off his earlobe.


He voluntarily committed himself to the Saint-Paul de Mausole psychiatric hospital, where he stayed for a whole year until May 1890. It's still a psychiatric health centre today.


During his stay in this small hospital room, Van Gogh experienced his most productive period; more than 150 paintings and drawings, including 'The Starry Night' and 'The Iris'.



Just a few minutes walk from the hospital are the Roman ruins of Glanum.


Before visiting the hospital, we had a couple of hours to explore the charming chic town of Saint-Rémy-de-Provence with its pretty narrow streets, cute shops, cafés and restaurants.


A delicious lunch was included in a winery near Les Baux de Provence. 
Afterwards, we visited Les Baux-de-Provence, a village 20 kilometres south of Avignon and located within the Regional Natural Park of the Alpilles. It is one of France's most beautiful and visited villages. And yes, it was very beautiful, and there were many visitors as well.


It's a typical example of a Provence perched village. These villages are usually in a historically crucial defensive position, e.g. high on a hilltop or on the edge of a steep valley or high and were initially built around castles and surrounded by fortifications.


It was a long but really lovely day. I'm itching to return to France and explore more of the Provence region.


Day 5 – Monaco


I woke up this morning to a view of Monte Carlo; well, that's a lot more impressive than Marseille Port.


This morning I joined the included walking tour of Monaco Ville, the tiny capital of a small country.


The Italian guide with a very posh British accent ( from watching Downton Abbey) was so good; I stayed on this tour much longer than I usually do but sneaked off once we took a break near the palace. I wandered around the lanes that led away from the palace, but they were filled with tacky souvenir stores.


I waited for the changing of the guard, which takes place hourly in front of the palace. Have to say, it was rather underwhelming.



So I walked down and around the harbour. I found myself in real Monaco, where real people were going about their business – not just tourists.


I visited the casino, but it doesn't officially open until 2 pm, but you're allowed into the entrance hall. If you want to enter the casino, there's an admission fee of 17 euros. There's also a strict dress code; anyone wearing shorts, jeans with holes, sportswear, running shoes, flip-flops, and sandals for men, beachwear, and sleeveless shirts will not be allowed in.


I opted instead for a coffee, some good old-fashioned people-watching, and a stroll around the gardens.


As it was a hot day and too lazy to walk back around the harbour to the ship, I hopped on the bateau bus across Monaco harbour. For just two euros, the electric boat, which runs off solar panels on its roof, leaves every twenty minutes from Monte Carlo to the Monaco Cruise Terminal. The journey time is about five to ten minutes.



If you don't fancy walking around Monaco, the hop-on hop-off bus stops right by the cruise terminal.



I returned to the ship around 2 pm for a light buffet lunch in the World Cafe, followed by a lazy afternoon on the sun deck.



Dinner for the Solo Travellers this evening was at Manfredi's Italian Restaurant. As I had had trouble getting reservations for this restaurant, I was delighted that they opened a spot for us waifs and strays.


The food was terrific, the wine superb, but unsurprisingly, the conversation turned sad again, and a few more tears were shed onto our crème brûlée desserts.


Top Tip 1– If you want to enter Monaco's cathedral, ensure your shoulders and knees are covered.


Top Tip 2 – Manfredi's is a must-eat venue on a Viking ocean cruise, but you do need to make reservations. It's not always possible to book through the Viking Journey app in advance, but it can easily be booked through Guest Services when on board.


Day 6 – Livorno, Italy (A Day In Tuscany)


From Monaco, our next stop was Italy, and the little Italian port of Livorno was to be the base for the next two nights.


Most of the passengers were taking tours to Florence but having spent a week there studying Italian just a few months ago; I opted instead for the Day in Tuscany excursion.


This excursion took us through the lush Tuscan countryside to the gorgeous medieval hill town of San Gimignano. The beautiful walled city of San Gimignano is located roughly halfway between Florence and Siena and is famous for its medieval architecture and towers. 



Like Bologna, the tower houses symbolise their power and wealth. At its peak, there were 72 towers, but today only 14 remain.


The town, now a UNESCO site was packed with tourists. However, real life still exists here, and the weekly local market was taking place in the Piazza del Duomo.


Today's tour included a guided city walk which took around an hour; then we had just over an hour to explore at leisure. It's a small town, so an hour is more than enough. Lots of leather shops and posh souvenir shops but alas, what I want and what I can afford these days seem to be worlds apart.


From there, we headed to a local Tuscan farm for a lunch of local hams, olives, cheeses, and plenty of wine. Tuscany is famous for its wine, and a little wine tasting took place.


After wandering around the tiny hamlet and browsing in the farm shop, it was time to head back to the ship.


This evening, there was a local festival in Livorno, and as the Viking Sky is small enough to dock in the old port, it was an easy 15-minute walk into town to see what was happening. Viking provides a shuttle bus for those who don't want to walk to and from town.


So after a large helping of sushi from the Viking Sky sushi bar, I headed into Livorno for a wander. It's quite a pretty port town – with canals and forts. As the festival was on, artisan stalls lined the streets, and street musicians competed to be the loudest.


Top Tip – When overnighting in Livorno, do take time to explore this port town; it's a lovely little place.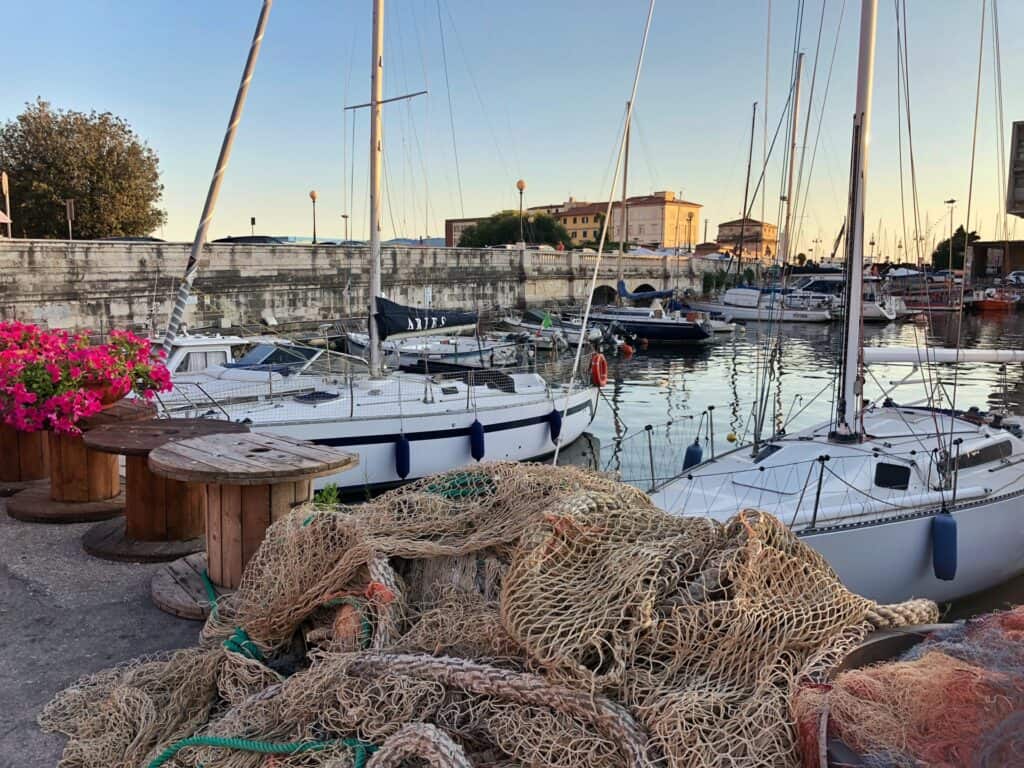 Day 7 – Livorno Italy (Lucca and Pisa) 


How is it day seven already? Time has flown by this week.


Exhausted by all the day tours and exploring all the different towns along the way, I could have really done with a lazy relaxing day on board the Viking ship. So what did I do?


Well, I feel guilty when I laze around and feel I might miss out, so I took the day tour to Lucca and Pisa instead.


Lucca was beautiful- one of those, 'ooh, I could live here towns.' 
A gorgeous historic walled city with towers, churches, and piazzas, but without the crowds – or was I just lucky that day?


I spent most of the time just exploring the streets of the historic centre, stopping for a coffee in the oval-shaped Piazza del Anfiteatro, a gorgeous square with bars and cafes built on the ruins of an ancient Roman amphitheatre, took a brief stroll on the city walls, and did a little window shopping on the Via Fillungo, Lucca's main shopping street.


Lunch wasn't included on this tour, so I bought a panino and enjoyed my sandwich while people-watching on one of the city's main squares and mentally planning a longer trip here in the future.


The afternoon included a trip to Pisa to see the Piazza dei Miracoli (the Square of Miracles) and the Leaning Tower of Pisa.


If you want to go up the tower, you might want to consider getting a ticket in advance as there were really long queues, which would also include entrance into the cathedral. 


For my final dinner, I did have the opportunity to be sociable and join guests for dinner tonight, but I'd already spoken to a few people on today's tour, and that was enough for one day, lol. So, instead, I chose to have a lovely last solo meal in The Restaurant pondering the week's adventures and highlights. Before heading to the Star Theatre to watch a Magic Show!


Top Tip – If you want to climb to the top of the Leaning Tower, buy your ticket in advance.


Day 8 – Civitavecchia (Rome)


Homeward bound.


As Viking had booked my flight back home to Malta, my transfer back to the airport was included. However, I had to vacate my lovely stateroom at 8 am. And although my flight back wasn't until late afternoon, the last transfers left the ship at 09:15 am. What was I going to do at the airport all day?

I needn't have worried. Viking has a room at the Hilton Rome Airport Hotel. Ok, the room is not the most comfortable, it's just one of the hotel's conference rooms. But it's a place to leave your bag, complimentary coffee and snacks are available, and you can relax on the more comfortable sofas in the hotel lobby or use the hotel facilities.


The airport terminal is only a five-minute walk from the hotel.


Top Tip – Bring just hand luggage with you on the cruise. Then, you can keep everything with you and not have to have bags packed and outside your door by 10 pm the night before.


Is A Viking Ocean Cruise Right For You?


A Viking cruise is not for everybody. If you're more interested in the larger ships, casinos, theme nights, nightclubs, etc., then you're probably NOT going to enjoy a Viking Cruise. 


So, check out this post and find out if a Viking Ocean Cruise is the right choice for you.


Would I Recommend Viking Ocean Cruises?


Yes, I loved it. I don't think I will ever be a complete cruise convert. I love the freedom of slow travel and really getting to know a place. But I can certainly understand its appeal. Going to sleep in one place and waking up somewhere new is wonderful.


Had it not been for this trip from Barcelona to Rome with Viking Ocean Cruises, I would probably have never bothered visiting Monaco. But I'm so glad I did. 


And this cruise also made me realise I definitely need to return to Barcelona and Lucca to spend a little longer exploring these cities.


Would I Recommend Travelling Solo With Viking Ocean Cruises?


The single supplement on Viking is pretty steep. The price for a single passenger is more or less the same as two people travelling in a stateroom. This supplement means there won't be many other single travellers on board.

In fact, I was surprised seven of us were on board this Viking ocean cruise from Barcelona to Rome. I just assumed I would be the only one. 


If there are single travellers on board, Viking does arrange opportunities for solo travellers to meet.

However, Viking occasionally offers special rates for single travellers, so check for this and other special offers here.


I enjoyed this cruise because I enjoy my own company and prefer to be alone these days. But for those that love to mingle, there were plenty of opportunities to socialise. A gin and tonic in the Explorers' Lounge is always a good place to start. 


Disclaimer: I was a guest of Viking Ocean Cruises, but all opinions expressed here are my own. A big thank you to Viking for this fantastic opportunity.


Some of the links on this website are "affiliate links", meaning that if you click on the link and make a purchase, I will receive a small commission at no extra cost. This helps me to keep my website running and continue to share my travelling knowledge with you. I thank you for using the links on my website.