(Last Updated On: January 14, 2023)



After a fabulous few days hiking in the Italian Dolomites, it was time to head to the lakes. Varenna, located on Lake Como's eastern shore, was to be my base for the next three nights – a gorgeous, picturesque village with cobbled streets, pretty churches, stunning villas and an ancient hilltop castle.


It's an idyllic spot, plus Varenna makes an excellent base to explore the other towns around Lake Como.


Varenna Lake Front



Varenna's lakefront, known as Riva Grande, is lovely and laidback! Here you will find several cafes – perfect for people watching, restaurants, and local artisan stalls.


To walk from the village to the ferry boats, follow the Passeggiata degli Innamorati (Walk of lovers), the lakeside promenade that connects Riva Grande to the ferries.


Piazza San Giorgio


Piazza San Giorgio is in the heart of Varenna's town centre and is home to the 14th century Romanesque/ Gothic Church of San Giorgio. The church is worth visiting to admire the beautiful frescoes.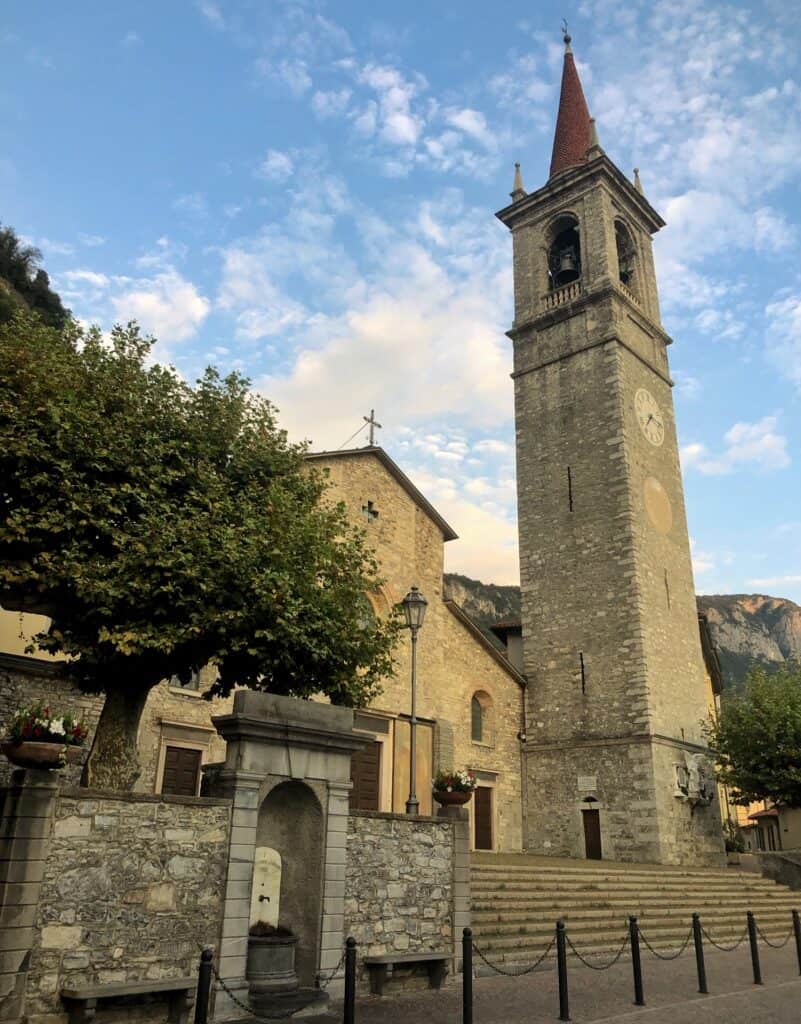 Around the square, there are several bars and cafes. It's a pleasant spot for a light breakfast and coffee but alas, no views of Lake Como.


To reach the lake, walk along one of the narrow streets that branch off from Piazza San Giorgio. Be careful when walking: the streets are cobblestoned, and some of the narrow streets and alleys are rather steep and slippery.


Villa Monastero


Villa Monastero is just a five-minute walk from Piazza San Giorgio and has a gorgeous botanical garden right on the water's edge. It is filled with rare plant species and marble statues – it's a wonderful place to explore, and the views of the lake from here are amazing.


For a couple of euros more, you can also visit the museum . It's not very big and features fourteen rooms filled with 18th-century furniture and decor. For me, it wasn't the most exciting museum in the world, but the gardens are definitely worth visiting.


Check here for up to date information on opening hours and ticket prices.



Secret Steps


As you walk to the Villa Monastero from Piazza San Giorgio, you'll pass a small alcove leading to the 'secret steps'. There's a good chance you'll walk right past as the entrance is not that obvious.


On the wall to the alcove entrance, a sign reads, "200 steps to a romantic view." Well, of course, I had to go and explore.


A path of stone stairs takes you down to the water's edge. Here is another incredible view of the lake. There are a few small boats tied up and a stone wall where you can sit and admire the view.


As soon as couples in love started to appear, I knew it was time to head back up the stairs.


Villa Cipresi


The 16th-century villa, with a terraced botanical garden descending toward the lake, also offers beautiful views over Lake Como and is just a very short walk from Piazza San Giorgio.


The villa is now a hotel, but non-guests, for a small fee, are allowed to wander the gardens.



Castello di Vezio


Located on a hill overlooking Varenna, the Castello di Vezio has incredible views over the town and Lake Como. The easiest path up to the castle is from the Varenna ferry stop.


Take the stairs up to the main road, then continue up the steps next to the Hotel Montecodeno. It's about a 20-minute uphill stroll.

The views from the castle are fantastic, and it costs just €5 to enter. There's also a tiny falconry if you enjoy seeing owls attached to a piece of string and some weird ghostly statues dotted around the castle.





To return to Varenna, you can either come back down the same path or make it a loop and return along the Via Scabium, which brings you out nearer the Villa Monastero. This path is much more rickety, with many tree branches in the ground determined to trip you up.



Fiumelatte


A few kilometres south of Varenna brings you to Fiumelatte, where a river of the same name flows through it.


The Fiumelatte River has a white appearance that makes one think of milk, hence the name. This tiny river only flows between March and September.



But the best thing to do in Lake Como from Varenna is to jump on a ferry (I can"t believe I'm writing that, boats usually terrify me) and explore the nearby towns.



Bellagio





Bellagio, nicknamed 'Pearl of the Lake', is probably the most famous town on Lake Como.


It takes around 20 minutes to Bellagio by ferry across Lake Como from Varenna. Take a wander around the town, and discover its picturesque cobblestoned streets with its fancy restaurants and posh souvenir shops, but it was just a little too much for me. It reminded me of Taormina in Sicily; I can see why people would love it but just not my cup of tea.


So, instead, I picked up a self walking guide of the Walks Around The Suburbs Of Bellagio from the local tourist office and set off on a lovely walk. The walk took me through cute hamlets and a scenic stroll alongside the lake, where no shops existed.


I walked past tiny fishing villages and olives groves. The furthest point was the village of San Giovanni, where I stopped for a delicious local fish lunch in a little restaurant.


The suggested walking time is two hours, but it took me longer as I stopped to take photos, eat lunch, admire the scenery and am so easily distracted by anything and everything.


Walking back into Bellagio, I recommend strolling through the gardens of Villa Melzi.


Yes, you have to pay eight euros to enter the villa grounds, but the gardens are right on the lake, and you will never get bored with all those fabulous lake views. You can avoid the gardens and continue walking by the road, but you won't get such a great view.


Lenno


Lenno is a cute, sleepy little town; well, it was sleepy when I was there. I visited on a Sunday. There was an arts and craft market along the lakefront and lots of simple eateries, nothing pretentious.


But most visitors to Lenno come to see the stunning Villa del Balbianello. It's probably the most famous villa on Lake Como and has appeared in many movies, including Casino Royale and Star Wars Episode II: Attack of the Clones.


It's a 15-minute walk from the ferry to the villa, and there are two paths. The easier path goes around the hill, or the harder one takes you over the hill. If you don't fancy walking, you can take a boat.


To visit the actual villa, you need to book a guided tour. The cost is €22, which includes the gardens. All the slots to visit the estate that day were fully booked, but I could explore the beautiful grounds, and the views of Lake Como were breathtaking.


If you want to visit the villa, you need to book your tickets in advance.


Tremezzo


From Lenno, I walked to Tremezzo. It's a 30-minute pleasant lakeside stroll that takes you passed ordinary homes, derelict houses and fabulous villas.


Most visitors to Tremezzo come to visit Villa Carlotta and its lovely gardens. But I just enjoyed a coffee, watched the world go by and then jumped on a ferry to Maneggio.


It's also possible to board a happy train from Lenno to Maneggio.


Maneggio


When I first got off the ferry in Maneggio, my first impressions were, umm, ok. Maybe I was just tired of ferry hopping, and if my sister hadn't said this was one of her favourite towns, I might have just got back on the ferry.


Instead, I strolled down the lakeside promenade to the busy Piazza Garibaldi, stopping for a drink, a panini and a spot of people watching. I wandered the back streets, following the signs for the historical walk through the town centre. Apparently, Winston Churchill had been here.


By the time I left Maneggio, I understood why my sister had recommended it. It's a lovely chilled lakeside town.


Where Would I Recommend Staying on Lake Como



For me, Varenna won hands down. It's pretty and charming, with some fabulous restaurants, a few shops, not pretentious and a friendly, relaxed vibe.


If you're more into luxury, then go with Bellagio, it's lovely, just not for me, but I know many who love it there. However, Bellagio is probably the most touristy and the busiest of all the lake towns.


Check here for accommodation options in Bellagio.



Where To Eat In Varenna


You will need to tear yourself away from that lake view for excellent food. Yes, I know. By all means, have coffee, breakfast or lunch with a lake view, but for good dining, you need to come inland a little.


Il Cavatappi on Via XX Settembre was amazing as was Ristorante Borgovino just next door to Il Cavatappi.


Cafe Varenna overlooking the lake is excellent for an aperitivo, and they also serve a nice breakfast if you're looking for something more substantial than a simple croissant.


How to get to Varenna



Varenna is on the east side of Lake Como and is easily accessible by train, ferry, car or even as a day trip from Milan.


By Train


There is a direct train from Milano Centrale station to Varenna station. Check the Trenitalia train website for schedules. You can purchase a ticket in advance here.


By Bus


Buses travel all around Lake Como to each of the towns also. For bus timetables, check this website.



By Car



Travelling by car, Varenna is just a 1.5-hour drive from Milan, so a trip to Varenna could easily be just a day trip, but in my opinion, you should definitely stay a night or two.


By Ferry


One of the best things to do in Lake Como is to visit the different lakeside towns by ferry. For information on the local ferries, check here.



Day Trip from Milan



If time is short, plenty of day trips to Lake Como are available from Milan.



For some more posts on Italy, check these out.


Ferrara – an easy day trip from Bologna
Four easy to do day trips from Rome
Orvieto, a gorgeous hilltop town
Exploring the east coast of Sicily
How to spend two days in Verona.
One full day in Bologna

Discover Spello – A Gorgeous Town In Umbria
Ortisei – Perfect base for exploring the Dolomites
Cefalu – A beautiful seaside town in Sicily
Beautiful Towns and Villages in Umbria



Disclaimer: This article may contain affiliate links, where I receive a small commission that helps towards the cost of running this blog but don't worry, there's no extra cost to you.