(Last Updated On: January 14, 2023)



After taking a one-week intensive Italian course in beautiful Florence, I headed off to Bologna, the culinary capital of Italy, to practice my Italian and eat loads of delicious food.

In Bologna, the guesthouse owner told me that I couldn't possibly visit this part of the world and not visit the nearby town of Ferrara (you have to imagine that being said in a really thick Italian accent!). So I did.


I have to admit I had never heard of Ferrara before, but on a sunny Sunday in March, I hopped on the train, and off I went on a mini-adventure, and I'm so glad I did.

Located in the Emilia-Romagna region of northern Italy, the Renaissance city of Ferrara is an easy and enjoyable day trip from Bologna, Venice, Verona and even Milan, especially if you enjoy culture, history, good food and wonderful aimless strolling around beautiful cities.

Situated on the Po di Volano, Ferrara, under the rule of the House of Este during medieval times, was a prominent artistic and cultural hub. Today the city and the Po Delta are designated UNESCO World Heritage Sites.

Here are some of the highlights from my visit to Ferrara.


Piazza del Municipio


As you walk from the station, the first square you enter is the Piazza del Municipio; this was once the courtyard of the old Palazzo Ducale in Ferrara.
A small farmer's market was taking place here as I passed through. It's a charming, picturesque square, but I was distracted by the cheese stall. From here, you pass through an archway into the impressive Piazza Trento e Trieste.


Piazza Trento e Trieste



The lovely Piazza Trento e Trieste is undoubtedly the beating heart of the city. It's the perfect spot to enjoy a coffee at an outdoor cafe and people-watch through the afternoon.

On one side of the piazza, there is the 'loggia dei Merciai', a series of small shop fronts which runs along the side of the Duomo di Ferrara. At the end is the unfinished bell tower of the cathedral. The bell tower was built between 1451 and 1493 from pink and white marble, and although more work on the tower was carried out in the sixteenth century, it remains unfinished.


Cathedral of Ferrara (Duomo di Ferrara)


Ferrara's imposing 12th-century cathedral is located in the busy Piazza Trento e Trieste. It's currently closed for renovation. I was secretly pleased. I'm not religious in any way, but somehow I find myself having to visit every church and cathedral, and it was quite nice having an excuse not to.



Castle Estense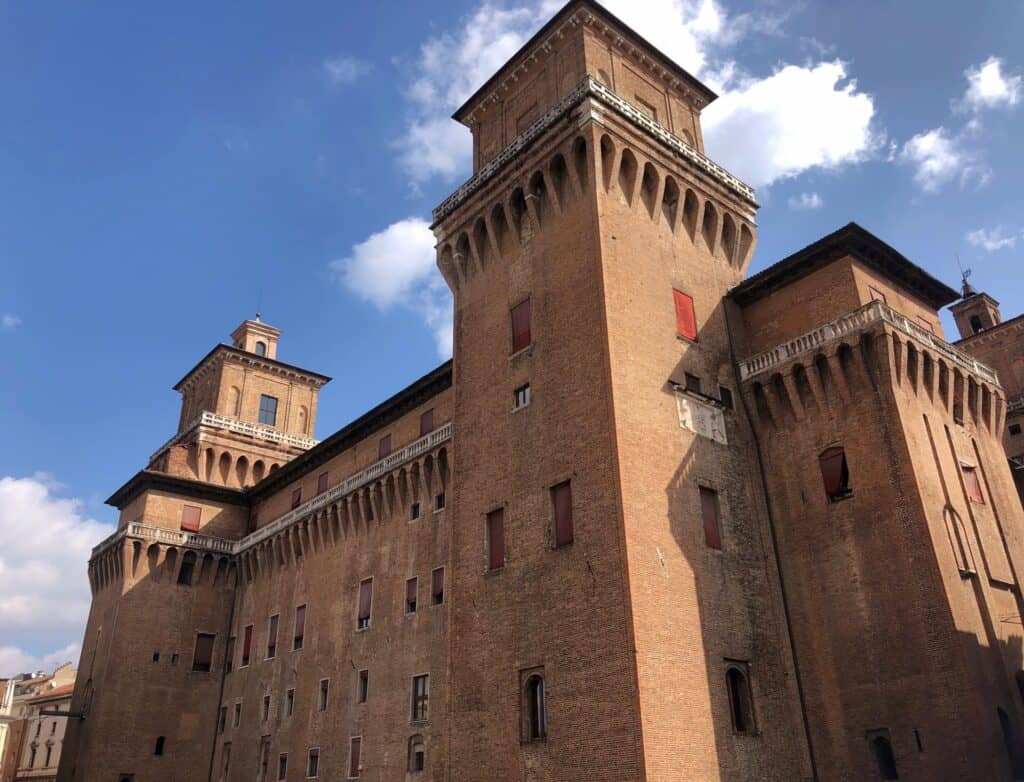 Ferrari's impressive towering castle with its high walls, moat and drawbridge was commissioned by Nicolò II d'Este in 1385. The castle features four watchtowers, a central courtyard with a water well, and dungeons beneath.

Originally built as a defence fortress, it later became the noble residence of the Este dynasty. Balconies replaced the battlements, terraces were added to the roof, and beautiful frescoes were splashed everywhere, in the courtyard, the chapel and the salons.

Today, some castle rooms are used as government offices, but the royal suites are open for viewing.

The Tourist Information Centre has its office here. In front of their office in a courtyard were some interesting knight sculptures.


The sculptures were a little x rated for this blog post!


Explore Ferrara's Jewish Quarter


Just off the main Piazza Trento e Trieste lies a maze of streets that were once part of the Jewish Ghetto. Here, you will find beautiful old buildings, a 15th-century synagogue, a Jewish museum, and many hidden Michelin star-rated restaurants.

Private walking tours are available if you want to know more about Ferrara and the Jewish Ghetto. I would have loved to join one as I do enjoy city walking tours, but unfortunately, the price was based on four people travelling, and I was travelling solo.


Palazzo dei Diamanti ( Palace of Diamonds)


The Palazzo dei Diamanti in Ferrara, just a short walk from the castle, symbolises the power and prestige of the Este family, who ruled Ferrara for over 300 years.

On the building's facade, there are 8,500 marble stones carved to represent diamonds. These diamonds, which funny enough give the palace its name, are positioned so that the tip faces upwards in the upper part of the walls and downwards in the lower part, thus maximising the light reflecting off the building for a unique shimmering effect.

It didn't look that shimmering when I saw it, though. I was there around midday.


Parco Massari

Just around the corner from the Palazzo dei Diamanti, you'll come across one of Ferrara's city parks. The park is named after the adjoining 16th-century palace.


This park and the vicinity is a pleasant place to just wander around and is in one of those ooh, I could live here neighbourhoods.


Try Ferrara's Signature Dish – Capellacci di Zucca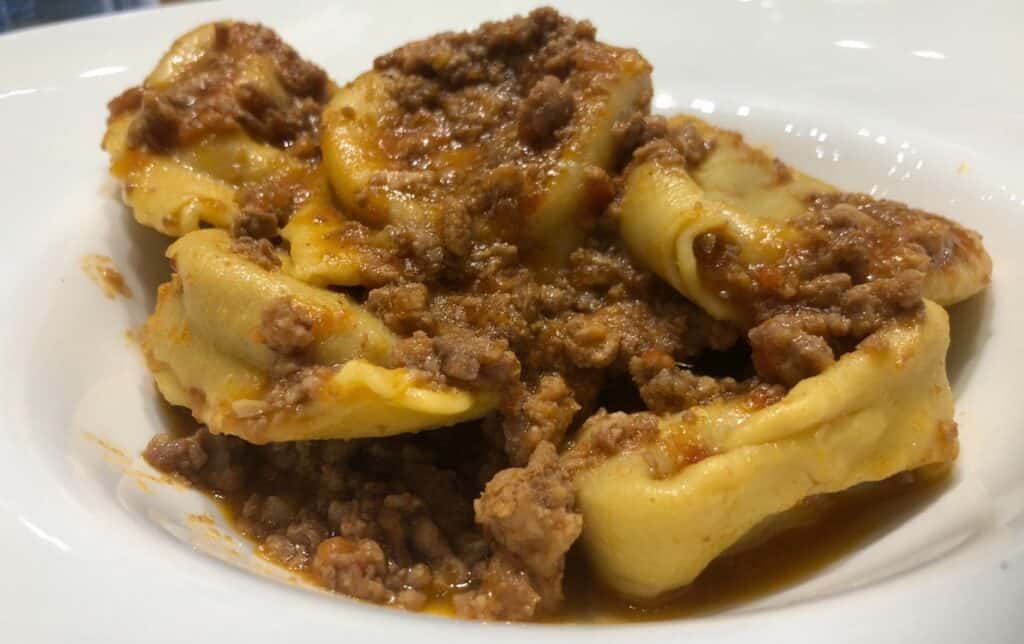 When visiting Ferrara, make sure you try the capellacci di zucca, Ferrari's signature pasta dish. Made fresh by hand, the hat-shaped pasta comes stuffed with cooked butternut squash or pumpkin, grated parmesan, and nutmeg. It looks a bit like ravioli but don't say that!

This pasta dish is usually served in a sauce made with melted butter and fresh sage but can also be enjoyed with a tomato-based sauce or a ragù sauce.

On Sunday, all the popular lunch spots were booked in advance. So, I recommend making reservations in advance. Did I? Of course not, but I wish I had been more organised. I was beginning to worry I might end up in the local McDonalds.

I eventually found somewhere; one perk of travelling solo is that it's a lot easier for a restaurant to squeeze you in somewhere than where there's a group of you travelling together.


Accommodation In Ferrara


Ferrara had so many fabulous looking restaurants. I would have loved to have spent a night or two there. Maybe next time, there appears to be plenty of accommodation here to suit all budgets.



How To Get To Ferrara


By Train

The train is the easiest option from Bologna. To visit Ferrara, the journey time takes around 25 minutes. From the station to the old town centre takes approximately 15-20 minutes. It's an easy flat walk and clearly signposted.



By Bus

It's also possible to take the bus from Bologna, which will drop you off outside the train station. The journey time is just over an hour.


By Car


Driving will take around 40 minutes from Bologna.

Love Italy?
Check out these posts for other amazing places to visit around Italy.


Ortisei Italy – A Great Base For Exploring The Dolomites

Exploring Orvieto – A Fabulous And Easy Day Trip From Rome By Train

How To Spend One Full Day In Bologna

Cefalu – A delightful seaside town in Sicily

Varenna- The Perfect Base For Exploring Lake Como

Two Days In Verona

How To Spend One Full Day (and a little bit) In Milan

Four Really Easy Day Trips From Rome By Train

Diary Of A Solo Traveller On A Viking Ocean Cruise From Barcelona To Rome

Top Tips For Visiting Pompeii
Beautiful Towns and Villages in Umbria





If You Enjoyed This Post, Why You Should Visit Ferrara, Please Share With Your Friends
Disclaimer: This article may contain affiliate links, where I receive a small commission but don't worry, there's no extra cost to you.