(Last Updated On: January 14, 2023)
If you are looking for a gorgeous Italian city that's jam-packed with historic sites, tales of romance, plus fabulous food and wine, then Verona is for you. I'd recommend spending at least two full days in Verona. I stayed three nights and two days; I wish I had allowed myself at least one more day.

Nicknamed 'The Little Rome of the North' and 'The City of Love', many visitors only visit Verona as part of a day tour from Venice or Milan. But this beautiful city truly deserves more of your time.



So, What To Do With Two Days In Verona



Take A City Walking Tour



For me, the best way to visit any city is to start with a walking tour. It's an excellent way to learn a little about the city's history, get your bearings, and pick up some valuable tips.


Now, I normally choose to do the free walking tours, because I am always concerned about my travel budget, and some may even say I'm a bit tight, but shock, horror, this time I actually paid for it!


Why? Did I win the lottery? No, I was looking at doing one of the free ones, such as this one with Free Tour Verona but I was in Verona in the middle of August, and there were a lot of tourists. I just didn't want to get caught up in a big group.


So I paid. I did this one with Ways Travel and it was excellent. Just six of us, a great guide and when we bumped into the free tour group, I knew I had made the right decision.


Out of season, yes, I admit, I probably would have booked the free walking tour!





Love Solving Riddles? Try A Secret City Trail



If you like doing walking tours and solving clues and riddles, you might enjoy one of these tours by Secret City Trails. The tours are self-guided, and you have to follow a series of clues and puzzles which lead you from one place to another. They are enjoyable to do and offer plenty of insider tips on a destination.



Piazza Bra



Piazza Bra, or Bra for short, is Verona's largest square and one of the largest in Italy. The name has nothing to do with ladies underwear but originates from the word 'braida', which means large in the Lombardic language.


The square is lined with bars, cafes and restaurants, and there's even a park in one corner. There are a couple of notable buildings too – the Palazzo Barbieri, Verona's City Hall, and the enormous and impressive Verona Arena.


It's a fabulous spot for enjoying a coffee or something stronger and watching the world go by.



Arena di Verona (Verona Arena)



The Arena di Verona is a Roman amphitheatre built way back in 30 AD and is still used today. It's one of the best-preserved ancient sites of its kind. And it's right in the heart of Verona on Piazza Bra.


The arena in ancient times would host more than 30,000 spectators. Today, to allow for the stages used for concert and opera performances, the maximum available places are 15,000. Still an impressive number, nevertheless.


The outer wall of the arena was destroyed during a major earthquake in 1117, and only a small part remains standing. If you are interested in a guided tour of the Arena and skipping the long entrance queue, have a look at this tour.


See An Opera



Even if opera isn't your thing, the experience of seeing an opera in a Roman amphitheatre is just truly magical. Verona's opera festival takes place during the summer months, from mid-June to early September. For information on upcoming performances and tickets, head to their website here .



I saw Aida, and it was just amazing. I'm not a huge opera fan. Sopranos tend to give me a headache, although I do love listening and howling along to Andrea Bocelli .



Fortunately, all the operas come with subtitles, so it is easy to follow the story. And the dancers were fun to watch. If you look closely at the photo, you'll see that even they had to wear face masks.



As performances last around three hours, I recommend bringing a cushion. You can buy cheap ones outside the arena or inside, but it's cheaper to purchase one outside.


Casa di Giulietta (House of Juliet)



Everyone loves a love story. And the most famous of them all must be Shakespeare's Romeo and Juliet. This house in Verona with its balcony is billed as Juliet's. Although she was a fictional character and this house has no relation to the story at all, thousands of people flock to visit Juliet's balcony.


If you want to see the balcony, go early or wait in an incredibly long queue. Doors open at 09:00; get there at least 15 minutes before then to be at the front of the line.


To enter the garden, see Juliet's balcony and touch the breasts of Juliet's statue for good luck – that's free.




If you want to enter the house and shout 'Romeo, Romeo' from the balcony, that will cost you six euros.


Inside the house, you'll find a small museum with Renaissance-era costumes and the bed from the 1968 film adaptation of the story by Franco Zeffirelli. There is also a gift shop selling kitschy romantic souvenirs.



Castel Vecchio – Old Castle



The 14th century Castelvecchio is a castle by the River Adige just a short walk from the Piazza Bra. During the Middle Ages, it served as a military post for the Scaliger family that ruled the city. It now hosts the Castelvecchio Museum.



I didn't visit the museum, but if you're interested in medieval art and want to know more about what they have on display, head on over to their website.



Scaliger Bridge




Verona's Scaliger Bridge was originally built around 1354-1356. It was constructed so that the then Lord of Verona, Cangrande II della Scala could escape easily if needed!


At the time of its construction, this bridge of 120 metres was the longest of its kind in the world.


The bridge was totally destroyed on 24 April 1945 by the retreating German troops. The bridge's reconstruction began in 1949 and was completed in 1951.



Piazza Delle Erbe



The Piazza delle Erbe is a beautiful square built on the site of the Roman Forum. Here you will find a market selling fruit, veg and plenty of tacky souvenirs. Many bars and restaurants line the square, but the best food will be found off the main touristic squares.


The fountain in the square was built in 1368 by Cansignorio della Scala) with a Roman sculpture on top, the Madonna Verona, from 380 AD.


Keep an eye out for fancy exterior frescos on the Mazzanti Houses in the northern part of the piazza.



Torre dei Lamberti





Just off the Piazza delle Erbe, you'll come to the Torre dei Lamberti. You can't miss it, it's a very tall tower.


In fact, the Torre dei Lamberti is 84 meters high and offers a 360 ° view over the historic city of Verona. You can choose to climb up the 368 steps or take a lift to the top.
The tower is open every day of the year except Christmas Day. The entrance ticket also includes a visit to the Gallery of Modern Art next door.


Now, usually in every city I visit that has a tower, I have to climb to the top, but this time I didn't. It was August, there were so many tourists, I only had two full days in Verona, and I didn't want to waste time queueing. I do regret though not going to the top, but honestly, the queue was ridiculously long.



Verona's Churches



Verona has many beautiful churches. However, being a bit of a heathen, I confess that churches soon blend into one for me. Yes, I know, I'm going to Hell. However, this post on Verona's best churches by Verona Tourism will soon put you on the right path.



Scaliger Tombs



The Scaliger Tombs are Gothic style funerary monuments that commemorate the Scaliger Family who ruled Verona from the 13th to the late 14th century.

The tombs are in a courtyard outside the Santa Maria Antica Church, enclosed by a wrought iron fence. The fence features a stairs (scala in Italian) motif, the symbol of the Scaliger family.



Lose Yourself In The Streets



But the best part of exploring any city like Verona is just losing yourself in the streets; finding that fabulous coffee and gelato spot; admiring the stunning architecture. Verona really is a gorgeous city – Yes, it's one of those 'ooh, I could live here places.'





Take A Walk Across Ponte Pietra (Stone Bridge)



Verona's Ponte Pietra is the oldest bridge in the city, dating back to 100BC.





Take A Wine Tour In The Valpolicella Region



So many people told me that I should do a wine tour in the Valpolicella region when I visited Verona, and not being one to argue, I did. And I'm really pleased I did. I am rather partial to a drop of Valpolicella wine, and it was a delightful afternoon tour that turned into a very late night, but that part is a story for another day.


I took this tour. Myself and three couples were picked up by a minibus from the centre of Verona and taken to the Valpolicella valley just a short drive away.


The wine region lies just outside the historic city centre, on the way towards Lake Garda. The name Valpolicella is believed to come from the Greek word meaning 'valley of many cellars.' The Valpolicella region encompasses several neighbouring valleys, including seven different villages.


Even if you're not a wine drinker, try to head out to the countryside if you have the time. The landscape with rolling hills, dotted with vineyards, is incredibly picturesque.


On this particular wine tour, you visit two wineries, get shown around and then have a chance to sample the wine and enjoy a few nibbles. Loved the Amarone wine, but at roughly €50 a bottle, I won't be able to afford to drink this very often!

Other tours available in Verona that you may be interested in can be found here.



How Much Time Do I Need To Visit Verona



Verona isn't a huge place, and all the major sites are within easy walking distance from each other. Yes, it's possible to see all the main attractions in one day. But I'd recommend at least two full days in Verona.



Best Time To Visit Verona



Not surprisingly, Verona was pretty packed with tourists when I visited in August. I chose that time because I booked well in advance and I can only assume the Italian hoteliers didn't think Italy would be open for business because I got such a terrific deal on flights and accommodation.

Spring or early autumn would definitely be a better time to visit.

From Verona, I was heading up to Ortisei to do some hiking in the Dolomites , and then to the Italian Lakes.



How To Get To Verona



Thanks to Verona's location in the heart of northern Italy, this gorgeous city is easily accessible from all major Italian and European cities by various means: bus, car, plane or train.


Verona's airport, Valerio Catullo, is roughly 12 kilometres from the city centre. A shuttle bus from the airport takes around 20 minutes and will drop you off at Verona's central train station – the Verona Porta Nuova.

From the train station, there are regular buses to the centre. Plenty of taxis are available out front, or it's about a twenty-minute walk.

Verona's Porta Nuova Station is located on the Milan – Venice(east-west) and Bologna – Brenner (north-south) rail lines, with trains departing every hour. More information on destinations and schedules from Verona can be found here or here .



Distance To Verona From Major Italian Cities.



Venice 114 kilometres / 70 miles

Bologna 142 kilometres / 88 miles

Bolzano 157 kilometres / 97 miles

Milan 161 kilometres / 100 miles

Florence 230 kilometres / 143 miles

Rome 501 kilometres / 311 miles
Love Italy?
Check out these posts for other amazing places to visit around Italy.


Ortisei Italy – A Great Base For Exploring The Dolomites

Exploring Orvieto – A Fabulous And Easy Day Trip From Rome By Train

How To Spend One Full Day In Bologna

Why You Should Visit Ferrara – An Easy Day Trip From Bologna

Varenna- The Perfect Base For Exploring Lake Como

Discover Spello – A Beautiful Umbrian Hill Town

How To Spend One Full Day (and a little bit) In Milan

Four Really Easy Day Trips From Rome By Train

Diary Of A Solo Traveller On A Viking Ocean Cruise From Barcelona To Rome

Top Tips For Visiting Pompeii
Beautiful Towns and Villages in Umbria


If You've Enjoyed This Post, Please Pin For Later Or Share It With Your Friends.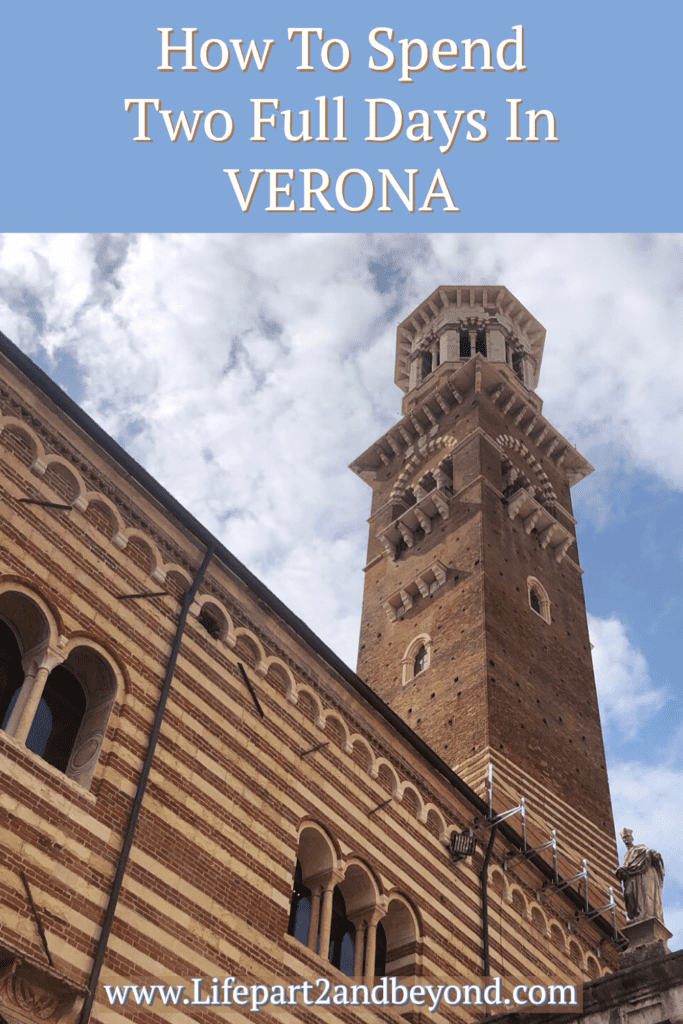 Disclaimer: This article may contain affiliate links, where I get a small commission but at no extra cost to you.