(Last Updated On: July 31, 2021)
As we aren't able to travel at the moment due to the Covid-19 pandemic, poor Jonathan is doing all the cooking. Believe me, he wouldn't want me to cook – even our dog who eats complete rubbish straight off the street refuses my cooking. So for now, we find ourselves reminiscing about some of the more memorable meals we have experienced on our travels!
We hope you enjoy our tales of our more memorable meals – both good and not so good, and we would love to hear about yours too.
Memorable Meals From Europe
Fresh Oysters – Cancale, The Oyster Capital Of France
We were on a road trip through France and Spain, on our way to Portugal, when we came across the pretty town of Cancale on France's Brittany coast. Cancale is famous for its oysters, so we just had to check them out.
For a small town, there were a large number of restaurants serving oysters, but we headed straight to the oyster market (marché aux huîtres) by the harbour.
The fresh Cancale oysters were ridiculously cheap and served with freshly squeezed lemon. We initially bought a dozen each and then a dozen more and sat down on the jetty walls, devoured the oysters and enjoyed the view. To this day, those were the best oysters we have ever tasted.
Caldeirada – Portugal
Caldeirada is a fish stew made with a wide variety of fish, prawns and potatoes. Our landlord's family in Portugal made a fabulous version of this dish, and on many Sundays, we enjoyed this meal with them. Gave me a chance to practice my rather abysmal attempts at Portuguese and for them to brush up their English (which was already very good.)
While we were living in Portugal, we appeared on House Hunters International. If you're interested in watching this rather cringeworthy episode, look up "Adventures In Atalaia", on YouTube. In one of the scenes, Jon is seen showing off his new love of cooking and making this dish. Actually, in reality, our landlord had brought the plate over just before filming, but Jonathan gets all the credit, as he stands there stirring the ingredients and adding a little spice.
Francesinha – Portugal
Memorable for all the wrong reasons. Porto was our first port of call when we were looking for a place to live in Portugal. We were recommended by the locals to try the francesinha.
It's the ultimate hangover food, although we didn't have a hangover, but maybe we looked a bit rough after driving through Spain. The francesinha is based loosely on the Croque Monsieur. It is made with bread and way too much meat (even for Jonathan)– steak, ham, sausage, covered with melted cheese, and served in a thick tomato and beer sauce with French fries on the side. Admittedly, we were underwhelmed.
A year later we returned to Porto and thought we'd give it another go. We were advised to go to the Brasão Restaurant as they serve the best francesinha in town. We went, we tried, it was better than our first but nah, not for us.
Pastel de Nata – Portugal
Hot, straight out of the oven, the crumbly Portuguese custard tarts are incredibly addictive. Purely in the name of research, I tried pastel de nata everywhere we went to in Portugal, but there was a clear winner. The custard tarts from Manteigaria. They have two shops in Lisbon – one is in the famous Time Out Market. Apparently, they also have two branches in Porto – how did I miss those?
Second prize goes to Pastéis de Belem in Belem, just on the outskirts of Lisbon.
Prosciutto – Leon, Spain
A few years ago, we walked the Camino from St Jean Pied de Port in France to Santiago de Compostela in Spain. One night, while in Leon, we came across 'Jamon Jamon', a cute bar that was jampacked with locals. We squeezed inside and ordered a glass of wine and received alongside a massive plate of delicious prosciutto and cheese. It was so good, we ordered another glass of wine and enjoyed more prosciutto and cheese. Now fully stuffed on great wine and tapas, we had had an excellent night out for just two euros each.
We also had some fabulous tasting prosciutto at Pršutarna Ščuka, a family-owned prosciutto drying facility in Slovenia that uses traditional methods.
Slovenian Food – Slovenia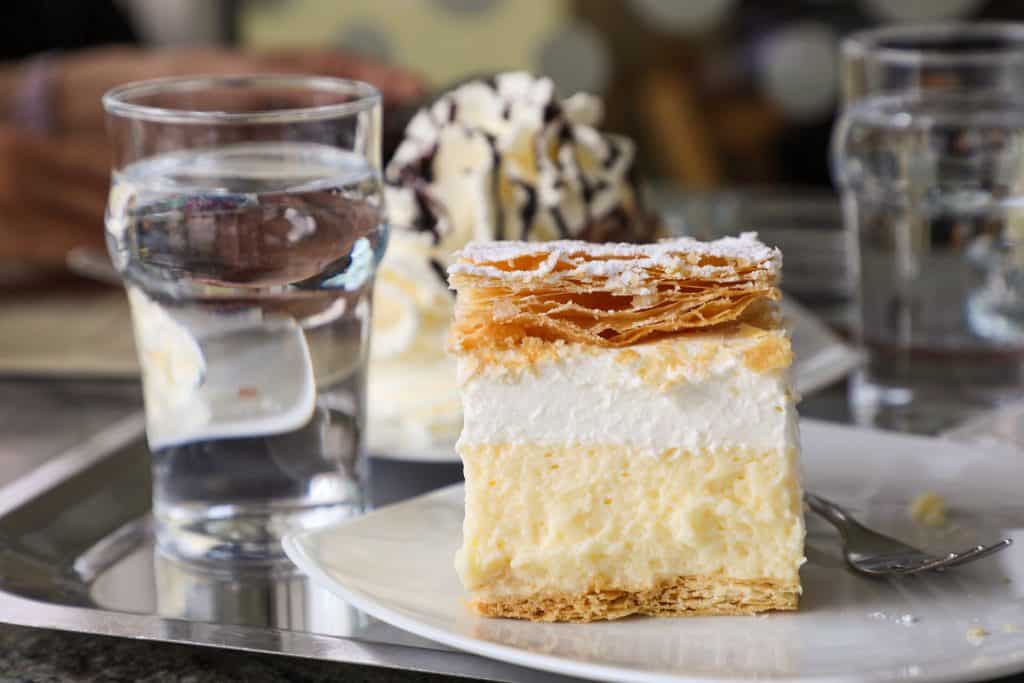 While we are on the subject of Slovenia, in September 2019, we went there for a week. Both of us excited about seeing the nature and countryside that the country is famous for. What we hadn't expected was just how good Slovenian food was. It's difficult to say what dish stood out the most as honestly, everything we had was delicious – from farm to table, meats, freshly caught fish and seafood and of course, the famous Bled Cream Cake.
Full English Breakfast- York, England
'What is the British obsession with baked beans?' asks Jonathan as we tucked into a massive full English breakfast in our guesthouse in the lovely English city of York.
How can you not love baked beans? Americans, eh? Anyway, this breakfast was huge, filling, gut-busting, artery-blocking, and kept us pleasantly stuffed until dinner time.
If you plan to visit the UK, we highly recommend adding York to your list. And for all the nerds out there, the National Railway Museum In York is excellent.
Fried Chicken- Terceira Island, Azores
Now, I may love my full English breakfast, but Jonathan adores fried chicken. Jonathan declared the chicken from this restaurant as the best fried chicken, he'd ever had. The small restaurant Casa da Galinha (House of Chicken) located in Valadão, Terceira Island has been serving American fried chicken for almost 40 years. They used to cook for the US military base that was once on the island.
Sunday Roast – Gibraltar
As a child, I used to love my Sunday roast but living in Asia for a long time, finding a proper Sunday roast was quite hard to come by. Yes, I know Thai and Lao food is delicious, but you can't live on rice all the time.
Anyway, we found ourselves doing a house-sit in Gibraltar which is like a little bit of England but with better weather and lots of Barbary apes and a decent Sunday roast. Cravings sorted!!
Currywurst – Berlin, Germany
We both love curry and sausages, so currywurst had to be good, didn't it? It's a classic German fast food dish made with steamed, and then fried pork sausage. The sausage is typically cut into bite-sized chunks and seasoned with curry ketchup and served with French fries. Certainly memorable but rather disappointing!
Tapas – All Over Spain
As someone who loves to graze constantly, tapa bar-hopping in Spain is my idea of heaven. Not that we need much excuse to visit Spain, but ooh tapas -yummy!
Our favourite Spanish towns and cities for tapas, in no particular order: San Sebastián, Avila, Zaragoza, Seville and Burgos.
Meat Barbecue – Skopje, North Macedonia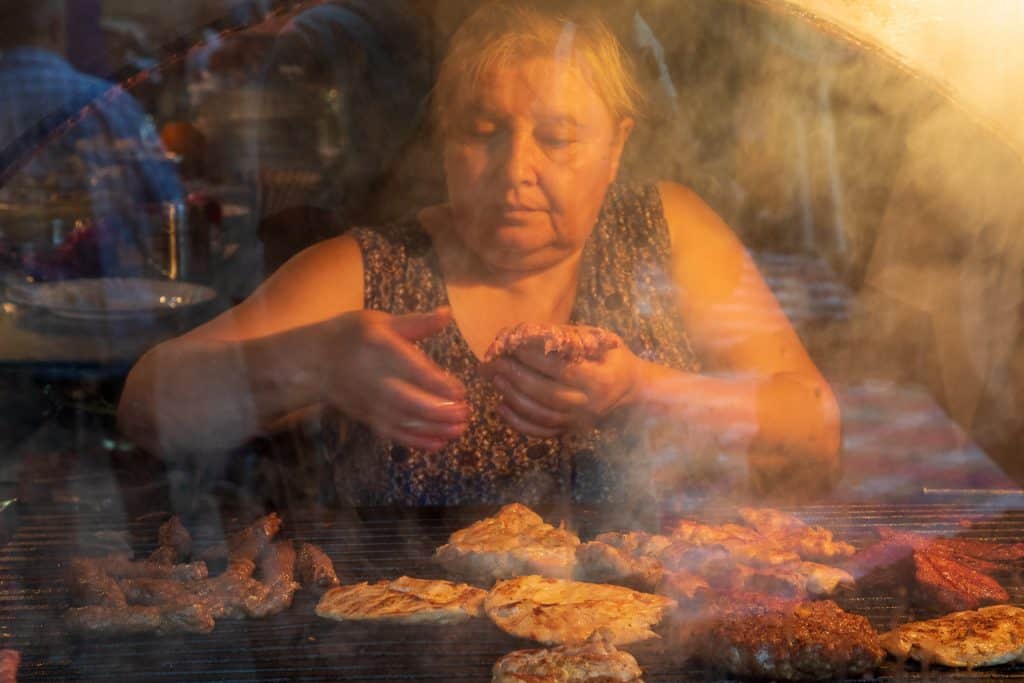 We didn't really know what to expect when we visited Skopje. In fact, when we booked the flights, we weren't even sure where Skopje was.
Walking around Skopje, particularly the old part, you can't help but smell the delicious aroma of grilled meat. The 'skara' or barbecue is one of the most popular types of Macedonian food. You should also try the kebaps – small, bite-size minced meat with garlic and different spices, served with bread and onions and pleskavica – a burger filled with melted cheese served with onions, hot pepper, and french fries.
Christmas Market -Krakow, Poland
We spent a week in Krakow in Poland. What a fantastic place. If it wasn't so cold (well, it was December!) and so far away from the sea, we would consider moving there. The food was just amazing, and the town had such a vast number of Michelin star restaurants. Typically, when I see a Michelin star, I automatically assume this means expensive, but not in Krakow. On average, for a party of four, with main courses, desserts and wine we were spending 75 euros. That's the total price, not per person.
But I digress, our most memorable food experience was at the Krakow Christmas market in the Old Town Square. The smell of cooking, sampling dumplings and snacks from the stalls and of course, cupping cold hands around a large warming cup of mulled wine – heaven!
Georgian Food In Moscow, Russia
We had our first experience of food from Georgia (the country, not the US state) when we were in Moscow. It was so impressive that Jonathan and I looked at each other and said in unison, 'We are going to have to plan a trip to Georgia!'
We tried Khinkali, which are huge dumplings filled with cheese, mushrooms, lamb or potato, or pork and beef. When cooked, the meaty stuffing releases a delicious broth inside the dumpling which poses an interesting dilemma to the novice khinkali eater, such as ourselves.
The correct way to eat khinkali is to hold the dumpling with your fingers and take a small bite from the top. When it is cool enough to eat, you slurp out the broth, and then enjoy the rest of the dumpling, and repeat. Or do as I do and just make a complete mess!
Maltese Platter – Malta
A Maltese platter is made for sharing – just add wine, friends and a chilled setting. A typical serving comes with Maltese sausage, sun-dried tomatoes, bean paste (bigilla), peppered goat's cheese, marinated butter beans, olives and capers, and fresh Maltese bread with tomato paste & olive oil.
Memorable Meals From The Middle East
Jaffa Sweets – Jerusalem
In the heart of old Jerusalem, there's a shop we passed almost every day while we were there called Jaffa Sweets. It was consistently packed with locals which is always a good sign.
We had been told that we couldn't visit Jerusalem and not try the local Kanafeh. Kanafeh (kunafeh, kunafa, knafeh, konafi, it seems to be spelt many different ways) is a traditional Middle Eastern dessert made with thin noodle-like pastry, or fine semolina dough, and soaked in sweet, sugar-based syrup, and layered with cheese. Umm, it was memorable! Notice, that was an umm not a yum!
Hummus – Jerusalem, Israel
Well, you can't go to Jerusalem and not have hummus, can you? And we did, pretty much every day we were there. Our favourite by far was the hummus served at Hummus Ben Siri. The hummus came in all sorts of yummy flavours – the wild mushroom hummus was excellent.
Memorable Meals From Asia
Bun Cha – Hanoi, Vietnam
A speciality of Hanoi is Bun Cha. It is a traditional Vietnamese pork dish made with seasoned pork patties, and caramelised pork belly slices served in a broth alongside rice noodles, fresh herbs and vegetables.
Throw all the ingredients in the broth and enjoy. Best enjoyed sitting on an uncomfortable plastic stool that looks like it could collapse at any moment by the side of the road and inhaling traffic fumes from all the motorbikes.
Cobra – Le Mat, Hanoi, Vietnam
Ok, this wouldn't have been my first choice of things to do in Vietnam, but Jonathan had read a lot about the cobra restaurants and wanted to give it a go. So we did. Definitely not recommended for vegetarians.
I won't go into all the gory details, you can read about that here if you want, but admittedly, the cobra spring rolls were quite lovely. A memorable meal, indeed!
Noodle Soup – Sapa, Vietnam
We were spending a few days in Sapa in the north of Vietnam. It's a fabulous place for trekking. We had been walking a while, and our stomachs were starting to rumble but being the organised wanderers that we are, we had no food.
Fortunately, we passed by a very local restaurant. We spoke no Vietnamese, they spoke no English, but with sign language and a few charades, we ended up with one of the most delicious bowls of noodle soups we have ever had.
Freshly Cooked Fish – Ngapali, Myanmar
Early on in our relationship, Jonathan and I went backpacking for a month in Myanmar. Figured if we can survive that, we can survive anything.
After about three weeks of rickety buses and a terrifying rollercoaster of a night train, but with terrific scenery, fantastic sights, beautiful people, we decided we should just chill for a few days by the beach. We chose Ngapali. Just a short walk from where we were staying was a beach shack serving heavenly portions of delicious freshly cooked fish. Ridiculously cheap, incredibly delicious – probably the best fish dinner ever. We ended up staying by the beach for a few extra nights, and this became our regular haunt.
Fried Insects -Thailand
A favourite snack with locals and brave people like Jonathan were the fried insects. I lived in Thailand for a long time, but the urge to tuck into a bag of deep-fried grasshoppers or other culinary insect delights just never happened!
Street Food – Bangkok, Thailand
You'll find some fantastic street food in Bangkok. Well, not just Bangkok but all over Thailand. One of our favourite spots was in Bangkok's Chinatown in Soi Texas. Ooh, the prawns!!
Curried Seafood – Chiang Mai, Thailand
One of our favourite places to eat in Chang Mai was by Huay Tung Tao Lake, about five kilometres outside the city. It was lovely to relax in the ramshackle bamboo huts that surrounded the lake. Our favourite of the bamboo hut restaurant served fabulous Thai food – the curried seafood was totally addictive.
Skewered Chicken Hearts- Angel's Bar, Vientiane, Laos
Actually, this bar had no name. It was just a rickety old hut that served cold beer and barbecued chicken hearts on the riverbank of the Mekong. When we lived in Vientiane, this use to be a regular spot on our evening walks with our dog, Angel, as she always insisted on dragging us in here- hence the name Angel's Bar. A beautiful, relaxed place to enjoy the sunset.
Dim Sum, Hong Kong
We loved the dim sum in Hong Kong – delicious, bite-sized portions of food served in small steamer baskets or on a small plate. It's the Chinese version of tapas!
Spot the long queue of locals outside a dim sum place, and you knew it had to be good. There was one not so far from where we were house-sitting on Hong Kong Island. Ooh, it was good and by Hong Kong standard, not that pricey. The eggplant was particularly good.
Sashimi From Xingang Fishing Market Chenggong, Taiwan
Jonathan and I love sushi and sashimi. Without a doubt, the best we ever tasted was from the Xingang Fishing Market in Chenggong. Not just going there to eat, it was also fascinating to watch the fishing boats being unloaded, followed by the rather rowdy fish auction that took place later.
We had gone there with the guesthouse owner of our Air BnB who encouraged us to explore and take photos while he ordered the best sushi. He just needed us out of the way as he shopped to ensure he paid local, not tourist prices. Ooh, just thinking about this meal is making me crave sushi.
Memorable Meals From The American Continent
Cafe Au Lait and Beignets – Cafe du Monde, New Orleans, USA
New Orleans had loads of cool bars, and restaurants and Jonathan loved showing me around all his old favourite haunts. But for me, although a little bit touristy, I loved the coffee and beignets at the iconic Cafe du Monde. The cafe has been there since 1862 which in USA terms is a very long time!
Lobster Eggs Benedict – Maine, USA
Eggs benedict is our favourite breakfast, and we love treating ourselves to this whenever we can. This one in Maine was amazing; it's not every day, you get lobster with your eggs benedict – oh, it was so good!
Poutine – Montreal, Canada
Well, you can't visit Canada and not try poutine. That's what all our Canadian friends told us. So we did. Poutine is french fries and cheese curds topped with brown gravy. Umm, how can we be polite about this? I guess we were hoping for something a bit more exciting!
Tomahawk Steak – Bariloche, Argentina
When we were in Argentina, Jonathan ate a lot of steaks – I mean a serious amount. Well, if you're going to eat steak, you can't go wrong in Argentina. I don't mind steak, but the meat portion size in Argentina was way too much for me.
One night in Bariloche, we went to a famous steak house – the Alto El Fuego. Nothing fancy but you needed reservations to get a seat. The waitress recommended a Tomahawk steak and said it was enough to share. Jonathan likes his steak rare, so rare you can almost hear it moo. He was in steak heaven.
I had one small bite, being so rare, it was so difficult to chew, I had to sneakily spit it out into my napkin and just ate a few of the vegetables.
After the meal, Jonathan declared it the best steak he ever had. Me, well, I was still hungry. A memorable meal indeed for both of us!
Patagonian Lamb – El Calafate, Argentina
Patagonia lamb seems to be El Calafate's speciality. Jonathan decided to take a brief hiatus from steak to give it a try. He recommends the Mi Viejo restaurant on Main Street. Like most restaurants in El Calafate, particularly in the high season, either eat early or be prepared to queue for a table. Good choice of vegetarian options here, too.
King Crab – Ushuaia, Argentina
Ushuaia, the city at the end of the world, is the place to try King Crab. There are loads of restaurants here offering this dish, but according to the locals, the best place to go is the El Viejo Marino restaurant. So, we did.
Doors open at 7 pm but to get a table, you need to be at the door at least 15-20 minutes earlier- yes it's that popular.
The king crab was delicious and incredibly messy to eat. The mixed seafood side dish we had was excellent too!
Welsh Tea – Gaiman, Argentina
Well, I do enjoy a nice cup of tea and a cake. When I heard they serve the best Welsh teas in Gaiman, we had to go. Gaiman is a little spot of Wales in the heart of Argentina. It's a cute little town where back in 1865, almost 200 Welsh settlers arrived as they believed Wales was losing its identity to England and they wanted to start a new life and protect the Welsh language and culture.
But enough history, this is about food. We enjoyed a colossal tea with copious amounts of cakes and sugar fixes at the Plas y Coed, the oldest tea shop in the town.
It was a fabulous sugary treat.
Seafood Tapas – Rawson, Argentina
Our Patagonia adventure was coming to an end, so we were looking for a place to eat before we boarded our flight back up to Buenos Aires. We came across Cantina Marcelino in Puerto Rawson.
The place specialised in seafood, and not having any clue what to eat; we had a look round to see what everyone else was eating. Seafood tapas! Yes, please! Delicious and a great way to end this part of our trip.
……
We will continue to add to this post as we discover or remember more fabulous dishes from our travels.
What was the most memorable meal you have had on your travels? Tell us about it in the comments below; we'd love to hear your recommendations.